Last Updated on August 23, 2017 by Christine Kaaloa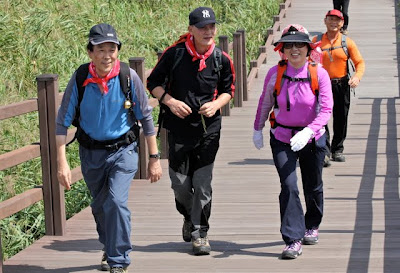 I love experiencing natural highs! Dancing in a disco completely losing yourself in the sound, absorbing a powerful meditation of either silence or chant, connecting to your breath as you perform a juicy downwards dog or just plain exploring a new place on foot… I need this kind of rewarding past time where I can listen to the uncluttered spaces of my heartbeat and come home to myself.
In Korea, my new high is hiking! Fortunately, one of my new travel BFFs Chance is an experienced hiker, so we've exercised the opportunity to try out some cool hiking spots: Jirisan, Taejongdae, Gatbawi and recently, Mt. Halla (well almost).
What do I love about hiking? My foot feels like it connects with the earth's heartbeat in a solid thump and I feel a special power in this direct connection with nature. I can focus on the sound of my footsteps, the birds, the wind or the trees leaves… everything has a soothing effect. So what if I still haven't mastered the balance between watching the ground and my steps, so that I can enjoy looking at the surrounding sights, as well? With time, it's something I'll eventually be able to do! I hope…

Korean hiking fashion: 50's fit and dressed to sparkle
They say Korea is 75% all mountain. Hitting the mountain trails for a good hike is one of Korea's major weekend leisure activities. These hikes aren't for the weak or wimpy, however. Many trails are actually intense hikes up a steep, steep mountain and will have someone like me huffing and puffing within the first 15 minutes. But, you'd be surprised by the age, fitness and stamina of many Korean hikers; well into their 50's, many still hold spry form and ballerina flexibility!  The video clip below is my pocket camera discovery of a Healthy Korea. This was shot on my first mountain trail hike (in winter) during my EPIK orientation in Incheon.
The Hiker's Catwalk in Korea: Northface vs Redface.
I've shot the ultra-glam designer runway shows of NY Fashion Week, but watching Koreans roaming weekend mountain trails is like watching the catwalk take to new heights! Living here, you'll notice two things– a) when Koreans are going hiking and b) that they take it very seriously. Whether it's taking a stroll up a mountain, over a molehill or on a walking path, Koreans dress as if hiking were an Olympic sport! Walking sticks, hiking boots, visors, sports shirts, backpack and black pants– the weekend Korean hiker is an artillery of fashion. As for me, I'm just glad I picked up some knockoff North Face pants in Vietnam, so at least the bottom half of me fits in… not that it really matters. Here's some of the hiking apparel and gadgetry you'll see on hiking paths:
– brightly colored long-sleeved nylon sports tops
– sports jacket
– black pants
– hiking boots
– athletic gloves
– backpack
– walking poles
-big rimmed ajumma sequins visors
-sports caps
-water bottle or metal thermos
– metal cup
– tent or picnic mat
-neck kerchief or scarf
– towel