Last Updated on November 29, 2019 by Christine Kaaloa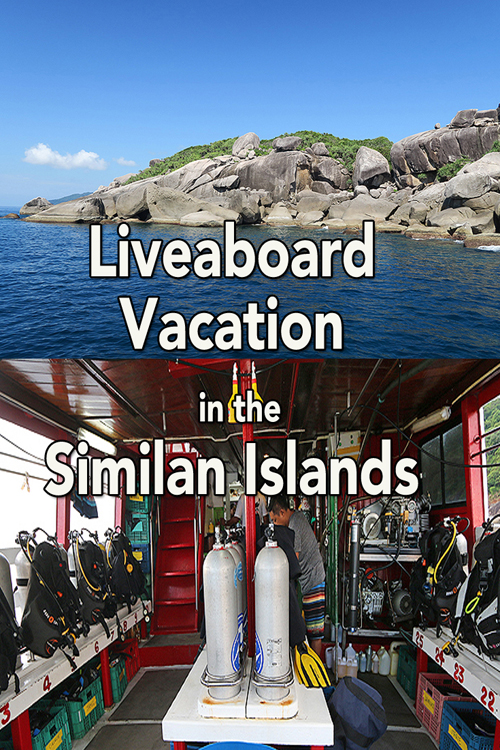 .
If someone were to tell me I'd be doing a liveaboard vacation in the Similan Islands of Thailand, I'd had thought they were writing a story of what they fantasized my travel life to be like.
Not that it can't happen. Anything can happen the moment I strap my backpack on for a last minute trip I hadn't planned.
But it was a while since I last went diving. Diving isn't something I've been able to do in the U.S., for the simple fact~  it's more expensive and locations never feel as exotic at home (…even if that home is Hawaii).
Yet here I was in Thailand, living aboard a scuba boat for three days and three nights, diving 3-4 times a day. Each day, I connected further with the ocean, to the point where water was starting to feel like a second home.
What is a Liveaboard?
A liveaboard is a diving vacation for dive and snorkel geeks.  You live aboard a boat for a few  to several days, and each day is the same routine– eat, dive, sleep, repeat.  It's a way to get quality dives in and to do it regularly (vs. paying for separate fun dives). For instance, over the span of three days, I logged ten dives (one of it was a night dive)!  It's an opportunity to refine your dive skills in a shorter amount of time.
Depending upon conditions and weather, the boat will take you to different dive sites throughout the day. You get out to more exotic dive locations, as the boat won't waste time going back and forth to land.  Instead, your boat will just park in a spot overnight and continue onto the next location during the day.  There's much time to relax in-between dives or study up on your next dive location and its resident fish.
When you dive, you'll dive in a group, led by a dive master or instructor.  You'll also be paired with a dive buddy to ensure no one gets lost and for added safety.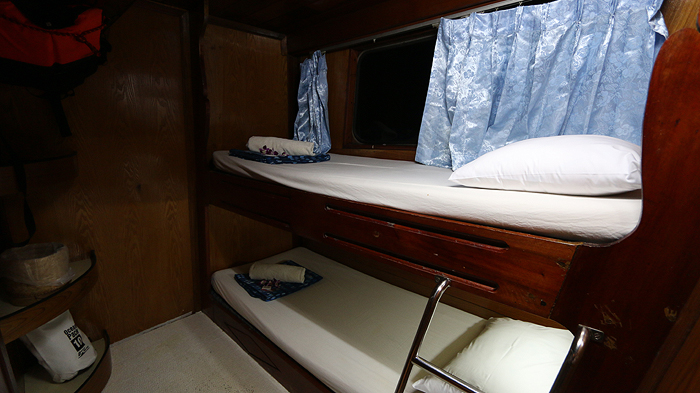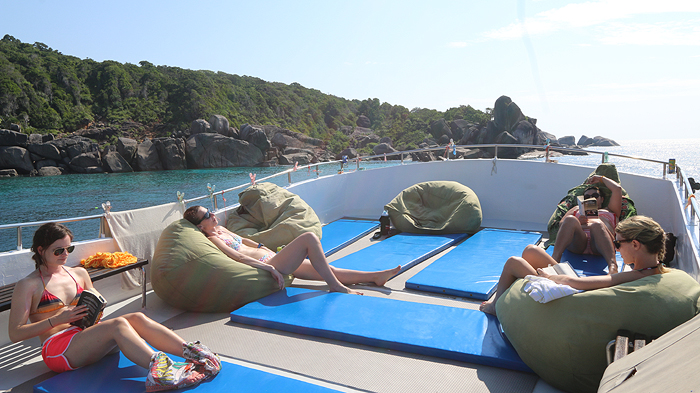 Liveaboard Diving in the Similan Islands
Diving in the Similan Islands can feel like doing an explorer's trek in a country of extreme landscapes and alien terrain.
 The Similan Islands are known for impressively monolithic boulders and karst terrain, which extend underwater to create interesting oceanic landscapes, which you speechless. The fishes that feed in those areas can vary and occasionally, you can spot mantas.
No one on the boat wants to say the name "manta" aloud for fear of dispelling their luck in a sighting. (Note: No, weren't lucky; I think someone blurted "manta".)
 Choosing a scuba dive company in Thailand
Due to the booming tourism of Thailand, tour and dive companies can range. Cheap tours cater to a tourist herd and disreputable ones treat them with cheap facilities, equipment and a cattle herding guide. There are also many "dive companies" that present a facade of being "a dive company", but whom don't have their own boat or equipment. Instead, they farm their customers out to fill the quota of larger affiliate companies. The operation is very similar to how tour agents on Khao San Road work to fill tour bookings for larger tour outfits. You're lucky if you get a good experience with a bit of personal attention.
On one snorkel/speedboat tour outfit I went on inKo Phi Phi, the boat didn't have a safety standard and drove in bad weather conditions, was an unguided snorkel tour, give us broken one-size fits all snorkel equipment and they took us into sea mite-infested seas (feeling sharp bites all over your body, as you snorkel is not fun).   If you read TripAdvisor's negative reviews on dive and tour companies, you'll quickly discover what to look for and what to avoid in a company.
Safety and quality care are high marks. Diving isn't a casual sport. You want reliable and good equipment. A company with a great personality and who honestly, cares about your comfort and experience  also helps!
Responsible Tourism & Diving with Wicked Diving
After much online research, I approached Wicked Diving.  They popped up on my searches several times and I quickly resonated with their valuing of responsible tourism. 
Wicked Diving is a dive company I feel legitimately cares about dive safety, its crew, instructors and travelers. They have a strong eco-friendly and responsible tourism policy, encouraging beach cleanups, the use of environmentally friendly products on the boat, local Thai dive instructor program and they value 'ethical business practices' (i.e. they do not feed fish to attract them to the dive spot)
Note: Feeding fish is a highly unethical practice of luring marine life to a boat so tourists can see them. It is harmful to the eco-system as human food is not healthy for the digestive nature of fish and they stop feeding off the plankton which helps balance and protect reef life.
They also do not serve seafood onboard. This was fine by me. The last thing I wanted to see on my dinner plate is seafood,  I've just spent an hour looking into the homes and eyes of.
Scuba Diving with Wicked Diving
Stepping inside Wicked Diving office, everything was clean, quality oriented and personable.
 As I was renting scuba equipment, I was required to go in for a "fitting" beforehand, where I got sized for every piece of gear in my scuba outfit . All the equipment was functional, we got our own separate bins to put our mask and fins in, and their boats take up eleven people (that's a small group boat). Additionally, they want their divers to be covered in the case anything bad happens (god forbid). They referred me to a very inexpensive dive insurance through InDepths.org ; it covered everything.
Food can come in hearty portions (and if you're the only vegetarian, you can entire dishes to yourself!). Fruits are available for snacking. The only cash you're required to bring is if you plan to drink alcohol and tip the boat crew (and your dive master) at the end of the trip.
 Daily Schedules and Dive Briefings
Each day, someone would go through the cabins, ringing a bell to wake us.  On deck, we'd get a timetable schedule of our dive locations and activities.
Before each dive, we got a briefing of the terrain, the depth we'd dive,  types of fish that reside in that area and what we might experience in conditions and oh my god… thermoclines
Thermoclines are chilly cold fronts, where the water temperature will drop quickly; it will feel like you're diving through an underwater river of ice water!  For those who chill easily, you might bring an additional rash guard to wear under your wetsuit.
 On our boat also had a small library of dive and fish identification books, which told you about the native fish at a dive site as well as, the conditions.
Night dives
I even experienced my first night dive! Night dives  sound more scary than it is. It's actually a lot of fun. In Koh Bon, there was ectoplankton which glowed in the dark.
Most fish are asleep at night. You're hunting  eels, octopus and crustaceans; meanwhile, you don't want to alarm fish with your flashlight. Scaring them puts them at risk; of being caught and hunted by sea creatures which feed at night.
Do you need to be an experienced diver?
A liveaboard is not only for the experienced diver. You can be a newbie and your skills will only be enhanced. We had four water activity groups on the boat-  an Open Water certification, snorkel, intermediate and my group.  I took my Advanced Open Water Certification on the liveaboard.
Did I improve? Let's say I got more confident with being in the water. Much of the time I moved between a frog and an awkward guppy trying to flap itself against a stream. My feet kept wanting to crash into coral below. I am not a swan in the water. But my confidence level got stronger, my desire to stay in water longer grew and my buoyancy and breath control gradually improved to gain more control over my body parts. I had good dives and bad dives.
Getting scuba certified:  SSI vs PADI
Getting a PADI or SSI are comparable.  Both associations offer diving certifications comparable and respected. Both allow you to dive in any location in the world. Originally, I took a PADI certified Open Water program.  Now  I chose an SSI certification for my Advanced Open Water.
The differences between the two felt great. PADI is well-known and classroom-oriented. It has a textbook and structured field training.Basic skill tests of SSI certification are similar to PADI,  like using a dive meter to navigate a complete square.  But SSI is cheaper ( about $270 USD). You don't have a textbook or a structured program.  Instead, your course and instruction is reliant on your scuba instructor.
My goal was to enhance my videography skills. But I didn't realize  that with SSI, the 'specialties' you choose– photography, videography, wreck diving, etc.. -are only possible with your instructor's experience and what your location provides.
To learn videography, my only glitches were:
  1) I didn't know I'd need to bring my camera with dry housing. Duh.  I rented one off one of their dive instructors (GoPro camera rental cost: 1,500 baht/day).
2) My instructor Chris, didn't feel comfortable teaching me underwater videography or photography. His specialty was —  Fish Identification.  I wasn't eager to learn about fish as I was to learn how to hold a camera underwater. I think you'd figure out why, if you watch my YouTube channel ( I need it for the future of my travel videos!) I'm very frugal about where I spend my money and that was something I struggled with (along with buoyancy and hovering issues).
Thankfully, Chris  let me use his footage for my video and blog post.  Although I kinda wish my own photos and video were good; I'll see what I can excuse into my video.
Conclusion
I never imagined doing a liveaboard vacation in the Similan Islands.. nor get my SSI Advanced Open Water certification.   But after experiencing it, I can honestly say I'd do it again in a heartbeat.
But next time around, I'd bring a GoPro
. 
How to get from Phuket Airport to Khao Lak
To travel to Khao Lak you'll need to take an airport shuttle bus to the Phuket bus station.
At the Phuket bus station (it's a small local bus station), take a bus towards Takua Pa, Ranong or Surat Thani. The ride takes approximately two hours. There are many departure times: 06:30, 09:00, 11:40, 13:00, 15:40, 16:20, 17:00, 17:50.
The Khao Lak stop will be before Takua Pa.
Khao Lak: Costs 50B using the same bus that goes to Phuket, leaving every hour from 5:00 to 19:00 and taking about one hour.
Phuket: Costs 110B, departs every hour between 5:00 and 19:00, and takes about three hours.
You can also take an  airport shuttle from Phuket Airport to Khao Lak.
Khao Lak to Bangkok
To get from Khao Lak back to Bangkok is simple. There are VIP long distance buses (they are first class and highly recommended if you have time). See my transportation guide as I use this specific bus route as an example.  The other alternative is to take a bus or taxi to Phuket airport and fly back to Bangkok.
If you enjoyed this post and want to see inside my liveaboard, below is a two-part vlog of this experience!  And packing tips for your liveaboard vacation are coming soon!
Disclaimer:  Special thanks to Wicked Diving for sponsoring a wonderful three-day and three-night liveaboard experience.  I paid for my SSI Advanced Open Water certification program.  Thanks to Chris Dyer for use of his photo and videos.  All opinions are always my own.
Note: I did my one-day Scuba Refresher at Seadragon Dive Center in Khao Lak  (Cost: 1,500 THB)
Preparing for a Liveaboard
Conquering Fears on a Liveaboard