Last Updated on July 16, 2023 by Christine Kaaloa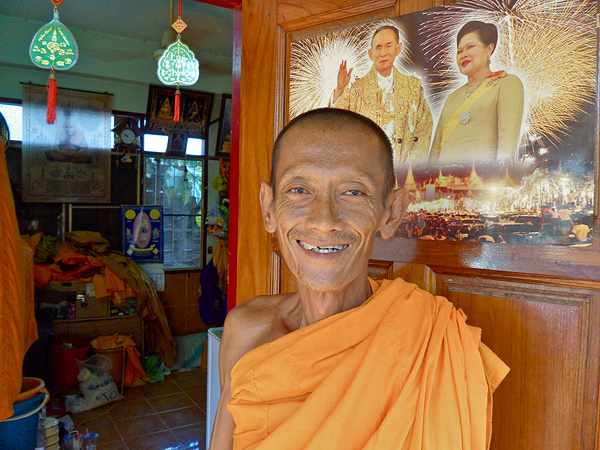 Continued from my post  Should you be a Monk in Laos?
I have a fascination with Buddhist monks and India and Southeast Asia are rife with them.
Maybe it's the shaved heads, robes, spiritual aspiration and ascetic lifestyle. Maybe it's because I've once considered a life very similar for myself. But whether they're wearing a Tibetan crimson or Theravada orange and brown,  whenever I see a monk, my eyes zero in with intent focus as if they're human puzzle pieces, walking on a waft of incense.
I often like to romanticize how their lives must be pure and saintly. But monks are human beings, too.
Afterall, they're boys and boys will be what they're best at being… boys.
.
A reality behind the robes
Since traveling Asia, I've learned that while many monks are passionate about their spiritual beliefs (read about my discovery with Tibetan monks), not all males are drawn to the monastery for this purpose alone. In some countries, the choice is born out of a survival-based reality, as well.  For instance, many impoverished families send their children to live in the temple, if they have too many mouths to feed. It's also a way to get a free education, have a life where you don't have to work or an alternative to avoiding the army.
Each male holds a different reality behind their robe and those who choose to stay, decide to make that robe, their way of life.
Temple retreats and monk chats in Thailand
Thailand offers ways to get to know temple life, through temple retreats and 'monk chats' ( click here for more).
Perhaps, it's my curious nature; I've always wondered what a monk's life was like. I wanted to go behind-the-scenes and see it, experience it.
Divorced from the material world, meditating on the blank wall of 600 year old Buddhist temple ground, while  following a strict monastic schedule sounded …well,…challenging.  But also intriguing.
My only problem: the retreats I'd been looking at, either required a length of stay from 4 days to 21 days (or longer) or were booked full due to popularity.  Between trekking, taking day tours and sightseeing Thailand, I didn't have that kind of time.
My spiritual tourism (an honest term to call it) was looking dim.
The solo female traveler and her adventure with a monk

When I travel, I like to keep a loose and flexible itinerary. I like to be open to following random events if they arise.
Going solo challenges me to be ever moreso adventurous and game to making local connections. Something that initially came from feeling  self-conscious about friends and family pitying me for being alone.
What I didn't know at the time, was that as a woman, traveling alone can invite a unique journey, where real adventure and meeting locals arrives without much effort.
It was morning. I had just left my guesthouse and I was looking for a bus to take me to Sukhothai Historical Park ( click here for more), when I ran into a interesting local scene…
Monks collecting Alms
Around 6:00 AM each morning, the monks of neighboring wats (aka temples) walk through town collecting food with their begging bowls. This is known as "collecting alms". Monks aren't allowed to work for money; thus, the Thai make it their duty to take care of the welfare of their monks.
Begging bowls in hand, the monks make their rounds through the neighborhood each morning, collecting their food for the day.  Locals can offer anything from rice to cooked meat, packaged cookies and drinks, …anything they can afford to donate. In exchange, the monks offer prayer blessings ( watch video below).
If a family can not be present to make these donations, on account of work, they leave tiffen containers (photos below ) outside their homes. The monks pick them up and take back to the temple.
Visiting a monk's residence 

I watched the monks collect alms and followed them back to the temple grounds of Wat Ku Ha Suwan.
One of the resident monks, an older wiry-boned fellow, noticed me and motioned for me to follow him.
Around back stood a non-descript, bland-looking building, decorated with bright orange robes drying outside in the wind, like flags. It was the monk's resident dorms.
Temple monks living space in Sukhothai, Thailand
Inside a Monk's room
He couldn't speak English and I couldn't speak Thai, yet he was persistent and a little rough around the edges, as he rushed me into the dorm and straight into his room.
… Okay, it wasn't like what you might be thinking… although this is where it got awkward. I felt a little scared, panicked and confused.
I had never been in a monk's room before and I didn't know what this meant. Being alone with him.
This had to be breaking the rules. Bad, bad, bad, bad…
Afterall, Thai Buddhist priests are strict about how they deal with women in the temple.  Priests address men and women very differently. Priests often tie a string wristlet around the man's wrist after worship. If you're a woman,  they toss it or drop it on you kind of as if you're a diseased leper! They're very careful not to touch you. (read what Agnes of eTramping.com says)
So being alone with this monk in his room felt like committing sacrilege. He didn't seem to mind though, and the door remained wide open.
Although his room was on the top floor, little light came through the dusty window.  The room was small, but his few possessions made it feel spacious. A wooden floor and a few straw mats for cushioed living made for his lounge space.   Practicality adorned his room and bare walls…
1-     Some photos of the king of Thailand and a calendar.
2-    A picture of the master monk.
3-    An altar with statues of Buddha and spiritual effects.
4-     A towel and a heaping pile of robes.
Monks get a new robe each year from a Kathina ceremony, where lay people donate robes to the monks as well as, other basic tools for living,  such as robes, flashlights, food, incense, etc…
He showed me his collection of letters from other foreign travelers he met. Aside from a heaping pile of robes and an altar,  his letters seemed to be his link to the material world and it held deep meaning and pride for him.
Buddhist monk's living quarters Thailand
Do monks have a personal life?

My new friend shuffled me to the room of the head monk.
There, the room was larger, brighter and a bit more cluttered with comforts, such as furniture, a television and dvd player.  The head monk turned on some music and shared his dvd/cd collection with us.  It was surprisingly more than I thought a monk would have.
Monks aren't allowed to work for money, but they are given a monthly allowance. The Thai community supports the temple monks with food and donates baskets of basic basic goods to the temple (photo below). Meanwhile, the temple gives each monk a small monthly stipend to spend on his own personal needs.
He seemed to spend his allowance CDs and DVDs, while my friend seemingly spent his on cigarettes. In many ways, this was their only bridge to a normal and personal life in the order. (watch the video)
The head monk attempted to give me a lessen in meditation. Neither of the monks could speak English, but the beauty of travel is that everyone finds a way to communicate…
The head monk motioned me to follow him, while my friend scribbled a diagram drawing in my notebook to show me how it's done.
The secret behind a good meditation practice.
An Alms Breakfast
Once all the monks return to the temple dorm with their alms, they divy up the food and share it.
Food was brought into the room by another monk. My friend prepared my portion.
It was generously made from what they had been given in alms. There was more than enough food to go around.
After we were done with the meal, I was offered a cigarette.
Yes, you heard me right.
It was a matter-of-fact offer and etiquette that you might address to a western traveler, knowing our casual styles… a kind of "I'm gonna have a smoke, you want one too?" bit.  I chuckled and declined politely.
Perhaps monks break the rules a bit with foreigners.
.
A monk's gift to a female solo traveler
After some time relaxing, we went to the temple. My friend pointed at the master monk, a monk who has since passed away and has become a role model for the monks. He wanted me to take a photo of him and the statue.
It was time to say goodbye and I didnt' know quite what to do. I didn't know how to repay the generousity and kindness shown to me. I knew in other countries, a tip might be expected of me. So I crudely gave the monk money.
At first, there's was awkwardness, as the monk didn't know how to address what I was doing. But then the monk order and rules snapped firmly into place. He accepted the money, but instead, took it as a donation to the temple. He placed it in the temple donation box as an offering from me and then leading me to their temple store and gave me a wrist rosary to meditate with.
I was speechless.
This wasn't a scam nor was he going to take my money to improve his personal life. He took it for his temple.
No matter how brief a human connection, there are some people, who touch you with such great power that it creates a memory you'll hold fondly for  life.
While I've since forgotten my friend's name, my memory of meeting him remains vivid. This was my first visit to Thailand, my first big solo trip and he was the hook that made me want to travel solo more. He gave this first-time scared and uncertain female solo traveler, faith in others in a foreign country. He helped her find courage and confidence as a female soloist. Most of all, he gave her the knowledge that magical adventures and connections can that occur, when she crosses her fear of traveling alone and into a braver world.
More about temple retreats in Thailand:
http://www.fivethousandyears.org/
Meditation retreats in Chiang Mai  by Roy Hamric
Which Meditation Retreat In/around Chiang Mai?
Related Articles: