Last Updated on May 28, 2020 by Christine Kaaloa

Varanasi Culture Shock & Arrival ( Video )

Varanasi, otherwise known as Bananas, can appear like a chaotic city. Travelers either love it or hate it. Sitting along the Ganges River, it is one of the oldest and largest spiritual cities in India and a big pilgrimage spot for many, who wish to take their departed ones to the Ganges. However, as spiritual as it may be, you will experience culture shock.  There are aspects of Varanasi which will keep you on your toes!
Arriving into Varanasi
Before doing my normal travel guide, I thought I'd break it down and share my Varanasi travel arrival tips and the common suspects of Varanasi culture shock.
Transportation in Varanasi
 Varanasi Junction Train Station
The main train station in Varanasi is Varanasi Junction Train Station (aka Varanasi Cantt or BSB) and the second is Manduadih Railway Station.   A prepaid auto rickshaw from either stations to the main ghat area (around Godaulia Road/ Dashashwamedh ghat/ Ganges) will cost around 100-150 rupees.
Across the Varanasi Junction Train Station is the main bus stand for long-distance destinations from Delhi Allahabad, Lucknow, etc.. as well as to Nepal (via Saunali and Kathmandu).
Read more about taking Indian Trains and Getting a Foreign Tourist Quota
Getting To Varanasi Airport
An auto rickshaw from Godaullia Road to the airport might run you around 400-600 rupees.  If you take a car taxi, travel time will be faster but expect to pay over 700 rupee.  Varanasi airport is roughly 25km from the city center and an hour away by car. Factor in traffic time. it is a bit of a ride.
Getting Around in Varanasi
If you stick near the ghat areas, then Varanasi is a walkable city. 
Cycle rickshaws are usually for 2-3km distances and shorter while auto rickshaws are best for longer journeys. You have to haggle hard with the auto rickshaws. I feel they'll start tourists with a quote of 100 rupees for any nearby distance, so know you prices or ask a local.
If you're taking a day trip to Sarnath, you're best off hiring a car/driver. For Indians, the recommended means of transport is Olacabs (download the app on your mobile).  It's said to be like Uber and is cheaper than a car taxi.
Share auto rickshaw is an inexpensive way to travel and locals can pay anywhere fro 5 rupees or a tad more depending upon how many people are sharing and the distance.  Around 7-8 Indians can fit in the taxi. The taxis usually wait until the taxi is full before leaving.  Unless you're with a local, tourists should expect to be charged a little more but the price might be discounted.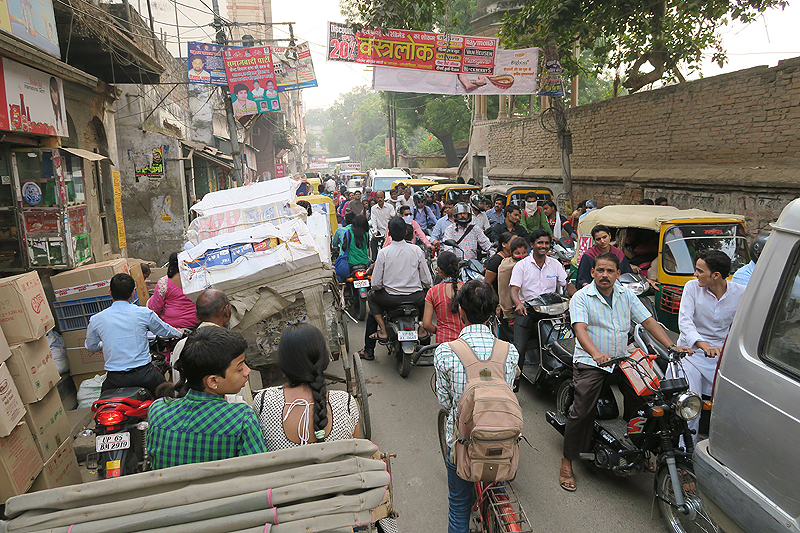 Where to stay in Varanasi
I  recommend spending a couple of days stay in the ghat area near the Ganges. It's a truly unique experience. It may feel a little dirty, polluted and congested but the narrow streets and alleys are populated with thousands of public shrines and altars, cows, souvenir shops and devotees coming and going from the Ganges for a dip. You might even cross an occasional funeral procession.  The vibe there is intense.  You can stay outside the craziness and more in the suburbs of Varanasi and it will feel like worlds away. It's just not the same as staying in the heart of the activity.
Many guesthouses and heritage hotels reside in the ghat areas near the Ganges. The prized guesthouses are those that are "ghat side" with a view of the Ganges.  It's also convenient to be near the Ganges, if you're taking a sunrise boat cruise ; many cruises start around 7am or before sunrise.
Warning:  Cars and taxis are restricted from entry to the ghat areas. Your taxi will likely drop you off around Godaulia Road entrance and you'll have to walk in and find your guesthouse.
I recommend making arrangements with your guesthouse to pick you up when you arrive. Many will send one of their porters to lead you in and help you with your luggage.  The marketplace is crowded at all hours and the ghat is a collection of alleys and small streets.  It's challenging to attempt finding guesthouse on the first try (with luggage).
There are painted signs on the alley walls acting as occasional maps, guiding you to your destination.
Read  Tips for Finding Good Budget Hotels in India
Varanasi Travel  Guide
Things to Know Before you Go to Varanasi
Travelers both love and hate Varanasi. Visiting Varanasi you will likely experience culture shock. Whether it's witnessing a dead body floating down the Ganges or dodging cow poop in the streets, you'll experience it.  Nevertheless, the inner light and beauty of Varanasi is visible in rituals, devotion and a spirit of keeping a candle lit amidst darkest times.  Nine years ago, Varanasi was my first  solo city in India. My first day experiencing it was rough; I hated it and wanted to book the earliest flight out. But when I gave it a second chance and tried to find the humor in things with a fake guide, I quickly grew to love it.
Today, Varanasi is quite possibly my favorite city in India and my desire to revisit it compels me as if it were a drug or I was under a strange spell. Despite the culture shock and travel tips I share, I hope many will find in it, the beauty I eventually did.
Cows
Cows are considered spiritual animals in India so killing a cow is not allowed. Cows can't be used for much, so you'll often see them roaming the streets. Some have owners but some seem as homeless as the dogs. Varanasi probably has the most cows I've seen yet in an Indian city!
Stray and injured dogs
There is an overwhelming street dog problem and it's heartbreaking to witness if you're a pet owner. You'll see anything from starving dogs to new born puppies, to ones with mange or worse. I saw one dog suffering with its insides push out through it's crotch. I literally cried and didn't know what to do. Unfortunately, there's not much you can do. I've tried feeding some but many of them are used to being hit or chased off.  Worse case scenario, you might draw a pack of hungy dogs to you.
Trash & Pollution in Varanasi
Trash is a problem with India in general and many Indians do not see it as a problem. Littering is normal. You won't find public receptacles. Instead, you might find a pile which is burnt later.  Other times, the trash just sits and you'll find the dogs and cows rummaging through it for food. 
Tip: I take a mini plastic bag with me to dispose my trash into. Sometimes, I find a trash can for it; other times, the public trash is the only answer.
It can feel like Varanasi has little more visible trash and more air pollution than usual in India.
The Ganges River itself is polluted due to , "human activities (such as bathing, washing clothes, and the bathing of animals), and dumping of various harmful industrial waste into the river," and "untreated sewage"(quoted Wikipedia).  While many Hindus come to the Ganges to take a dip in the waters which are said to be spiritual, it is ill advised for a westerner to follow suit.  You might risk "water risk hepatitis, typhoid, cholera, amoebic dysentery, other waterborne diseases, and a variety of skin afflictions."
Tip: To enter temples, you must remove shoes. I always wear flip flops on my temple days. Due to the Ganges activity, some temple floors near the Ganges can be wet and I don't want to put my damp feet back into my shoe.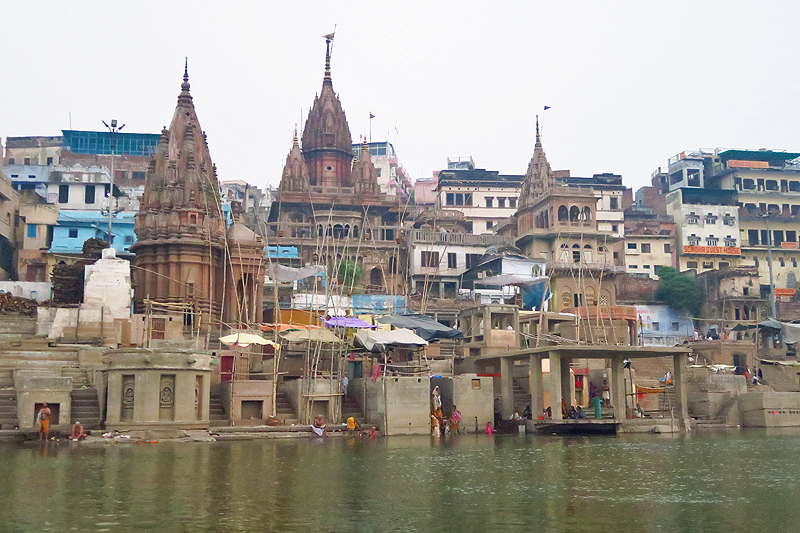 Dead bodies floating down the Ganges River
Death is a spiritual and everyday thing at the Ganges, which is governed by Lord Shiva, god of destruction. Many Hindus pilgrimage to the Ganges not only to take a dip in it, but to cremate and sprinkle their dearly departed into the river.
Do not be shocked if you see a dead body floating down the river (Okay, I wouldn't hold your breath either!) Some travelers witness bodies;  others don't. Often, they're wrapped in a shroud too.It feels like the exception more than the rule.  For instance, I've been there twice already and I've taken at least four sunset cruises down the Ganges. Not once did I witness a dead body. Most bodies are cremated, but the ones that are not are usually priests/holy men, babies and those who died of a disease like leprosy.  More here.
Altars and "interesting characters" are everywhere in the ghat alleys
The alleyways and streets behind the ghats are like a maze, there's literally thousands of altars (many Shiva lingams , because there are many Shivaite worshippers)  tucked away in nooks and crannies and it's easy to get lost. Sometimes I feel like Alice through the looking-glass… you can't you'll cross paths with a lot of characters. From locals and shopowners, to betel nut sellers to wrestlers, priests and saddhus. On the steps of the ghats you might come across more types of holy men and occasional beggars.  Many walks of life converge in the ghat area and the characters are colorful.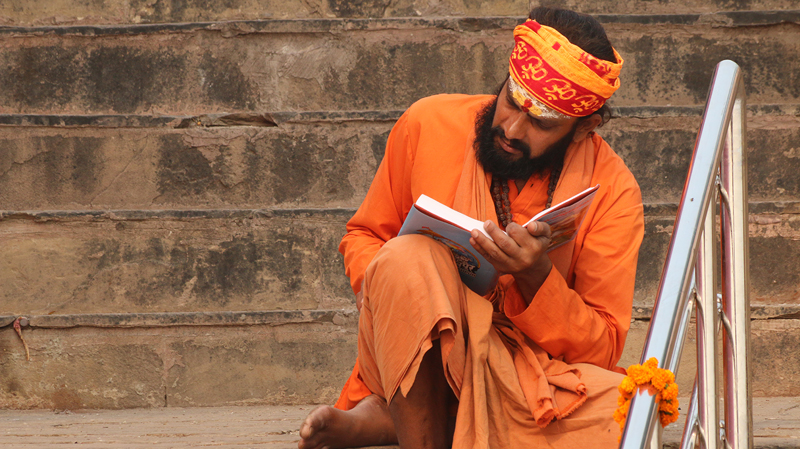 Touts
 Being a highly touristed city, there are a fair amount of touts, ranging from taxi and tuk-tuk drivers, to beggars, even little children offering to be your guide of the city.  Like Jaipur or Pushkar, it can test your patience.   
Avoid the burning ghat scam
 Many guides or boat drivers will lead you to the burning ghat; some won't even ask but just take you there!  It's a scam and your guide gets a kickback of some sort.  I fell for it the first time to Varanasi. My boat driver took me there and made me get off, where another guide met me, led me into a building with an Indian mafia type of woman who wanted me to donate money to help buy wood. I was alone in a deserted building with these people, so I ended up donating something.
Where I've Stayed in Varanasi
My first guesthouse in Varanasi was Ganapati Guest House. Since then, it's gotten a bit more pricy and its renovated its rooms for tourist scale. It is right off the Ganges and rooms with excellent views of the ghats and Ganges.  Read my old review.
Tucked into the alleyways off Scindhia ghat, Suraj Guest house offers a travel home for weary travelers on a budget. Accommodations are decent, you get a free breakfast and there are dorm room options.  The dorm doesn't always feel protected as you can't lock it; it's near the common area and I've caught one male staff kinda peeking through the doorway, while trying to be friendly with the ladies inside.  When Suraj is around everything feels well-managed. Wifi is weak, so buying an Indian SIM card with a data plan is ideal. You'll find signs posts for the Tree Baba and that's another name for Suraj as it's located under a large tree and the owner also has a company which makes handmade cotton paper products for export.
Varanasi Travel Guide: Best Things to Do (Video)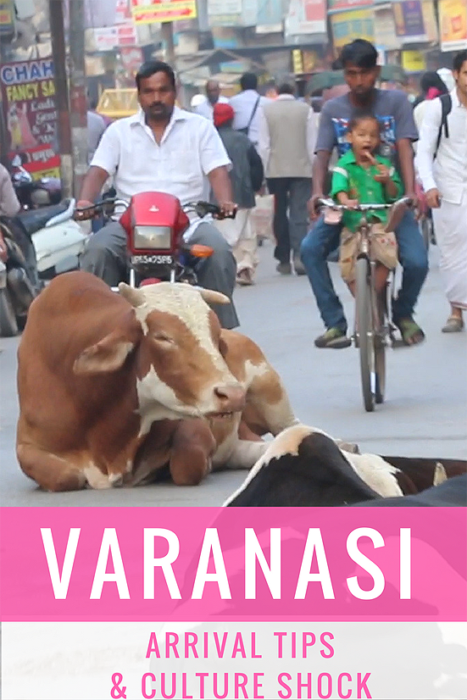 Top 5 Travel Tips for India (Video)
What would you recommend as things to know before traveling Varanasi?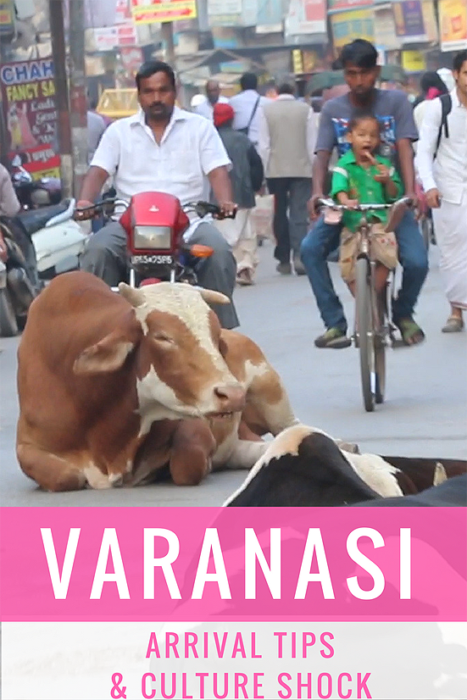 Related articles
Things to Know before you Go to India
Budget Accommodations in India
Study Abroad: What is it like to study Yoga in India? (Part 1)