Last Updated on November 2, 2009 by Christine Kaaloa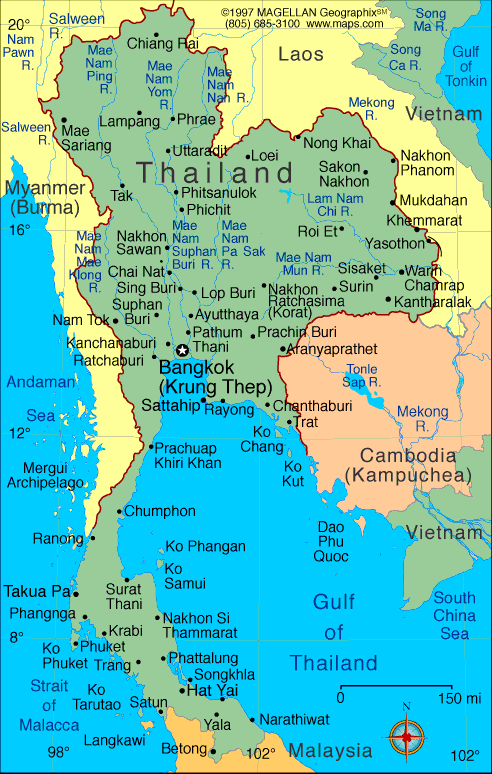 Continued from  Solo Travel for Women: How to Hurdle your Fears of Traveling Alone
I was freaking out. I didn't know where to begin planning my first officially-planned solo trip. The reason I say "officially" is because my first actual solo trip was accidental and unplanned… in India.  Of course, I learned some great crash course lessons on solo travel. But I'm not convinced  .. or shall I say, not confident that I can do it again.
I picked Thailand because what I've heard was that it was a pretty safe and mellow country.  I heard there's lots of backpackers, the Thai are friendly, food and accommodations are inexpensive and there's many means of transportation to get around… Good for a first time solo trip.
How to Plan your First Solo Trip
How do you actually "Plan" a solo trip? I didn't know. I've always either, had help of a travel partner or a friend who lived in the country I was visiting. Planning alone felt well, lonely and I didn't know where to start.  But I knew I had to begin. This is what I learned:
.
1. Create a game plan.
First, create a rough sketch of your itinerary starting from the where you'll arrive into and the duration of your trip. It's best to work with parameters.
For my first planned solo trip to Thailand:
Arrival/ departure city: Bangkok.     Duration: 2.5 weeks.
Next I brainstorm cities or towns I'm interested in visiting. Even if I don't know what I'll see or how practical it is to get to. I don't know… but I throw it in my game plan anyways.
I brainstormed:  Bangkok, Ayutthaya, Chiang Mai, Chiang Rai, Sukhothai
Now I need a general route to follow and that's where I whip out the map of the country. What direction or route seems feasible and the most time efficient?
Looking at all the cities I've got, I decide my main direction is between north and south, with Bangkok being South.
..
2. Find your launch cities
Launch cities are the main cities, where you'll spend the most time in and use as home bases for your sightseeing adventures.  It's a city you'll be arriving into and probably anchoring in.  They make great cities to do day trips from.
Try to pick three main ones to work with. They will become your main route.
Looking at my current itinerary, the best city after Bangkok and a city I know I'll want to do a lot of things in, with the most  is Chiang Mai. Lots of trains and buses leave from there, also making it a good hub for my transportation needs. Following Chiang Mai, maybe the next will be Chiang Rai.
Now my main route looks like this:    Bangkok –> Chiang Mai  –> Chiang Rai  –> Chiang Mai  –> Bangkok
.
3. Connect the dots between cities
Now that you've got your main route, connect the dots adding in the smaller towns to make a circular route and a sensible plan:
Bangkok*  –>   Sukhothai  –>  Chiang Mai*  –> Pai  –>   Chiang Rai*  –>  Mae Hong Son  –>  Chiang Rai  –>
Chiang Mai*  –> Bangkok*.
Okay, that looks good for now…
4. Create a sightseeing itinerary
Brainstorm. Do you want to visit beaches, mountains, rural villages, famous landmarks?  List them per country. Like your original game plan, some of these won't work out and some will.
.
5. Determining length of stay in each city
Looking at your sightseeing itinerary, you'll get an idea of how long you'll need in a place.  A large itinerary might take three days or longer. A small itinerary can probably be done in a day or two.
Keep in mind, you still don't know how what the transportation realities are or how you'll get there. Your travel time is still a mystery.  So pad your transit time, giving yourself either a few extra hours or a day.
But given my trip duration of 21 days,  I give each place roughly 3-4 days, with travel time included.  
.
6. The reality check
Now is where we see if all the pieces in your game plan will fit and align well.   This is where we start factoring  travel time, transportation options (bus, airplane, train, overnight train/bus, boat, etc…) and budget.
Researching my above itinerary, I discovered the route wouldn't  work with my time frame.  Thailand is a medium to large country. Point-to-point travel to any of my cities-  bus or train- will take anywhere from 7-10 hour…that's almost half a day!  So I had to slice things down.
.
7.  Re-adjust the itinerary route.
Rework your schedule so it fits well, but still loosely.
I perform a "light number crunch" and juggle dates…  I have a vague idea of how many days I want to allot to each city. I cross out the cities that are too difficult or tricky to get to. I utilize time-and-money saving options, like an overnight train to Chiang Mai.
Bangkok (day trip: Ayutthaya)  –> (10-13 hours by train) –> Chiang Mai –> (3 hours by van) –> Pai –>  Chiang Mai –> (6-8 hours bus)  Sukhothai –>(6-7  hours by bus) –>  Bangkok.
.
8. Keep loose, open and flexible.
Now that I have a loose idea of where I'm going and how long I'm spending in each place, I loosen the reins. Always create a loose itinerary so you can change it at the last minute if you decide to take a tour, change plans or if something goes wrong.
9. Do not dismiss anything  as "impossible".
The cities I cut from my original wish list won't fit for now, but it doesn't mean that once I'm there I won't find a way to make it happen.  If last minute changes or fall-throughs happen to my itinerary, I may have extra days to make those cities work.
Note: Above is the 'Before' and here is the 'After'.  This is  the actual route I made for myself when I was on my trip.
 Bangkok  (3 days, included a day trip to Ayutthaya )  –>  took an overnight train  –>  Chiang Mai  (5 days, included a cheap 3 day/2 night trekking tour and a one-day tour  to Chiang Rai & the Golden Triangle )   –>  Pai (2 days)  –>   Chiang Mai (1 day)  –>  Sukhothai (2 days)  –>   Bangkok (1 day).