Last Updated on February 26, 2018 by Christine Kaaloa
As early as 1850, Macau was known as "Monte Carlo of the Orient".
As the only destination in China to legalize gambling,  Macau gains its revenue through gambling dollars made mostly off of visitors from China and Hong Kong.
Riding in on the ferry, I realized Macau was a larger island, than I initially bargained for. I thought it might be walkable, but that clearly wasn't the case.
After passing through immigration (note: don't forget to bring your passport) and exchanging some of my Hong Kong dollars into Macanese currency (aka pataca),  my first stop was the official Macau tourist information office conveniently in the ferry terminal. I grabbed a map and had the attendant take her marker and write bus route numbers and circle locations I could possible visit in a day.
.
Getting Around in Macau
A good thing to know about Macau is that casino shuttles are free. Most travel to and from the Macau ferry station. I jumped on the bus taking me to the Casino Grand Lisboa to take me to the central part of town.
One drawback is that the casinos aren't setup like the Las Vegas strip. They're much more spaced out and it generally takes a bus or taxi to jump from one to another. While the public bus system is cheap and prolific, figuring out how the bus routes run, are a confusing challenge.
'Winging' the bus system in Macau isn't advised.  Tried it- didn't work.
While some bus routes are circular in Macau, I'm not sure if they just let you ride through it. In Hong Kong, you have to get off at the end and can't just continue your ride through. So being cherishing the Macanese money I had exchanged, I was trying to be thrifty.
My one attempt to navigate the island and get to Taipa distruct via bus, took me on a long-winding journey to each local stop (which apparently wasn't shown on the bus route map) and I ultimately missed my ferry back to Hong Kong and had to buy another ticket. If you have only a day in Macau, my advice is to stay central and explore the shops, streets and sights in downtown or use a taxi to get around to further areas.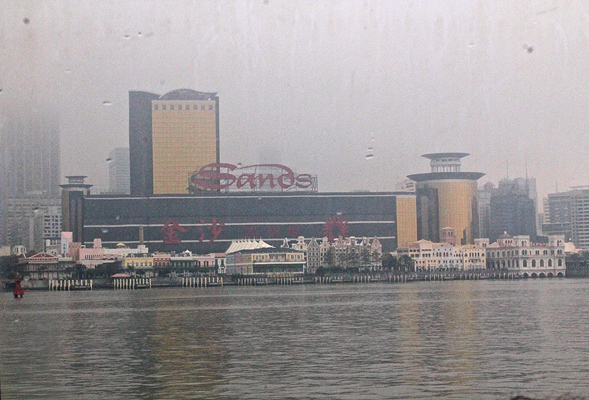 .
What's cool and unique about Macau?
As a DIY (aka do-it-yourself) backpacker and non-gambler, I'm not much into casinos and in Macau there are a lot.
For me, other than being another stamp in my passport, the most distinct reason to see Macau is for its Chinese – Portuguese culture.
While the majority population is Chinese, the Macanese culture is heavily influenced by the Portuguese, who once occupied the island in from the mid 16th century up until 1999.  Thus, the official languages of Macau are Cantonese and Portuguese. You'll see architecture reminiscent of Portugal and Spain and signs in Macau are often written in both, traditional Chinese and Portuguese.
Habla Espanol?
It helps.
What to do in Macau in 24 hours
1. Visit the Grand Lisboa Casino
The Lisboa Casino and Hotel  is the landmark of Macau's gambling heart. Located in downtown, it's the oldest resident casino on the island. However, in 2007 it underwent a facelift to a look that's grander, glittzier and power-packed with glam (photo below). If there's one casino royale to see in Macau, this is the one that's distinct of the island.
Getting There: Take the free Grand Lisboa shuttle bus located outside the ferry terminal, directly to the hotel. Read more here.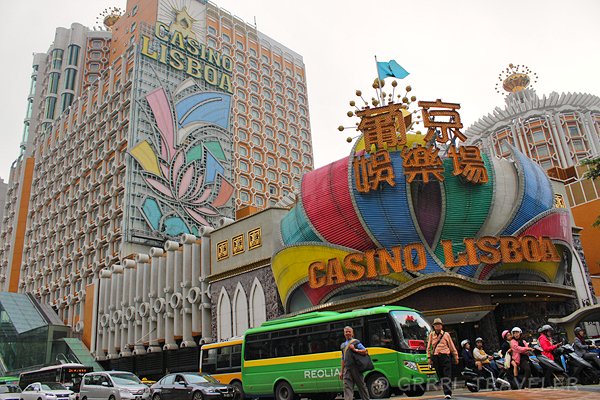 .
2. Do a casino tour and learn about the Asian gambling spirit
Being a gambling mecca of Asia, there are Asian games that a westerner may not recognize, such as Pai Kao (Chinese dominoes) and Fan Tan (a cup being scooped through a pile of buttons). Other popular gambling games in Macau involve horse racing and greyhound racing.
Aside from the Lisboa, there are recognizable western names as well, such as Wynn Resorts, The Sands, The Venetian Macau.
You must be over 18 years old. No wearing sandals, slippers or shorts. No photography and valid passport is required.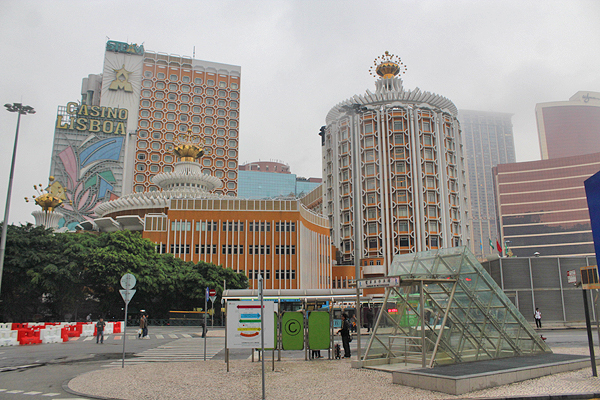 3.  Visit Largo Do Senado
Cobble stone streets, alley marketplaces and Portuguese colonial architecture, capture the feeling of this busy tourist marketplace.  Pastelarias line the main street with sweets and meat jerky shops, which draw you in with its tempting samples. The Largo Do Senado is a main square that's one long street, ending at the Ruins of St. Paul's Cathedral.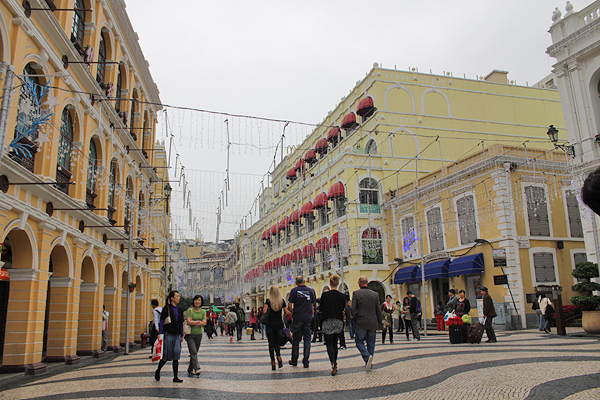 4. Buy souvenirs at the pasteleria
Located between Largo do Seneca and Sao Paulo| St. Paul's Cathedral is a cobble street  marketplace filled with shops and pastelerias (stores selling sweets and jerky meats). Stores occasionally have salespeople standing outside ready to pop samples into your mouth so you'll be lured in to shop.  Watch out: it's easy to get stuck going from store to store sampling samples.
5. Visit the Ruins of St. Paul's Cathedral
After strolling through the streets of crowded tourists and pastelarias, you'll arrive at the ruins of St. Paul's Cathedral (aka Sao Paolo). It's a 17th century cathedral facade, which honors St. Paul the Apostle and is a reknown Macau UNESCO site.
The landmark is really just a façade. There's a small museum of a couple of rooms, behind it with a few artifacts, a huge mystery rock signifying… something (sorry, I really don't know) and a reliquary of Japanese martyrs and monks.  It's free and open to the public.
5. Explore the streets and architecture
Just when you think you might be seeing a part of Chinese culture, Macau fools you. If you look closely, it's a Chinese-Portuguese influence and there's no middle way.
There are backstreet elements, which might remind you of the Spanish streets of Barcelona. Chinese store shops mirror a Chinatown, with the exceptional tweak of a Spanish/Portuguese sign.  You'll feel culturally confused for some time.
Unfortunately, I didn't get out to the Macao Museum (recommended and not far from St. Paul's Cathedral) to understand more about Macao's culture and history. I thought with the interesting influences, the museum would be worth checking out.
Why not see:
Macao Museum
112 Praceta do Museu de Macau
Tel:(853) 2835 7911
Website:www.macaumuseum.gov.mo
6. Discover  Macanese quirks
A day in Macau is not enough to understand the culture thoroughly or even partly.  I spent the rest of the day exploring Macanese quirks on foot.
Here are a couple of interesting things I found on my explorations…
Getting To/From Macau:
Ferries to Macau run from two locations~ Hong Kong-Macau Ferry Terminal is at Shun Tak station on Hong Kong Island and from the China Ferry Terminal in at Tsim Sha Tsui (TST) on Kowloon.
I have more detailed information on my Hong Kong & Macau Travel Survival Guide page (it's free!)
What are your things can you do in Macau in 24 hours?