Last Updated on August 23, 2017 by Christine Kaaloa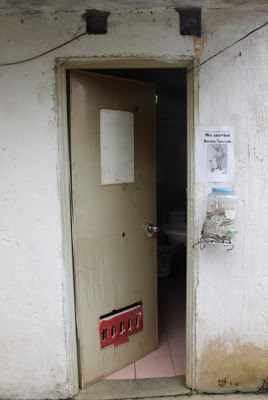 World's Worst Toilets: Roadside Sapa
While on my Sapa trekking trip, we were offered a pee break, before we entered the gulf of the valley and into bush-squatting territory.  Our guide Kuh, led us to this local roadside rest stop to relieve ourselves.
Unfortunately, it made my World's Worst Toilets list.
There was a low-cost entry fee to use this bathroom- just 1,000 VDN inserted into the plastic tip jar on the side of the door. Totally worth it! I thought. I've used public restrooms which charged for usage before…But this roadside toilet in Sapa had a lot more going for it in roadside relief. If I were into the bathroom visuals, I'd actually consider it a great bang for my buck! Instead, I was just reluctant to touch any handles or door knobs…
I guess we know it has more purposes than one.
Pictures of nude women posted at pivotal positions.
What are your world's worst toilets experience?