Last Updated on June 28, 2019 by Christine Kaaloa
Muong Ngoi Neua is a beautiful cove of a village, one hour north of Nong Khiaw on the scenic  Nam Ou River, accessible by boat. An authentic Lao village, it sits in seclusion between towering mountains and is a serene haven for frazzled travelers to kick back or launch into trekking.
Is it a secret? Yes and no. It's in Lonely Planet Laos
, but its still considered off-the-beaten path to many tourists.  Exploring Muong Ngoi Neua, it's clear that Lao lifestyle is chill and simple. The small village has one Buddhist temple, a school, a trekking agency and one worn and dusty main road, tenanted by roosters, dogs, local women and playing children. At night, local men gather around open fires to chat over their day; others, occasionally gather outside the unofficial community TV house to catch a peek ofwhat's on the tube (basically, one family owns a television set and neighbors come to watch it).
What to do in Muong Ngoi Neua
There's not a lot to do here, but you can easily stay a week or more. If it weren't for the fact I'd pre-booked a flight back to Thailand, I'd definitely have stayed longer! The village has its local charms and presents an uncomplicated way of life.
Enjoy an herbal sauna at @Moon Guesthouse
So your guesthouse only has cold shower baths? Not to worry. At the end of the road @Moon Guesthouse, a Swiss-owned place, runs an inexpensive service of two herbal sauna rooms and hot dip-and-pour showers. Herbal saunas are worthwhile experiencing in Laos. You walk into a warm wooden box that's completely dark, but filled with herbal scents being brewed from underneath the room. You will sweat and the detox will feel great when you emerge. After you're done toweling off, run into the showers, where you'll scrub down and then to rinse off,  dip a cup into warm water and pour it over your body. @Moon has travelers lining up!
Advice: In the saunas, be careful before sitting ,as other travelers may be there already- it's kinda like a fun Marco Polo game').
Take the local hike
There's a hiking trail from the very southern end of the village, leading out to some caves. It's a good and long walk along streams, and through forest shrubs and paddy fields. If you keep going, you can reach another village. The path is a bit complicated and tricky though, so be sure to ask for directions before you go.
Book a trekking tour from Muong Ngoi
Muong Ngoi Neua makes a closer launching spot for treks and the prices for a guide are much cheaper.  You can book a trekking tour from the local agency or your guesthouse. My guesthouse, Rainbow Guesthouse, was operating their own trekking tours and offered anything from from one to three day treks.  Due to a lack of time, I opted for the one day trek, which felt pretty exceptional. I didn't think much could be seen in a day but Laos surely surprised me.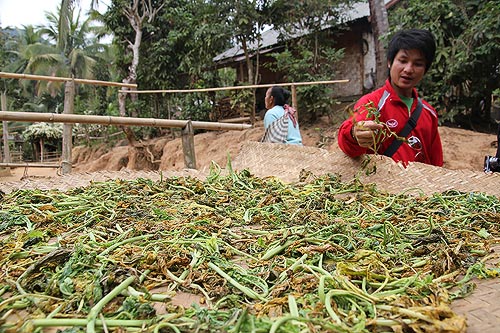 I highly recommend visiting here and even taking a trekking tour, if you get the chance. Visit Muong Ngoi Neua! Do it before it's no longer a secret!
Tips about staying in Muong Ngoi
For travelers, there's a small handful of guesthouses and restaurants to choose from. It's nowhere near the options of Luang Prabang, but it's still comfortable. I stayed at Rainbow Guesthouse for around $5/night. It's got spacious rooms, a restaurant and houses a trekking guide.
Electricity and internet are between bare and barely. At night, the town runs on one to two electric generators.  Electricity kicks in around 6pm, but one knows when the lights will go out (generally around 9 pm). Bring a flashlight as walking back to your guesthouse in the dark is no fun.
Take a flashlight. You can buy one at the local shops in Muong Ngoi or at the utilities shops in Nong Khiaw.
If your guesthouse says it offers hot showers, I wouldn't rely on it. Places claim to have it, but it's an ice-cold reality.
Food: there's a surprising wealth of traveler options to choose from. The corner restaurant near the entrance has nice and simple foods, and further along the main road, there's an Indian restaurant and more.  There's always your guesthouse restaurant.
Getting to Muong Ngoi Neua by boat
As I said, Muong Ngoi is located one hour from Nong Khiew and you can get there by boat.  That's the only way. The ride is *incredibly scenic* and although I didn't do the recommended boat ride from Luang Prabang to Nong Khiaw, I feel like I still got the grand experience.  The karst mountains from the river are just tremendous and the landscape does look like a painting. Laos is one of my highlight countries regarding landscape that bowled me over.  More photos on the beauty of Laos landscape and people .
The schedule to Muong Ngoi is limited, so depending on your bus arrival time, you may be looking at an overnight stay in Nong Khiaw first. Advice: Use the bathroom before getting onto the boat as the boat doesn't make any stops along the way.
---
Related Posts
Things to Do in 48 hours in Vientiane
Best Things to Do in Luang Prabang
What will your Kip buy in Laos budget accommodations?