Last Updated on
There are many things which shape a child's personality.
Had my mother known how I'd turn out at the time, it's highly likely she might have done things a little differently.
How I was inspired to be a traveler
These days I've been thinking of possible reasons why I have a love for travel (and solo travel at that).  In my youth, I wasn't one of those outspoken, adventurous or outwardly, inquisitive types.  My voice was my creativity and as an artistic child, I was quiet, sensitive and traveled a lot in my imagination. Fearing I'd lean too extremely to one end,  my mother enrolled me a steady stream of extracurricular activities, hoping to break me out of my shell and sculpt a more well-rounded individual: sports, dance and art classes, trips to library storytelling hour, piano and charm school classes, and annual summer trips to explore the U.S. (under the guise of volleyball competitions.) Mixed with odd parental tics like my dad's love for opera or for always driving a different route when he took me to school, everything swirled and formed into what I know of my personality today.
Interestingly, much of these formative tools awaken memories which still resonate in me. The musty smell of air-conditioned library books still arouses the idea of mysterious and secret worlds to be explored.  Exposure to different cultural arts, inspired me to want to travel to experience and see it. Favorite Disneyland rides like Pirates of the Carribean and Jungle River Safari might have uncaged silent longings for a more adventurous life and  waiting in the airport with sports teams over an impending tournament, drilled me with enough excited anticipation to manifest a peculiar preference for waiting in airport terminals over arriving at destinations.
Maybe… We never quite know what shapes a child's personality and forms their future interests, do we?
.
How to Inspire your Child to Be a Traveler
Last month, out of curiosity, I asked friends, parents and followers on Facebook, for recommendations on how they might inspire their child to be a traveler. Here's some of their responses:
Books
There's no doubt that books encourage the imagination and stir curiosity about the world. Library storytelling hours exposed me to many good books, I fondly remember:  7 Chinese brothers, Where the Wild Things Are, Paddington Bear and Curious George.
The Seuss book: Oh, the Places You'll Go . – Megan, Yoga & English Teacher, South Korea
The Chronicles of Narnia! The whole series!–  Susie
" 'Dear Children of the Earth, a Letter from Home'   . I often read this book to my kidlets when they were very young. It sparked a passion in my son to see the Kalahari. The books are more about sparking a passion for the earth, once that's in place … travel is inevitable."    – Mother/Travel Blogger at Escaping my Comfort Zone
I am not a parent, but as a child I was an avid reader. I think books were my number one influencer when it came to wanting to travel. I was inspired by the works of Madeleine L'Engle (A Wrinkle in Time), and also C.S. Lewis (Chronicles of Narnia). – A Place Like Me in a Girl Like this
What to Watch
Did you know that a lot of thought and child psychology goes into planning children's educational TV shows?  The goal is to get the kids to feel entertained, engaged and challenged without feeling overwhelmed or bored.  They don't only teach grammar but a variety of subjects, such as community and different cultures.  Here's a list of the top 30 educational TV shows for kids.
Watch PBS and take the kids to the Zoo.   – John,  Actor/ Art Director/Father, Hawaii, U.S.A
National Geographic or travel channel   – Phyllis, Texas, U.S.A
Dora the Explorer and Wonder Pets are some examples of children's shows that are both, fun and educational.  – Karen, Maryland, U.S.A.
Museums, Aquariums and Zoos
Wonder, curiosity, discovery… What kid doesn't like animals or isn't curious about wildlife in the world?  These days, museums have also gotten better about conducting children's workshops and scheduling family events to encourage interest in their exhibitions. Here's a great read by the National American History Museum on Why you should take your kids to a museum.
While lesson planning, I'm always intrigued by animals around the world, especially aquatic animals. Kids are always excited by animals and their habitats.     -Barbara, @dropdeadbarbie, English Teacher in South Korea.
Most kids love water activities… Beaches, lakes, rivers, waterfalls, water parks, etc. Animal activities work well too… Zoos, aquariums, National Parks, safari, etc.    – Brian, Financial Advisor / Father of 2,  California, U.S.A.
Museums – Natural History, for example – that let them see the wildlife, geology and culture of different lands…and see which aspects interest them so you can reinforce it with books, etc.  –  Telecomm Square U.S.A.
Toys
Toys are often overlooked as tools of learning or child communication. It's one of the first ways kids learn to verbalize their thoughts and actualize their imagination.  Here's an article by the Creativity Institute, on ways toys can teach children a lot more than we think.
Toys by YTech are amazing, they are educational toys and a lot of them are geared towards "adventure" and "travel", Like the "Fly and Learn" Globe by VTech, or the "Spin and Learn Adventure Globe"  I have multiple nieces and nephews and they always love these toys.               – Jacquese, Paralegal, USA.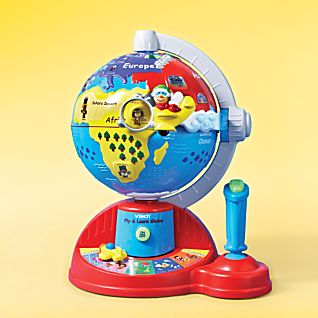 How to inspire your child to be a traveler through toys
Allowing your kids to experience travel and different cultures
Nothing seals a child's learning better, than experience and active learning.  Real life experience engages the senses and allows children to form their own impressions from their interactions with the environment, culture, people and ideas.
International cuisine diversity in food, friends, etc. can create a spark of curiosity. If parents enjoy eating lots of various foods with enthusiasm, kids usually will at least try some too     

– Megan, Yoga Teacher & English Teacher, South Korea

Just take them to see a place they haven't been to every month, that's inspiring.    – Seek a Trip.com
Take your child travelling, while they are growing up and they will experience it for themselves. Either they will love it or not.    – Cherie, Gyrotonic movement teacher, single parent, globe trotting world traveller, London, UK
Good way to encourage parents to take their children traveling:) I have 3 kids 14, 10, and 6. We left our "home" 7 years ago. Had my 3rd child in Costa Rica!   – Mary Hitchox, Travel blogger at Bohemian Travelers
RVing with your kids. We love having them see new places and part of it is the journey to get there. We take them RVing or road trips whenever we can. We love it! It is a good way to travel if you can't afford 4 seats on an airplane.    – Michelle, Mother of 2, Colorado, U.S.
We always encourage the boys to try new things, even with food. So when we were in Chiang Mai it was our 8 year old who suggested we try crickets. We were so proud of him to be a "risk taker" (that's a term they use at school)    – Darcie, Mother of 2, Singapore
What are some ways you feel you were raised to be a traveler? What are some ideas you'd recommend parents to inspire a child to travel?