Last Updated on August 24, 2017 by Christine Kaaloa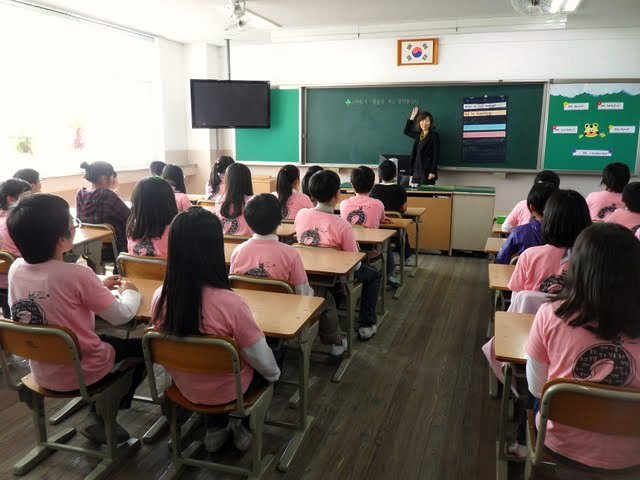 Daegu, South Korea. Kids chirp in unison after the teacher. Maybe they break into song as they break from their row and scurry along, moving their desks into their level groups. It reminds me of an elementary ROTC school.
They call them "model schools" in Korea and last month, I got to attend an open observation of one.
What's a model school in Korea? 
Until now, I'd only heard about the mystique of them:
• Korean teachers who enter endless contests to bolster their point value by taking additional training workshops, employing innovative classroom techniques and are awarded excellence in their styles of teaching…
• Students whose English-speaking levels boosted their own schools' high ranking amongst other schools…  Model school– a kind of school on learning steroids.
Now, one of these schools was opening its doors to display its proven effectiveness and educators were invited to take a peek at what made its programs "role model" exemplary.

A model teacher introduces the target expressions for a dialogue around the lesson's subject.
This elementary school in particular, was specially chosen and funded by the Ministry of Education to have a year-round program of immersion English classes- conducted in English– for its entire student body.
"Level Differentiation" is the new word on the forefront.It's a method being tested and injected into the school structure by the Korean Ministry of Education, with the hopes of making sure all students and their personal learning needs are well-supported.
"Basic", "Intermediate" and "Advanced", level differentiation attempts to bolster a student's performance by placing them in groups, based on their ability and aptitude.  Educational tools and activities are custom–tailored to challenge students to meet their group goal.
How hard is the job of the model Korean teacher?
Model teachers work with a diverse resource of tools: from videos, exceptionally crafted Powerpoint presentations using photos of fellow classmates' performing example dialogue, individual dry erase boards, flashcards, intricate mental games, you name it… They draw every creative trick in the bag to steer students away from boredom and to get them engaged and stimulated towards both, mental and physical learning.
Here's a brief example:
Basic students focus on speed spelling and the ability to form simple target expressions.
Materials: velcro board and letters, game sticks and a dry erase board to keep score.
(Photo above) Intermediate students must place dialogue in order of the scene (though there's actually more to this game than meets the eye; those yellow post-it tags with words go with each student's dry erase boards and are a kind of ordered clue or 'marking' used at the completion of each task).
(Photo above) Advanced students must create their own dialogue for given scenarios. The scenes feature popular cartoon characters and Korean celebrities/K-drama scenes.
(Above) Open observation class: Educators, Korean teachers from other schools walk around during the activity time to observe the teaching methods and its effectiveness among the students.
(Above) At the end of class students must evaluate their performance and their ease or difficulty with the activity.