Last Updated on August 17, 2017 by Christine Kaaloa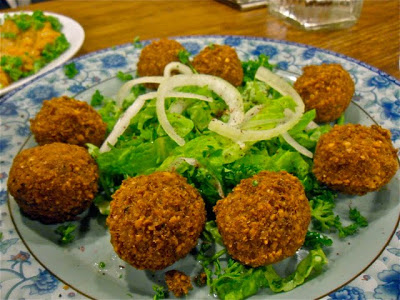 Petra Restaurant in Itaewon, Seoul.
Whenever any Manhattanite crosses the river into a neighboring burrough, it's usually because what lies on the other end is important enough for them to want to cross it. For me, it was my $4 falafel sandwich heaped with pickled cabbage and yogurt-hummus goodness and it was conveniently located right outside the L-train Bedford stop in Williamsburg, Brooklyn.
How can you satisfy your vegetarian, falafel and Middle Eastern cravings in Korea?
Within the past few months I've successfully satiated various comfort food cravings- from hummus, soy chicken nuggets and edamame; however, it's the falafel that's remained elusive.  My deep-fried chickpea craving has become a delight gone unfulfilled.
Thanks to Seoul Eats and their post, "Vegetarian restaurants in Seoul", I finally got to cross falafels off my list (well, sorta…). Last week I was in Seoul for a weekend . I had proudly cut and paste the recommendations and its directions into my iPodTouch;  excited to try one of the restaurants out.
Just off to the edge of Itaewon, off the Noksapyong stop, Petra Restaurant rests aloft on a hill overlooking Itaewon traffic as a bright red brick beacon of middle eastern goodness. This restaurant is said to be a local favorite for years and it touted falafels; so I was thrilled with the prospect of laying chops into it.  Upon entering, the atmosphere strikes you as cozy kitchen, bright with some accent pillows and gilded decor to inspire a calm middle eastern vibe. Even more surprising, the menu prices  were modest and humble.
However, all my happy flavor  took a slight down-turn when the owner's gruffness gave off more attitude than a New York deli and I was sped along with a yeah, yeah… a rolling back of the eyes and finger turning in the hopes to speed my words along.  Wow, Seoul, what's up your bite?
Did this service stop me from ordering? No, we were short on time and too hungry to walk out; but it did keep me from asking about further dishes.
Vegetarians are friendly, even when restaurants aren't
Whenever a vegetarian is at a restaurant, they always know their place will probably be in the entree section, than the main course meal; this restaurant was no exception. All main dishes carried either lamb or chicken in its name. Nevertheless, I was happy with just ordering the falafel, fatoosh (a salad) and the Em'nazala. With menu prices (ranging from 5,000-7,000 Won), trying new things outside of my falafel held low risk.

Dishes were served with a generous side portion of two dressings: a yogurt
and a spicy salsa-like sauce.
Did the falafels at Petra live up to my fantasy?
I'd like to say the falafels were the star of my meal, as I had waited seven months for it. It wasn't. The falafels were on the smallish side, with barely enough spiced nuttiness to relive my NYC fantasies. What can I say?… New York  City isn't Jordan, but perhaps it's kitchen is closer than Seoul?
However, there was one redeeming dish on the menu. The Em'nazala was an entree reminiscent of a well-spiced, nutty baba ghanoosh, with an earthy masala blend. Smothered on  bread, it made for a delightful dinner appetizer that you'd savor the taste of!
As far is falafels go though, the quest continues…
Information
Petra Restaurant Itaewon (website here)
Tel: 02-790-4433
Hours: Noon- 10P Daily
Getting There: Noksapyong Station, exit 3. You will see an overpass leading up to a hill. Perched at that intersection on the hill is Petra.
.
Related Posts on Seoul restaurants
Hello Kitty Cafe Seoul and Hongdae's Theme Cafes
Coffee Prince Cafe & Korean breakfasts
Goulash Soup & Bread Cafe
Petra Palace (Mediterranean & Falafels)
Mountain Top restaurant (Indian food)
Loving Hut restaurants (vegetarian)