Last Updated on June 7, 2023 by Christine Kaaloa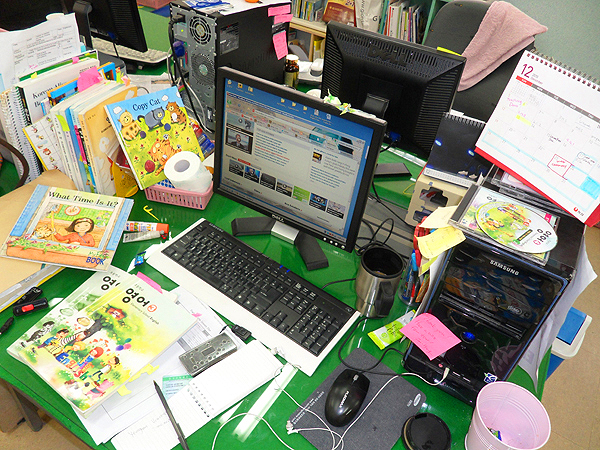 Continued from Teach English in Korea? (Part I: Q & A)
If you ask most people why they were drawn to Korea, the very first answer you'd commonly hear is– the benefits.
Korea has by far, the best ESL work-pay package out there–both, public and private schools alike. By public, I mean EPIK/SMOE and by private, I mean Korean hagwons.
So I thought I'd do a full breakdown sharing the benefits of teaching in Korea and the differences between EPIK vs hagwons.
Should you Teach English in Korea?
Incentive Package for teaching in a Korean public school:
• Roundtrip airfare to South Korea
• Free apartment housing
• Signing bonus
• Paid vacations
• 50% medical insurance
EPIK vs Hagwons: Which program is best for you?
Whether you're with a government run program or independent one, there is no guarantee that your situation will be perfect and not meet with disappointment on some level. Both public and private employment have led to  hit or miss situations for many- anywhere from bad apartment situations, problems with getting paid, bad co-teachers, etc…  The forums are littered with unhappy results and while you'd like to think it's just a bunch of disgruntled folk, the numbers ten to be so outstanding that you know there's a level to truth.
This is a video tour my apartment with EPIK and a look inside my apartment
Getting a job with EPIK (the public school system in Korea)

Your choices are either EPIK, SMOE & GEPIK. Is it competitive? It's becoming that way.
Seoul placements are highly competitive, usually asking for at least a year of experience. The further out of the epicenter you're willing to work, you'll find more opportunity.
Mitch Gordon of Go!Overseas has a great article about the differences between the EPIK, SMOE & GEPIK.
I work with EPIK, the largest entity of English teacher placement around Korea. I chose a government program because its contract is for a year, I value vacation time (for traveling abroad), it's a reputable job and  stable. Working in the public schools makes me feel like I make a meaningful impact on students, who can't afford a private hagwon and collaborating with Korean co-teachers, teaches me how to teach like a normal teacher would.
A typical EPIK working day:
Hours:  My hours are 8:30AM – 4:30PM   Monday- Friday; and I work 40 hours a week, but only 22 hours are spent teaching in the classroom. The remainder is spent lesson planning, either collaborating with Korean co-teachers or on my own. My classes are 40 minutes and I have roughly four classes each day by grade level, teaching from 3rd-6th grade.  One class you will definitely teach on your own is some form of an adult class (either parents or teachers).
Here's my EPIK class schedule
Class Size: I  teach a class of up to 30 students per class.  The classes come to me by grade (I teach one grade per day) and they are of mixed levels, in terms of their English. Some have been to English hagwons, while for others, it is their first time learning English. This is where I feel most valuable, teaching in the public schools, as I know I'm offering English to students, who can't afford a hagwon.
Co-teachers: I teach with a co-teacher and help with coming up with creative lesson plans to motivate the students. Negotiating talk time is where you need to plan together. I work with three Korean teachers, each in charge of different grades.
Salary: 2.0-2.4 million, depending upon experience and degree.
Overtime pay : It is given for additional hours or programs designed by the school. For instance, I teach a Teacher and Parent English class per semester.
Vacation Time: I have 21 days of vacation time plus, most school holidays. The exceptions are winter and summer vacations, where I might need to teach Summer or Winter Camps. Either way, my 21 days are guaranteed and I'm free to take a chunk of it during both seasons.  That's a sizable chunk of vacation time though.  Confusion arises with many teachers about the specifics of winter and summer breaks. Although the students and teachers are out of school, EPIK teachers must "desk warm" and sit in their classroom/office during school hours. Thus, you don't the same vacation time as Korean teachers and students.  You just have your 21 days.
Community: With EPIK, you go through an orientation where you meet other EPIK applications, so there's a sense of community and you're likely to meet the ones in your city when you're told which city you'll be in. It's an invaluable network and will be a great resource during your time in Korea. Occasionally, the district office of the city you're in, also runs free programs, such as  language classes, a toast master's club and cultural tours. They help mediate should you have any problems with your school and that you can't handle on your own.  You have a main co-teacher, who helps with setting up important things like our bank account, utilities, etc..
Student Levels: Mixed levels, but can have a tendency to be lower than a hagwon. I even get special needs students in my classes. Students require more incentive to learn and are less motivated to learn English than hagwon students.
Extras:  EPIK teachers are required to teach Summer and Winter camps. It sounds like work but it's generally fun. You'll do anywhere from 2-3 camps per session break and you'll get to do them at other schools (outside of your own). This is a chance to see what type of working environments other EPIK teachers have.  You are paid extra for camps and for your travel time.
It's not to say everything is sunshine and roses working in the public school system. There are occasional issues native Teachers can experience, such as bad housing, dealing with reluctant co-teachers, a school not wanting to pay overtime and the DMOE, doesn't always help. But what job is perfect. To me, if it has a firm foundation, it's workable.
How to apply for EPIK:
Grab a recruiting agency (I list a few here). These key programs work in partnership with a handful of reputable recruiting agencies. You can also find job listings and recruiters on Dave's ESL Cafe.  Update: You can now apply directly through EPIK; however, going through a recruiting company still has benefits as they will guide you through the process.
Assistance in Korea:
The following is your chain of command- your co-teacher (*main), your school, the DMOE (the Dept of Education in your city)
 Getting a job at a Hagwon (private language schools and afterschool programs in Korea)
Getting a job at a hagwon or private language and afterschool program in Korea is  like going the independent job search route. Hagwons are attractive to those seeking quick placement, who want to be able to choose the city they'll be in and who want to negotiate for higher salaries. Discretion must always be used, as hagwons are private business. You will find an increasing amount of complaints in ESL forums about schools breaking contract, closing down and not telling the teacher, failure of payment, bad housing, the list goes on… Hagwons can be a little on the risky side, as some are unethical with movable roots.
Being a private institution and after-school supplement to learning, hagwons run their curriculum like a business factory.
Hours: Generally it's similar to EPIK in that you can expect 22-24 teaching hours a week, but it's not necessary a standard 8-hour day. Some days it's less, some it's more.  Your schedule is not regulated and can change by week . You could get a scheduled break in between, where you can leave, but then be back to teach in a couple of hours and some teachers prefer this to having to have "office hours". You'll teach anywhere from 4-6 classes a day and you can work anywhere from 5-6 days a week. Most classes will follow one directly after the other for 40-50 minutes with a 5- 10 minute break in between. Basically, whenever the students are out of their normal school is when hagwons will be operating. Thus, your hours start  after "normal" school hours.
Class: Classes in hagwons are roughly a third of the size of public schools, so they're small and cozy. You teach alone. Not much creativity is required in lesson planning as you're teaching from a teaching manual and lessons focus on targeted learning, preparing for tests, etc… and you must stick to the textbook.
Salary: 2.0-2.4 million (but for higher hagwons, pay can range up to 2.7 million, making it a reason why some prefer teaching at hagwons.
Vacation Time: Vacation days allotted are about 10 days. Hagwons run on weekends and holidays, so they're not always recognized as days off.  The employer decides which days you can take for your vacation.
Community:  There will probably be a few foreign English teachers like yourself. Your employer will help you set up main things like your phone and there are Korean teachers in the same office, who you can ask for help.
Student Levels: the levels  range from beginner to advanced. These are paid classes, so learning and study skills are accelerated. The students are more focused than the public schools. Many  can speak decent English.

How to find a good school/employer at a hagwon:
While you can't see the inner workings of the school, the NET before you will and will be eager to lay into the pros and cons of their experience.  Ask the school if there's a current (or previous ) English teacher, who worked there and whom, you can contact for personal reference.  Do an internet search on your school to see if there's been any problems in the past.
How to apply for a hagwon job:
Applying for a hagwon job is easy. There's a massive amount of job ads for hagwons, enough to go around.   Dave's ESL Cafe is an excellent resource  for finding esl job opportunities and recruiting agencies looking to fill positions in private schools. There are also several independent recruiters out there, such as Jobs in Korea (or JIK). Warning, not all recruiters are credible nor are job postings always reputable, so you'll have to do your own homework.  You should never pay money to a recruiter.
EPIK vs Hagwons : Read more
here
.
Do you need to be TEFL certified for teaching in Korea?
No, you do not need to be a TEFL certified to teach at a hagwon or public school. However, higher level teaching jobs request it and will take it over a person without a TEFL certification. EPIK's Seoul jobs will choose teachers with this qualifications. For university jobs, many seek a TEFL certification or at least a Bachelor/Master's in English.  I had a master's degree, so that gained consideration for teaching at a Korean University as well as higher pay. Korea however, appreciates a TEFL.
Outside of Korea, a TEFL can be like a passport to jobs in other countries. Most countries will ask for this type of certification. If you're planning to pursue a career in teaching English abroad, TEFL certification is something you'd want to invest in
Where can I get an inexpensive TEFL certification?
TEFL certification programs can be costly. If possible, I'd recommend getting certified through an online program or in a different country, where it might be cheaper.  Many expats I've known, have gone to Thailand, Cambodia, Philippines or India to get certified. Research your options.
Want to teach in Korea? Do you already teach in Korea- hagwon vs EPIK, which do you prefer ? 
.
For more information about teaching in Korea, click here: