Last Updated on November 5, 2022 by Christine Kaaloa
.
This post may contain affiliate links. Never leave home without travel insurance. Click for the travel insurance I use  or check out this recommended trip insurance finder tool.
 Chiang Dao is a small town known for it's huge limestone mountain and cave temple. If you ever wanted to escape Chiang Mai in search of nature and a small village, jungle feel, this is just 3 hours north. I went to Ban Tham (ban means "village", tham means "cave"),  a 15-minute drive to the village beside that cave. Chiang Dao means "City of Stars" because you might see a milky way at night. As Thailand's third highest mountain, it is surrounded by nature, making you feel world's away from urban life.  Home to several temples, a cave and hot springs,  Chiang Dao is worth exploring.
What to do with 48 Hours in Chiang Dao
Chiang Dao has two faces- Chiang Dao town and Ban Tham. Firstly, the bus will drop you in town and you'll have to hail a taxi to get to Ban Tham village. The town is a normal small Thai town with some guesthouse hotels, shops and restaurants. It's not as visually relaxing as Ban Tham is. Similar to the outskirt village of Bangmapha (where I had my supreme caving experience) Tham is considerably more of the gateway into nature and the hills. It is a village area and you can either walk or rent a motorbike (the latter is the easier option for getting to slightly further attractions- however, I did it all on foot!). You'll find small but budgetly managable resorts (some with their own cafes) as there are limited cafes or snack shops. Shop for your travel needs and fun snacks in town before heading to Ban Tham as there are no 7 Elevens or Family Marts, but only the occasional mom and pop shops.
I had two days in Chiang Dao .  I decided to see what could be seen on foot.
Here's what you can see and do in Ban Tham:
Chiang Dao Cave & Temple Complex
The main attraction of this area is the Chiang Dao Cave . Temple grounds are free to roam and you'll find a large buddha and small meditation cave tucked behind the larger war monuments.  The meditation cave is located near the public toilets.
Chiang Dao Cave is cavernous and is a temple of sorts. You'll see an eerie buddha that looks buried and parts of it are meant to be a shrine. It's advised to hire a guide to take you through the cave as you won't be able to go on your own.
General Admission : It's  40 baht to enter the cave, but to explore the cave you need to hire a guide with a lantern. This costs 100 baht and a tip (I gave 50 baht) is recommended.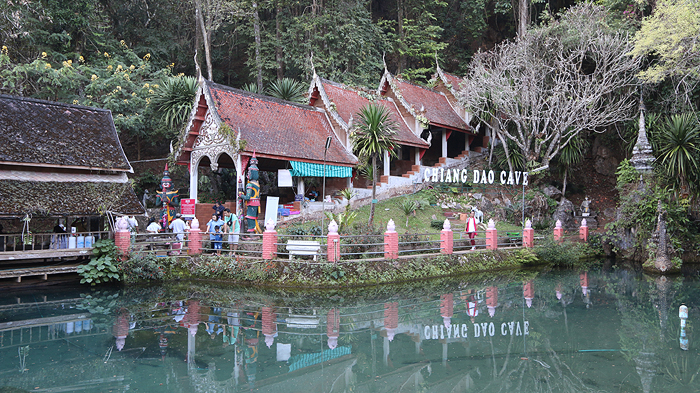 Wat Tham Pla Plong 
Wat Tham Pla Plong was one of my favorite spots, because it's 500 steps to top, but the pathway is dotted with Buddhist proverbs and sayings. The experience is meant to be a thoughtful, quiet and reflective one.. It's meant to be a bit of a "walking meditation". The view from the top of the wat is peaceful and a great place to kick back, breathe in the fresh air and feel connected with nature.
My recommendation:  Read the proverbs along the way and quietly reflect on them as you think monks would as you take each step. You might come upon some surprising realizations.
.
Exploring Nature and the Pha Daeng National Park
If you love a good hike, the Chiang Dao mountain can provide that. Compared to resorts and spas that help you feel escape, this is the nature lovers equivalent of finding natural bliss. You can ask your guesthouse for trekking tour recommendations or find some at Malee's Guesthouse, which has been known to offer good tour options. If you're an avid bird watcher,  visit Pha Daeng National Park (aka Chiang Dao  National Park) ; it's said to be one of the top places for bird watching in Thailand. Admission: 200 baht
.
Wat Tum Pha Plan & Wat Tum Pha Soong (meditation cave)
Chiang Dao has its share of wats, but two in close vicinity to each other are Wat Tum Pha Plan & Wat Tum Pha Soong (meditation cave). My favorite is Wat Tum Pha Soong; the cave is small and shallow but the actual wat and monks descend into the depths of the cave to meditate. You cannot go down there as a metal gate guards the sublevel entrance. But you can enjoy the parts of the wat that are exposed with buddhas and ritual pieces.
Wat Sam Nuk Soong
Wat Sam Nuk Soong is still in restoration so you'll see ruins, but getting up there exposes you to some of the best views of Chiang Dao mountain and the valley beyond.
Other sights of Chiang Dao:
Some sights I didn't have time to see and which are further away are Tuesdays Market (located in town, it's a local market ) and Chiang Dao hot springs!  The actual town of Chiang Dao is not as visually relaxing as
Temple dress code in Thailand
Whether you're visiting a wat in cave or a small local one, the dress code in Thailand is always the same. Please remain respectful to the culture by dressing conservatively. The photo below state its pretty clearly.

How much time do you need in Chiang Dao?
I stayed for  two days, felt very rushed and knew I would regret my short stay on the very first day. While you can see a lot of highlights in  two days (as the village is small and a little sleepy),  in order to enjoy a leisurely pace, rent a bike and soak in the healing spa that nature is, then three days or longer is recommended.
Where to Stay in Chiang Mai:
While you can very well stay in the town of Chiang Dao,  I don't recommend it.  It's in the village of Ban Tham (nestled near the Chiang Dao mountain) where you'll experience the value of your visit. In Ban Tham, there's  a small selection of accommodations and street food stalls.  Chiang Dao Hut Resort and Chiang Dao Nest 2 are close to each other, street food stalls and the cave.  Malee's Guesthouse and Chiang Dao Nest 1 are the better known as they've carried longer reputations. They're close to each other, but further away from the cave.
I stayed here and loved it! It's clean, well maintained, cozy, a 5 minute walk to the caves and the town,  and to top it off, one of the best prices in the area! Bungalows (shared bathrooms) start at 400baht.    It lives up to its name as a "resort", with packaged towels and free water; it certainly felt luxurious to me.  I'd gladly stay here again, just to unwind in my room, lounge on the porch, while staring up at the mountain. Their restaurant is right across the street.   Website: www.chiangdaohut.com    Tel: 053 456 625
Other Accomodations:
Malee's Nature Lovers Bungalows  (Located a bit further from the caves and closer 10-15 min to Wat Pra Pla Ploong)  Right next door is Chiang Dao Nest 1.
Chiang Dao Nest 2 is probably the newer one (Chiang Dao Nest 1 is the original) and the better location of the two. Restaurant appears to be more like fine dining, but I didn't stay there to truly know.  Not far from Chiang Dao Resort Hut.
Chiang Dao Roundhouses is perched a little higher than the rest. But its round earthen-domed huts you can't miss on your way up to Wat Sam Nam Soong.  Those opting for a unique getaway with a fantastic view overlooking the village and mountain, this would be it. They even offer classes on building roundhouses.
Getting to Ban Tham in Chiang Dao
The bus drops you in town but to get to the village you have to hire a yellow truck taxi. which costs 150baht.
Yellow Taxi to Bam Tham (Chiang Dao Cave Village) 150 baht
Bus to Chiang Dao ( 3 hours from Chiang Mai).  No direct route from Pai. Need to take it from Chiang Mai
Getting to Chiang Dao from Chiang Mai
There is only two ways to get to Chiang Dao — from either, Chiang Mai or Chiang Rai.  You can't come to it via Pai.   From Chiang Mai's Chiang Puak Bus Station, I took a local bus headed to Chiang Dao. It makes a lot of local stops along the way.
Thailand Health & Safety Recommendation
Travel insurance is always recommended for travel but also for Thailand. I like to get adventure trip insurance with World Nomads, because there are a lot of cool adventure activities from snorkeling, diving, caving, rock climbing, etc.. While their urban cities have very good medical facilities, you never know what can happen in motorbike accidents or transportation. I've seen some bad spills in Thailand and travelers get dengue. You always want to be prepared. You can use this recommended trip insurance finder tool to find your own.
.