Last Updated on August 3, 2023 by Christine Kaaloa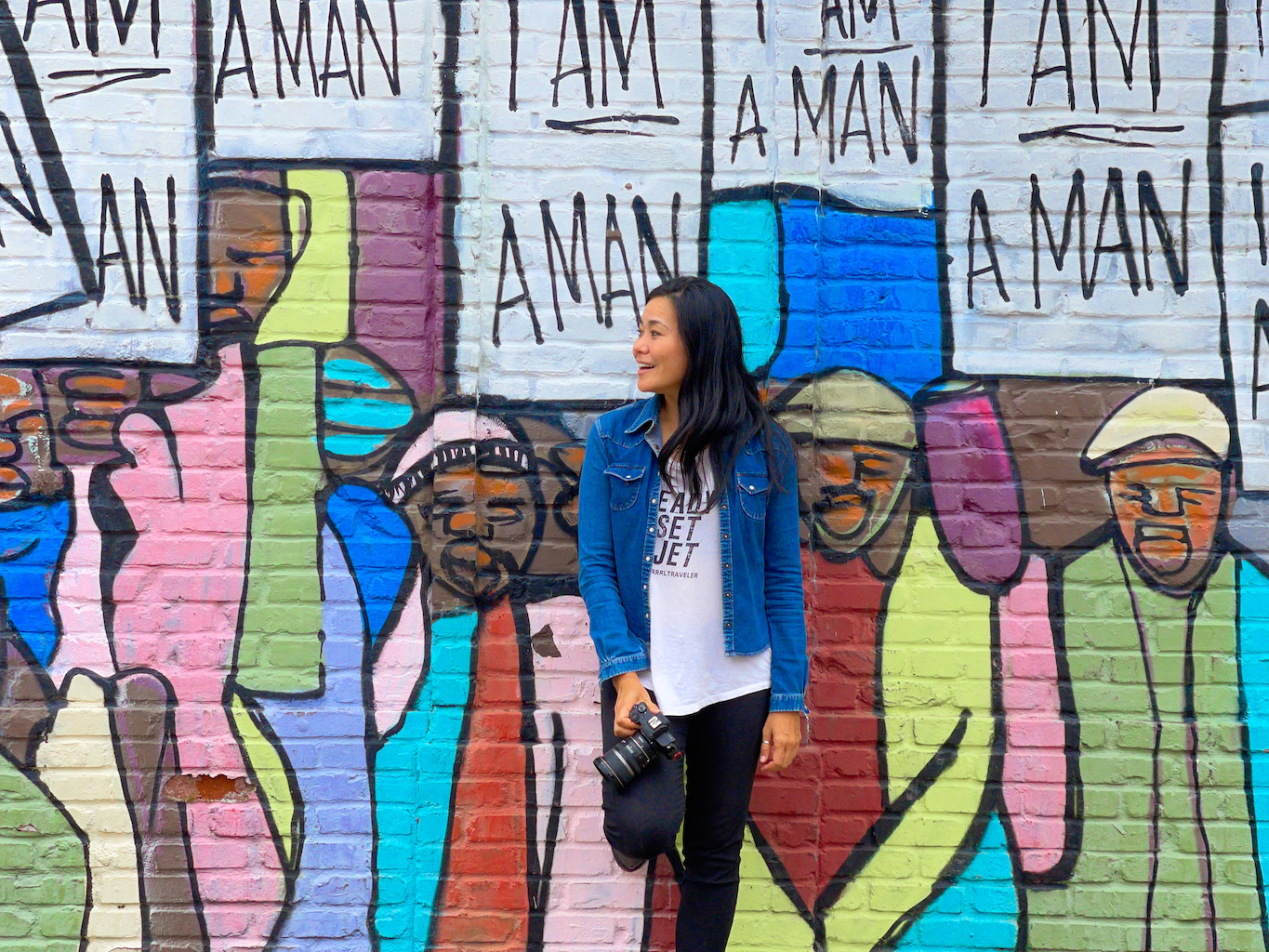 This post may contain affiliate links. Never leave home without travel insurance. Click for the best travel insurance and inexpensive insurance for COVID.
"Is Memphis safe? It is the #1 homicide capital of the U.S.!"... my Uber driver cackled as we left Memphis International Airport. Too late, my door was locked and there was no going back.
There are many things that make Memphis great: Graceland, it's the home of the Blues and Soul music, the civil rights movement, and yes, according to my Uber driver, the cop-homicide reality show, The First 48 !
When I traveled it, I discovered much more things to know before traveling Memphis.
Things to Know Before Traveling Memphis
1. Barbeque
BBQ is big in Memphis, so you'll definitely want to try it.  A lot of places sell pulled pork and ribs. You'll find two types of BBQ: wet and dry. The dry BBQ is rubbed down with many spices while the wet BBQ is brushed with a wet BBQ sauce before and after cooking.
Another unique aspect of Memphis BBQ is that it might come with several options from dry to spicy to hot and beyond. One BBQ joint had extra sauces to add such as mustard and vinegar. I had it with my BBQ nachos and I have to say, the vinegar sauce was incredible!
If you ask Memphisians where to go for the best BBQ, they each have their own favorite.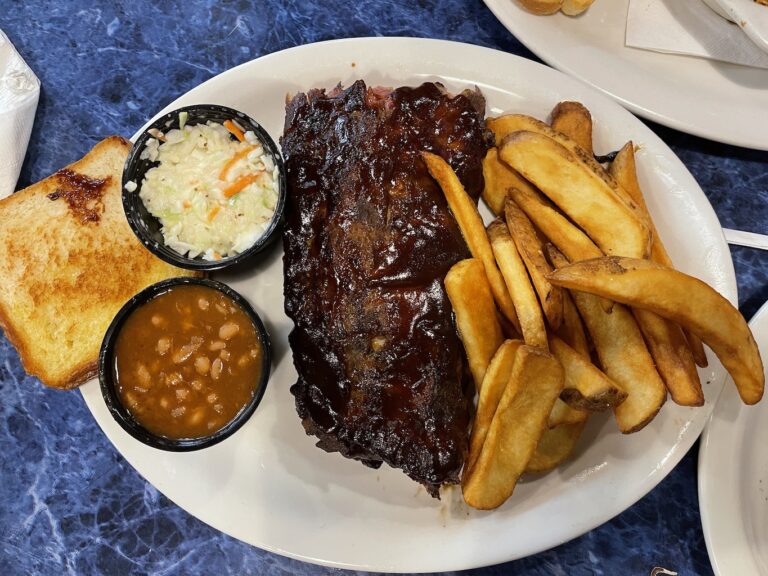 2. Vegetarian options
Although Memphis is big on BBQ, there are always options for vegetarians and they are tasty. In fact, I've found vegetarian options on a majority of restaurant menus of BBQ rib joints. From veggie burgers to scrumptious seafood mac n cheese (okay, that's bar food but hey…), there are a unique array of choices a Pacific Island gal like myself, had not thought of eating in main and side dishes.
As Memphis is known for its BBQ, you might want to get in on the vegetarian BBQ action to see what the fuss is about.  I feel like the best BBQ carries a certain pride and sentiment in the food. One blogger told me the BBQ spaghetti was nothing great – just plain spaghetti with BBQ sauce.  Meanwhile, I had fish tacos and I could've sworn the smoke-flavored sauce it came with was BBQ inspired, and damn, it was good.
3. Memphis pub foods
Memphis is the first city where I fell in love with pub food. Yep, you heard me- I fell in love with bar food, because it was more than just chicken wings, hummus and mozzarella sticks. (Okay, they had that too but they had an extra flair!) I've tried Mac and cheese in three different restaurants prepared differently and all tasted like the bomb.   I've tried stuffed mushrooms, deep-fried dill pickles, and rocket tots (aka tater tots filled with cheese). I really had to watch my waistline in Memphis!
Watch 8 Iconic Food Experiences & Where to Eat Memphis
Here's a list of iconic food experiences and places to eat in Memphis! From Bacon Maple donuts, to BBQ and Elvis's favorite sandwich, one thing is certain after your trip to Memphis… you'll be hitting the gym!
4. Beale Street is a celebration of neon at night
Beale Street was once the thriving heart of African American-owned businesses, barbershops, and dance halls. But today it has grown into Memphis's biggest tourist welcome with bars, restaurants, souvenir shops and enough neon to light up dark streets. It reminds you of a smaller version of the Las Vegas Strip! During the weekend evenings, there is a line to get onto Beale and it comes with an admission fee of $5.
Tip: You can legally carry alcoholic beverages on Beale Street and in front of the police!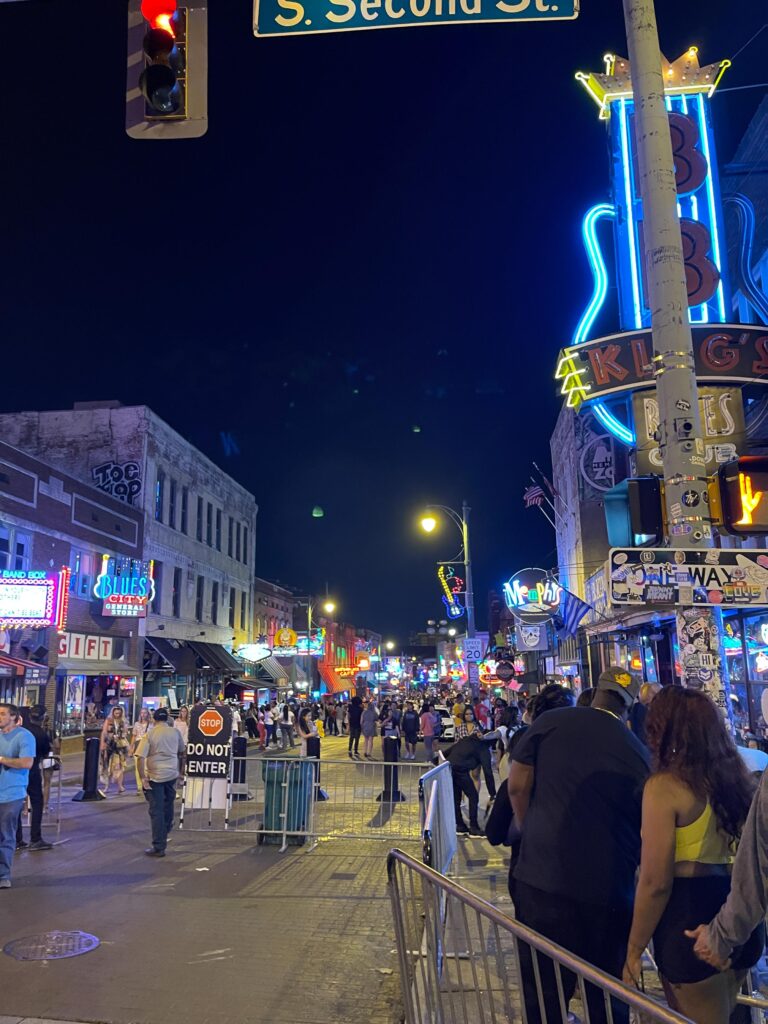 5. Murals are everywhere
Memphis is a colorful, vibrant and street-artsy city. You will find murals everywhere in Memphis and they are like an open museum. Some creatively cool spots to check out is downtown Memphis,  Mosaic Artwalk on South Main, and I love Memphis iconic murals.
6. Double-check your restaurant bill
"Do restaurants just make up their own charges in Memphis?" is a question I wondered for a while.  Margaritas in Downtown tagged on a compulsory 18% service charge from their normal 15% fee if you place your order after 9 pm.  Another restaurant I went to just a few doors down – called the Flying Saucer – added on a $1 donation to my bill in support of Ukraine, …and both did this despite the fact I ordered takeout! Those add-ons are pretty steep; those downtown restaurants were not cheap.
Side note: Shops and restaurants tend to close around 9 pm. Get your grub early or you'll be walking home hungry.
7. Is Memphis Safe?
"According to crime statistics released by the FBI, Memphis ranked 4th for the highest violent crime rate in the country in 2019. It has a high homicide rate. "- Van Life Wanderer.
Safety is one of the things to know about traveling to Memphis. From my Uber drive from the airport to meeting friendly locals along the way, I've been told that Memphis is dangerous. And yet, there were tinges of pride to those responses, which made me think that if you can survive Memphis life, you can survive anywhere. I would not let that hamper the jewels Memphis has to offer. Instead, stick to the well-trodden routes.
Advice: Most locals will tell you is if you stick to downtown and the tourist areas, you're safe. There are parts in Memphis that you should definitely stay away from. Although I did not experience any problems, locals seemed concerned for me on a couple of occasions.
Always hold an air of caution and common street smarts anywhere you go in the U.S. Memphis is no different and a bit more awareness should be used when going outside highly touristed areas. Don't walk down a dark and desolation street alone, know what neighborhoods to avoid.
I've seen stores sporting No Guns allowed signs and been to a Mexican restaurant with an armed security guard standing at the doorway.
Tip: Getting around in Memphis can take time and public transportation cannot take you everywhere. Although if you're staying in downtown Memphis, the trolley (see Tip #19) can get you across town; I used it to get around downtown Memphis and to alleviate my Uber usage.
Taking a Memphis city hop-on-hop-off bus tour will cover  a spectrum of highlights that are a little out of the central core of downtown Memphis. Lastly, check with the museums you visit. In the past, some museums had a free shuttle that would arrive at a pickup spot and bring tourists over.
8. Memphis locals are very friendly
Despite what I mentioned about crime above, Memphis locals redefine the word friendly. Memphis locals are genuinely happy to help you and offer advice and recommendations. Okay, so I had one waitress at the Arcade Restaurant, who ranked high among New York wait staff rudeness; otherwise, I've only met kind people. How kind? Being part of the Bible Belt, a couple of folks even wished me "a blessed day".
9. Home of Blues and Soul music
The Blues and soul music originated and grew legs in Memphis. Pioneering African American musicians found a home, a voice, and musical freedom in Memphis, defying racial and socio-economical tensions to bring blues and soul music to the world. Visit Stax Museum of American Soul Music and Memphis Rock 'n' Soul Museum.
10. Memphis is predominantly African American
Observing a predominantly African American population in the city was one of the wonderful discoveries I made about Memphis because I've not experienced this before in my U.S. travels.
"Black people in Memphis are 64 percent of the population. Whites make up 29 percent of the local population." according to the World Population Review .
But I didn't find it surprising when I looked at Memphis's civil rights and musical history. It was the first city where Blacks could do something for themselves in buying land, joining the Union during the Civil War and birthing blues and soul music.
Visit the National Civil Rights Museum, Slave Haven Underground Railroad Museum/Burkle Estate and musical museums; they will take you into the heart of Memphis culture. 
11. Elvis and the Birth of Rock and Roll
You probably already know that Memphis is the home to the King of Rock and Roll, Elvis Presley.  His estate, Graceland has impressively grown from a mansion to a full-fledged museum grounds with sections and sections dedicated to the various interests and the grandiose lifestyle Elvis Presley lived.  I visited over a decade ago when it was just the mansion but since they've bought the lot across the street and expanded it. Now you can walk aboard his private jets and explore his vintage car collection, which is huge, varied and insanely jaw-dropping as a car museum! There is even a digital interactive area where you can take a photo with Elvis or dress as the King!  There is so much going on in Graceland; highly worth the price of the ticket.
Tip: Are you an Elvis fan? Take an Elvis Upbringing tour and visit his birth home of Tupelo
12. Avoid horse carriage rides & the Peabody ducks
Downtown Memphis offers horse carriage rides through the city. I find them abominable. These are exhausted horses that trod up and down the street pulling a neon-lit carriage with tourists and I hate to imagine their exhaust dur. There was one that looked so thirsty I wanted to offer my water bottle. I hate to imagine how they feel during summer and who knows how they are maintained in a city warehouse stable.
The Peabody Hotel herds their ducks through the hotel lobby daily at noon for a camera snapping crowd that thinks this is an adorable circus attraction. The hotel claims to not use the same ducks throughout the year; they switch them out with new ones each season.  Ever wondered where the old ones go?
This site does not support tourism activities where animals are exploited and used for entertainment. While I have naively participated in some in the past, I do not now.  Please please please have a heart for our furry friends and do not support animal slavery.
13. Civil Rights Movement & Memphis
One thing to know before you go to Memphis is that it is the home of many black-owned business and this stems back to its civil rights and soul music. From stories of slaves escaping via the Underground Railroad, the sanitation worker strike to the assassination of Dr. Luther King at the Lorraine Motel, black history and racial barriers go deep in Memphis.
But there's also a pioneering celebration of independence with musicians who overcame threatening racial and socio-economic barriers to birth soul music and legendary greats such as Isaac Hayes, Otis Redding, Rufus Thomas, …
Visiting these museums are a must if you want to understand the history that made Memphis what it is today:
• Memphis Rock 'n' Soul Museum
• National Civil Rights Museum
• Slave Haven/Burkle Estate
• Stax Museum of American Soul Music
14. Skip bottled water, go for the tap
It's not always talked about but Memphis tap water is one of the cleanest and sweetest tasting water in the U.S. I'd agree with that. When in Memphis, I'd just skip bottled water and fill my bottle from the tap water. According to TapSafe.org, "Memphis water meets or exceeds all state and federal water quality regulations again in 2020. " Taking a bath, my hair even felt softer and more relaxed.
Try visiting Old Distillery. They make gin and spirits from good old-fashioned Memphis water and claim that is part of their secret.
15. Martin Luther King's assassination
April 4, 1968, Dr. King was assassinated on the balcony of Room 301 at the Lorraine Motel.  He was there to lead a march for the sanitation worker's strike.  The motel is memorialized and you can see visit it and listen to old archived recordings.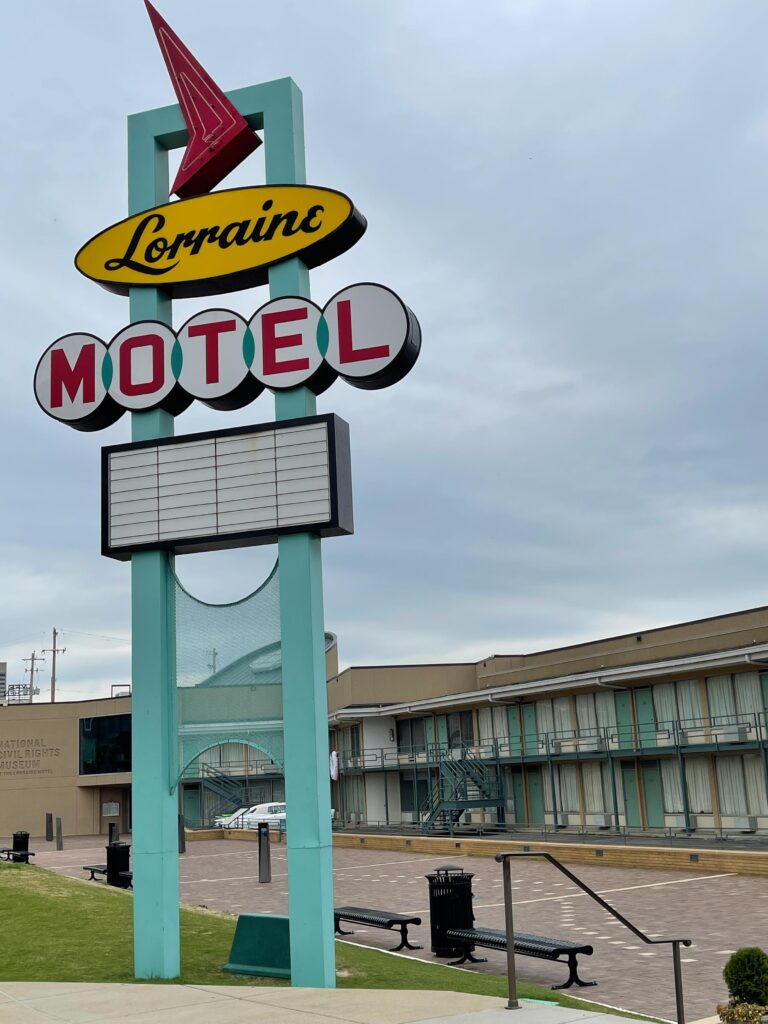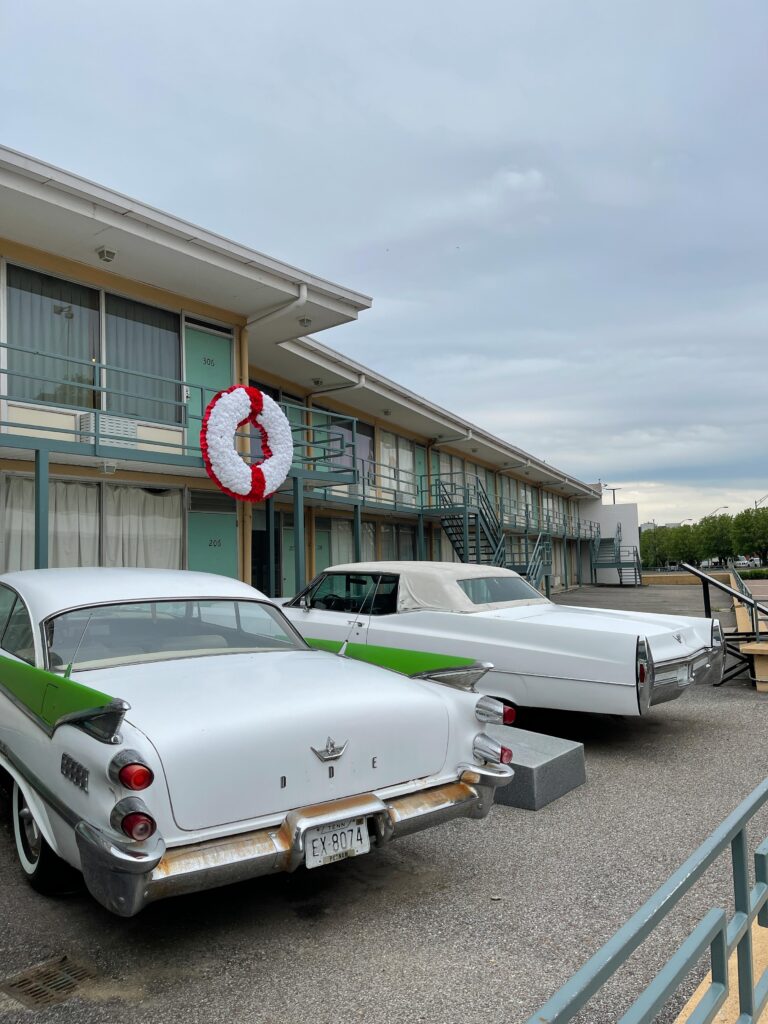 16. Gun-toting is legal in Memphis
On July 14, 2009 the state of Tennessee made it legal for handgun owners to carry their guns into bars and restaurants. Which explained why they sold handgun purses and bags at the Bass Pro Shop! Not all business owners are happy with this as you will see signs in shop windows forbidding entry to handguns.
17. You can drive under the FedEx airplane
Whoa… what is that?! I asked my Uber driver as we drove under a bridge as a behemoth FedEx plane taxied on the overpass above us…. FedEx has a cargo base that flies out near Memphis International Airport. Their runway is an overpass over the road leaving the airport. If the timing works in your favor you can drive under the plane as it rolls over the overhead runway!
19. Memphis has a trolley system
Memphis has a trolley system downtown. Wahoo! You'd think it's like San Francisco; it's not but it's still vintage. There's no hanging out of the sides, but it will give your tired tootsies a break.
I only took the Main Street Rail Line but there's a Riverfront Line (offering a view of the Mississippi) and Madison Line too. The Main Street line will get you to many of the main museum attractions in downtown. They all operate on slightly different hours, with the Main Street Rail Line operating the latest (around midnight on weekdays and Saturday, but ending at 6pm on Sundays.
The trolley costs $1 per way or $3.50 unlimited/day.
Check out the hours here.
20.  There are a lot of museums in Memphis (and you'll want to visit them all!)
Memphis has a lot of museums and it may seem like overkill but it's not. They're all different and enlightening to the wealth of history in this city. Ultimately, I was really bummed that I wasn't able to visit some of the important ones like the National Civil Rights Museum.
National Civil Rights Museum
Sun Studio
Rock 'n' Soul Museum
Blues Hall of Fame
Slave Haven/Burkle Estate
Stax Museum of American Soul Music
Graceland
There's even obscure-sounding ones like the Fire Museum and the Cotton Museum at the Memphis Cotton Exchange.
21.  Check your tour times
Some Memphis venues have tour times and if you miss them, you're waiting for the next tour. When I signed up for conference FAM tours, a bunch of them had tour times. From distillery to brewery or cemetery walking tour… everything was on a timetable.  I dawdled outside Sun Studios only to realize that I'd missed the last tour of the day by five minutes and they would not let me in.
Always check your tour times and plan accordingly!
22. Plan your strategy (potential 3-day itinerary)
How to tackle Memphis if you only have a few days. I clumped it in two groups– Downtown Memphis attractions and Memphis attractions which are further away. It can feel overwhelming. Getting around in Memphis can take time and public transportation cannot take you everywhere. Uber can add up too- a ride from my hotel across the convention center to Old Dominick's Distillery cost me $8 one way. Ouch.  I'd reserve Uber for the farther attractions.
Day #1 Tip: My recommendation is to take a Memphis city hop-on-hop-off bus tour to see the highlights, get perspective on the city and what you want to tackle.  They're inexpensive, it will help you cover some of the sites and reduce your overwhelm.
Day #2: Downtown, Beale Street and the trolley system!
Downtown Memphis has a lot to see on foot and the trolley drops you at some of the streets from the Main Street line. Part of downtown visits might rope in the Pyramid and Mud Island River Park, even though these are slightly further away.
You can also get around using the Bird app, a system of electric scooters that you pay to unlock and then use. You are charged roughly .20 per minute in Memphis, but rates change based upon location. Read the rules in advance; you will get charged fees if you break them.
Day #3: Outer downtown Memphis: Graceland, Sun Studios and the cemeteries.
For further jaunts, plan to rent a car, Uber or research which venues run shuttles. I've heard from locals that the bus system is not that great and due to the fact you could get lost in the wrong part of town, I'd try more secure means.
Graceland and Sun Studios used to have free shuttle service but with the pandemic, I'm not sure if they still do.
Where to Stay in Memphis
As downtown Memphis is a popular draw for travelers, the best Memphis hotels will come with a price tag. Comfortable budget stays are located outside of the downtown area, accessible by car or Uber. The public bus can be confusing outside downtown Memphis' transit system and trolley.
Budget Hotels 
Memphis Hotel & Suites (formerly Super 7 Inn) Located close to downtown attractions, this budget-friendly hotel offers basic amenities, making it a convenient and economical choice for solo travelers exploring Memphis.
Boutique Midrange Hotels 
Unique Luxury Hotels:
The Guest House at Graceland As the official Memphis hotel of Graceland, this luxury accommodation offers a chance to indulge in the wild style and warm Southern hospitality of Elvis Presley's legacy. This is the hotel I wish I stayed at
River Inn of Harbor Town  Right off the Mississippi River, this luxurious boutique hotel offers a serene and romantic atmosphere. Guests will be greeted with a glass of champagne at check-in, rooms with European décor and a hotel with stunning river views.
Watch Best things to Do in Memphis
Check out my
Memphis travel guide
.
What are things to know before traveling Memphis?