Last Updated on July 15, 2023 by Christine Kaaloa
In this post, I'm sharing my Unbound Merino review on their apparel and why merino wool clothes will revolutionize how travelers pack!
As a solo traveler who always travels with convertible carry-on luggage, I'm constantly refining my minimalist packing style. Packing fewer items means that I'm reusing my clothes a lot and going through my outfits, sniffing their armpits to see if my outfits can last one more day before I need to splurge on hotel laundry service or look for a laundromat.
But I didn't realize that merino wool apparel was a stylish Swiss Army knife for my travel wardrobe. After a couple of months of wearing my Unbound Merino pieces it's safe to say, merino wool apparel is a game-changer for travel packing. For the minimalist packer, a few wardrobe pieces are all you need!
Disclosure: There are affiliate links in this post and I was gifted Unbound Merino shirt and dress to test drive for my travels. But all opinions are my own and there is no extra cost to you. If you purchase through my links, I receive a small commission which helps me maintain myself, while also sharing a brand I truly believe will rock your world.
Who is Unbound Merino
Unbound Merino apparel is made of 100% merino wool.  Unbound Merino wool clothes are designed for both, men (they actually have more male garments) and women and are revolutionary to travel. They are classic in design and can take the place of multiple garments, which means that you do not have to pack a lot of clothes on your trip.
I got an Unbound Merino travel dress and T-shirt to test during Hawaii's humid summer and I've been wearing them non-stop for the past couple months (without washing), due to their classy, chic style and temperature-adjusting comfort.
My favorite piece is my Unbound Merino travel dress because it hangs on my body in a flattering, flowing and slimming way.
Let's break down Unbound Merino down and the benefits of merino wool clothes.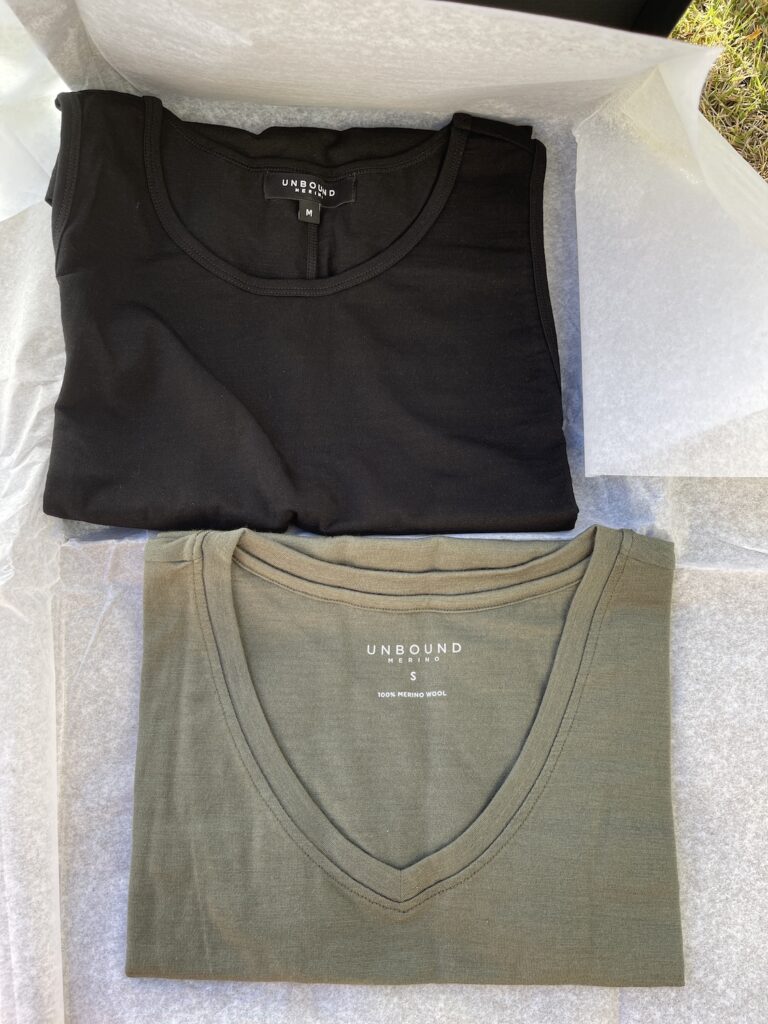 Reasons you'll love Unbound Merino wool clothes:
Upon unboxing and wearing my Unbound Merino travel dress, my first impressions were focused on the style, fit and comfort. What can I say- like most women, I want to look good but I want to stay comfortable while traveling or if i'm in a summer environment.
Classic and stylish designs for women (and men)
Unbound Merino makes clothing for both, men and women. It actually seems like it was originally a men's clothier and it started to grow a women's line. This means it was originally made for male durability and travel habits.
As I get on in my years, I like to be comfortable, but style matters to me too.  The Unbound Merino women's line is an elegant, timeless design and the pieces can be matched with multiple garments. The apparel feels very Italian or at least like clothes you'd want to wear on a trip to Italy. The designs are so versatile that you can wear your Unbound Merino tshirts, travel dress, etc…  to a nice restaurant, the grocery store or beach.  The fabric is high quality and you can see and feel the soft and sometimes, silky-ish quality.
Merino wool changes with your body temperature
If you're in humid Southeast Asia weather and begin to sweat, the weave of the wool fibers allow your body to feel cool even in the swampiest of heat. Keeping you cool during warm and humid weather was a function I did not know Merino wool had!
I haven't tested the winter part, but most of my experience of wool is about how it keeps you warm during winters.
Soft & comfy
When you think of wool, you probably envision your old winter sweater or wool blanket and immediately the memory of something scratchy, coarse and mildly unpleasant comes to mind.
Merino wool is not coarse. The wool fibers are finer, so it feels light and comfortable on skin. There's an oily wax called Lanolin that is in the sheep's coat and it helps repel water and dirt. That Lanolin is spun into the coarse fibers, making it soft and a tad silky.
Surprisingly lightweight
Unbound Merino clothes are a type of lightweight i've never experienced. It's lighter than a sheer American Apparel tee.  Not even my sheerest cotton blouses compare to how light the fabric hangs off my body and in a lovely form-fitting way. Even more surprising, it is not peekaboo fabric; it's quite classy and tasteful.
Moisture-wicking & breathable
If you've ever wondered why when you start sweating you cannot stop, it's largely because your body isn't able to cool down quickly enough.
Merino wool absorbs moisture.  That my sweat isn't given time to build up but is absorbed into the woolen fibers and wicked away, gives my pores breathing room and my body can cool down properly. .
The Hawaiian summer really put my Unbound Merino travel dress and shirt to the test as I sweat a lot (thanks to global warming!). The simplest of things like sitting in my car stuck in traffic without air conditioning had me melting from every pore. The areas of my body covered by the merino wool fabric however, were not sweating as much nor could I feel it collect in the fabric.
Anti-bacterial (aka no body odor smells)
These days, to reduce my household chores and to avoid wasting water, I do the smell test with my clothes. It's a little embarassing to admit but if I do not smell body odor on an outfit, then it can take on one more day of usage!  With less breathable fabrics like cotton or polyester, you're just mopping your sweat around and the bacteria settles into the fibers of your clothes. This gives way to a body odor smell in your clothes. This is not the case with Unbound Merino apparel, largely due to its moisture-wicking and the fact that wool fibers are not very porous.
I've read one reviewer claim that when he farts, the smell is imperceptible when he's wearing merino wool. While I've not tested it with farts, summers here have gotten brutally hot and humid, and I'm more of an athletic personality, so my clothes smell faster.  Some of my clothes retain my sweat smell, which is reactivated each time I sweat in them. So I'm very fond of my Unbound Merino pieces because despite wearing my dress weekly for two months with no washing, it still smells the way it came… brand new. Yeah, that's a winner!
Demands fewer washes
You know how some folks live in their pajamas or yoga pants? That's me and my Unbound Merino dress. My travel dress arrived in September and despite wearing it weekly  I haven't washed it in two months!  This is sorta bad because the care instructions say after wearing it four times for the first time, you should wash your apparel to set it and I've not done that. But it is because I've not smelled the need for it.
Note: Read the wash instructions and do not bleach or place in a dryer.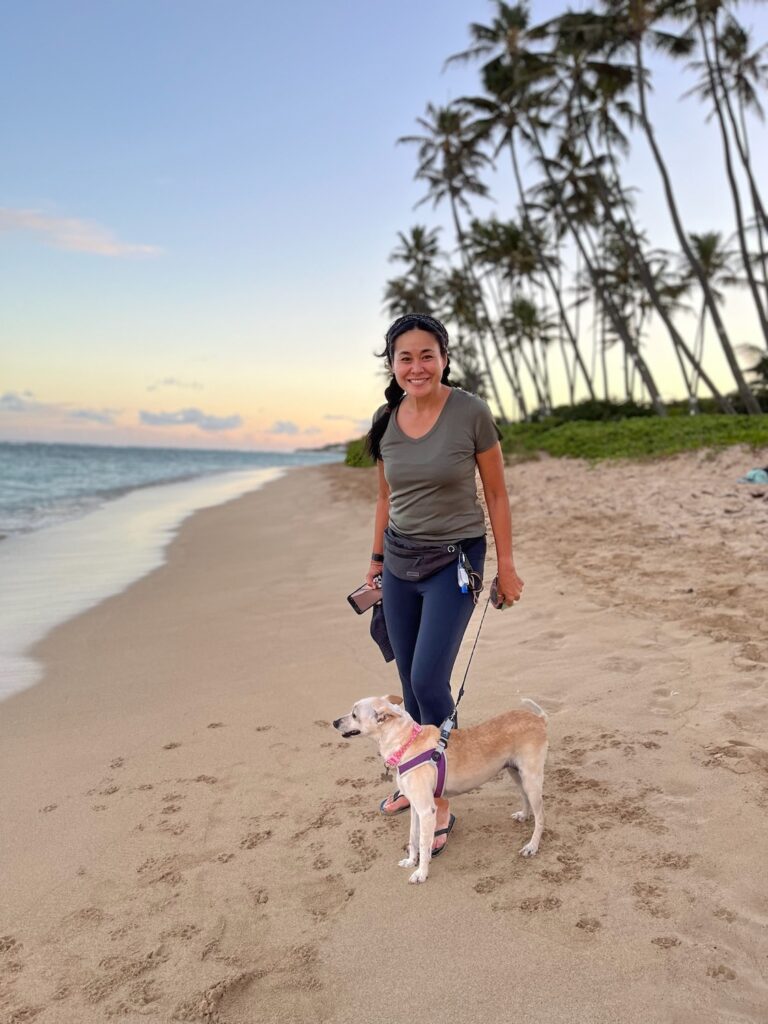 No wrinkles
The beauty of merino wool is that due to the wiry nature of the fabric, it does not hold wrinkles. While it does wrinkle a little if you crunch it or its been laying in a pile for days, I've noticed my clothes unwrinkle themselves between the time I throw it on and drive to my destination.
Low maintenance
My Unbound Merino dress is so easy to slip on and go out in, that I've been wearing it day after day – sometimes, 2-3 days a week for errands. I've been wearing the dress over and over as a coverup but also an easy slip-on for everything. From groceries to business meetings, the Unbound Merino travel dress and T-shirt are low-maintenance pieces that keep me looking fashionable on low-maintenance days.
Quick drying
Planning to wash your dress in your hotel sink and hoping it will dry by the next morning? No problem. Drying does not take long.
Muesling free
While I cannot promise that Merino wool is 100% cruelty-free,  I did a little research on merino wool and found a practice called 'muesling". Basically, it is when the sheep's butts are shaved to prevent urine, poop and contaminants from sticking to the wool.  Often, the shaving can hurt and mutilate them and many can die from flystrike.  Unbound Merino says they use vendors who have ethical practices regarding animal care.
More bang for your buck
While Unbound Merino clothes may cost a little more than your average shirt or blouse, you're getting a large dose of functionality and versatility. Whether it's washing clothes or packing,  Unbound Merino shirt or garment will save you time, space and money!
Cons to Merino Wool
Tends to cost more
Are Unbound Merino garments cheap? Uh, no definitely not. You can buy three to eight cheap lightweight maxi dresses from Amazon (like the ones I got here) for the cost of one. But there's nothing special about them other than price and you may need to buy seasonal dresses depending upon what season and destination you visit or pack a couple of dresses to offset the value you'd get in one Unbound Merino travel dress.
Unbound Merino wool garments tend to be on the pricy side, because they are made from a fabric of high quality and value and it is ethically sourced to avoid cruel acts against animals.  The expense ensures the sheep are treated better (or at least I hope!) That's Unbound Merino's ethical promise as garment providers.
Conclusion
As a traveler, I work from a staple of multipurpose clothes so I don't weigh my luggage down. Most of us use the same clothes over and over again, so it makes sense to choose quality pieces you know will reduce your work efforts down the line so that you can just enjoy traveling. Believe me, once you get one Unbound Merino item, you won't want to stop!