Last Updated on August 25, 2017 by Christine Kaaloa
Visiting Kanchanaburi : Death Railway, River hotels and Waterfalls
I didn't know much about Kanchanaburi.  I thought it was mostly rural and made up of farmland. I thought, eh, if I skipped this place I wouldn't be missing out. I was so wrong.
As part of my DIA conference, a few travel bloggers (listed below) and yours truly, got to take a glorious three day tour of Kanchanaburi hosted by Khiri Travel. Okay well, some fun places that make great Bangkok day trips were included too, like the crazy Maeklong Railway Market,  and Ayutthaya. In total we probably spent 1.5 days in Kanchanaburi, so we only hit the must-see attractions of Kanchanaburi.
But for now, let's just focus on visiting Kanchanaburi. While I'm not a big history buff as far as country war stories go, Kanchanaburi has an intense railway history, the Kwai River, funky floating hotels and some rad waterfalls, that I didn't know about. These are all things you may want to jot down for your next trip!
Visiting Kanchanaburi's top 5 must-see attractions:
.
Historical attractions in Kanchanaburi
On the western coast of Thailand near the Myanmar border, Kanchanaburi used to be the defense post against Burmese attacks. As a result, this town nestling next to the Kwai River, withstood events that were historically harrowing and tragic. With all the railways tracks, trains and museums, it's easy to get confused (at least it was for me), so let's go bit-by-bit.
1.  Walking over the Bridge over River Kwai
The bridge over the Mae klong Rier (aka River Kwai) is the most famous and well-known part of the railways, due to the book and film, Bridge over the River Kwai, which is largely fiction. Essentially, I think the Hellfire Pass is a more significant site. Nevertheless, the railway on this bridge is part of the Death Railways and you can walk over it by foot. On the other side of the bridge stands a giant and impressive Kuan Yin statue and park.
2.  Riding the Thai Burma Railway  (aka The Death Railway)  

  – Watch a

2-minute

GRRRL's Video Tour
Riding on the Thai-Burma Railway (aka 'the Death Railway' ) you feel like you should reflect on the painful history of Japan's 1941 invasion in Thailand, the forced encampment and labor of men to construct a 256 mile long railway into Burma and the death of over 25,000 Asian laborers and Allied POWs as a result.
You can actually catch the train from Bangkok as it's a standard commuter train. But we just took it from Namtok to Thamkase bridge, where we got out and walked over part of the tracks.
3.  JEATH Railway Center (and the Kachanaburi War Cemetary)
The JEATH Railway Center was probably my favorite museum of the two listed. A definite must-see attraction. As a historical home of the Thai-Burma Railway |Death Railway,  it stores archived treasures of old clothing, hand-written letters and memorabilia of POWs, while also shedding light on the horrors they experienced in Japanese work camps.  You can get a feeling of what was suffered and fragments of individual stories.
It sheds the story of how Japanese  built a railway from Thailand into Burma, despite the fact, the course would be difficult and dangerous to build due to  rivers, mountains and jungles. It shares stories of how POW laborers, lived under poor and horrific conditions, dealing with heat, malnutrition, starvation and exhaustion.
Right next door to the museum is the Kanchanaburi war memorial cemetery, containing just a tiny fraction of the British, Australian and Dutch POW soldiers, who lost their lives to building the railway. The land is a gift from the Thai in honor and remembrance to those, who never made it home to their country.
As a child, I spent a lot of time visiting cemetaries it's something I occasionally enjoy, but the graves here are neatly laid rows of Western tombstones, that actually look so well-preserved you'd think the soldiers died in the 20th century. Sadly, it didn't do anything for me. But don't let that hold you back- take a look for yourself.


Hell Fire Pass
A museum and landmark site, the Hellfire Pass is part of the Death Railways and is said to have been the most difficult part to build, as workers needed to cut through rock. It was said that POWs slaved on the railways night and day and the shadow cast by gas lanterns at night, gave the look of hell.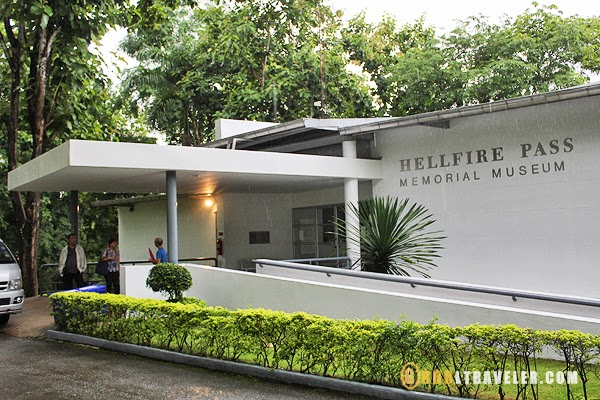 Kanchanaburi's top must-see Natural attraction
Hike Erawan Falls National Park  –  Watch a GRRRL's Video Tour (Part I, Part II)

Aside from the river Kwai, you can hike Erawan Falls National Park. It's seven tiers of waterfalls and the most beautiful ones I've seen, with milky blue waters so gorgeous, you want to take photos of each one of them. Not to mention, the pools are also home to sacred fish, but I won't spoil the fun before you watch my video. If you're up to the challenge, you can spend the day hiking up to each tier to check it out.
But if you're lazy and prefer just to grab your suit and jump in, there's a huge pool to swim in once you enter the park and pay your fee.
Admission is 200 baht and you must leave a small deposit (returned upon exit) if you take a plastic water bottle in. The latter is to prevent littering of plastics.
One of Kanchanaburi's top must-see attractions: Hike Erawan Falls National Park  & get a free pedicure with nibbling fish
Where to Stay:
Kachanaburi has guesthouses in the city as well as, river resorts, so you won't be at a loss. The city itself seems to be one long strip, which you can get around with by bicycle.  Being that the Kwai River is the source of attractions, I'd recommend a stay on it.
With my Khiri tour, we stayed at a floatel called the River Kwai Jungle Rafts Hotel (read my review) and staying on the River Kwai was a unique adventure I'm glad I experienced. We took a long-tail boat up the Kwai Noi River to get there, used gas lanterns at night and got to visit the neighboring Mon village and watch elephants bathing in the morning.
Certainly a Thai adventure I'd love to do again!
Getting to Kanchanaburi
By Bus:  From Mo Chit Station: 1st Class AC Buses operate from Bangkok (06:30, 11:00, 17:10), Cost:  122 Baht,   Duration: 3 hours
Information
Lawrence and Vera of Finding the Universe has an excellent post on unique sites in Kachanaburi and tips on how you can get around independently.
Other travel bloggers on this Kachanaburi tour
Migrationology: Kachanaburi Guide Exploring the Scenic River Kwai and it's Brutal History
Mochileros : Como fue un Gran Encuentro entra Bloggers y la Industria del Tourismo en Asia
On the Road in Southeast Asia: Ayutthaya & Kachanaburi
Ever been ? What did you enjoy? What are your recommendations for Kanchanaburi's top must-see attractions?
Note: This trip was hosted by Khiri Travel as part of the Digital Innovation Conference. The trip was offered to us in exchange for a donation we'd make to their charity.  The opinions expressed are solely my own. 
Also this post has an affiliate link so if you book a hotel through my site, I receive a small percentage at no additional expense to you. A  win-win situation.