Last Updated on August 24, 2017 by Christine Kaaloa
Sexy, no; but cute? Yes. My face mask, ironically called "Love Story"…
is not what I'm feeling for this place now.

Updates: I've been quiet for some time …apologies. I've been busy dealing with the waves of culture shock and trying not to rant about my co-teacher which is what I feel like I've been doing. But here's what's been going on : a) So the sun hasn't been out in like, forever since winter and even as we're sliding into Spring, all is still gray, depressing… and cold;  b)  I've been taking weekend excursions to help me snap out of depression and back into "travel" mode; c) I love my students (especially, my 4th grade boys, who "squeal" like girls when they're excited) . d) I'm learning that while you should respect a culture and its systems, there are times you'd be at a gross and unfair disadvantage unless you occasionally pull out your "foreigner/'waygook' card"; d) …which brings me to the lame co-teacher thing & how I've been patient and nice up until now. e) My survival and getting out of this funk with Korea rests solely upon me now.
The ubiquitous nature of Asian sick masks in Korea
Seeing sick masks on my students in class or on passing pedestrians in the subway and on the streets have become a norm for me. Before moving to Korea, the idea of a wearing facial sick mask was something I didn't understand.  In the West, it's not familiar to us. The only place they're visible is in hospitals and on doctors.
But sick masks  are common here. In Korea, many masks have cute colors or design to them (i.e. animal faces, Hello Kitty, you name it…) . It certainly makes them more appealing, stylish and fun to wear.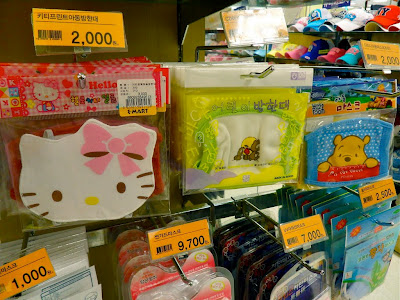 (above) Sick masks come in various designs
Yellow Dust Season in Korea
There are only two occasions that I notice Koreans wearing face masks  a) when they are sick and b) when they feel the air pollution is really bad.
The latter is Yellow Dust season– a toxic dust storm crap from China which lasts from February to June and affects places like China, South Korea (Seoul), Japan and parts of Russia (Read a fellow EPIKer's post about Yellow Dust) . It causes sore throat and asthma in people, despite good health.  The dust pollution can get thick in Seoul, although Daegu isn't as affected by it.
This is exactly what I'm convinced took over my health a few weeks back, when I underwent my "Could it be the Korean Crud?" phase.
One evening, the air quality was so bad, the streets looked as dusty and smoky as an all neighborhood BBQ. Virtually 85% of people who were out and about in town, were wearing face masks. Could Yellow Dust be another term for the Korean Crud?
What are the symptoms of Yellow Dust?
Last week, I was feeling tickles in my throat again.
The Yellow Dust symptoms are having dust get to the back of your throat, triggering a cough that turns into a choking fit.  In happens at odd times and quite out-of-the-blue.
While I've lived in L.A, a city known for their smog alerts and thick haze of pollution, this is the first time I was experiencing Yellow Dust.
I didn't know what to do. Initially, I took it as a cold and like a true hypochondriac, I ran to my medicine box and knocked back some Vitamin C and Zinc capsules. Only when more than my usual amount of students fashioned face masks, did I realize what was up.
It was Yellow Dust pollution.
How do Koreans find out about Yellow Dust alerts?
Seeking any type of help or answer from my co-teacher (whose English is good) is sometimes, like asking God to call my new Korean cellphone with a direct answer.  An impossible faith.
She explained her "sign of a bad Yellow Dust day" is when she sees her car covered in a dusty film.
Thanks, I'll vacuum that idea up with my lungs…
Then she said, the school nurse sends out email alerts to the teachers, so they can tell students to wear their masks.
Awesome! I asked if I could be told of these days or receive these alerts.
Her response?
Nope, the email alerts are written only in Korean.
If there were a blind man next to you at a crosswalk, and he asked you to alert him of a traffic signal change, would you say, "Sorry, the lights are not in Braille"?
I asked my  co-teacher one more time, if she could notify me of these Yellow Dust email alerts, so that I am prepared and not catch a cold.  Same reply… written only in Korean.
Seeing as Yellow Dust alerts are written only in Korean, I guess only Koreans are allowed to know about them.