Last Updated on January 30, 2022 by Christine Kaaloa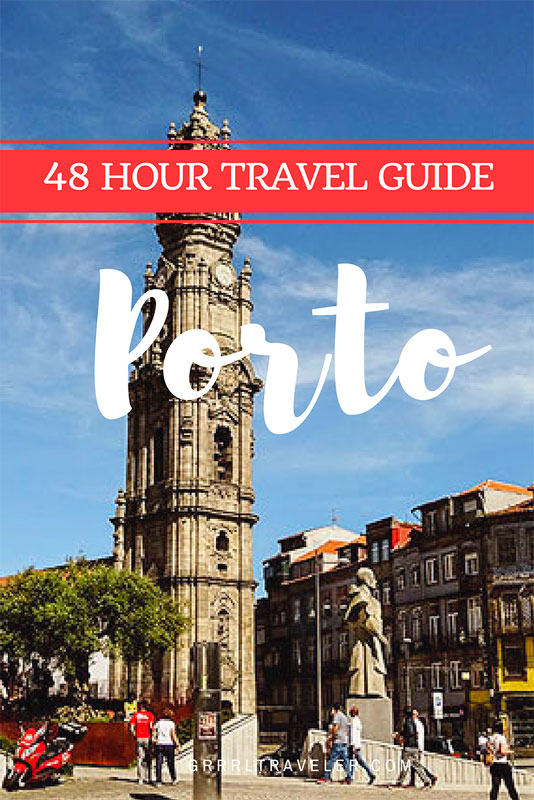 Penned under our expert traveler series, this guest post is written by traveler and expat, Claudi, who blogs for CoupleRTW. As Portuguese living in Angola for three years, they have written extensively about Angola and Portugal.  She will be your Porto travel guide, showing you the best things to do in Porto. 
Porto, in Portugal, is one of Europe's most beautiful cities. The city is classified as UNESCO World cultural heritage due to its striking landscape with 2000 years of Portuguese history. Porto is bathed by the sea and the river Douro and is packed with historic landmarks and a unique culture. We planned the ideal itinerary to travel Porto in 48 hours so you can take the most of your time.
Here's what to do and eat if you only have 48 hours in Porto:
48 hours: Best things to do in Porto
What to Eat in Porto
How to Get Around in Porto
Where to Stay in Porto
Safety Tips for Solo Travelers
---
Porto Travel Guide: What to do in Porto in 48 Hours
Start your visit by strolling Porto's downtown where you will find most of Porto's top attractions. The downtown has loads of spots to visit, but they are relatively close in walking distance. You can start your visit in Aliados and move forward to S. Bento station, from there you can walk to Santa Catarina street and the Bolhao market. In the afternoon climb the Clerigos tower and go to the bookstore Lello. After all this, you should relax by the river bank in the Ribeira and visit D. Luis Bridge.
Aliados
Aliados is a big square right in the center of Porto. It is surrounded by monumental historic buildings and in the middle of the square, there is a statue of D. Pedro the IV (King of Portugal and the emperor of Brazil). The biggest building in the square is the city hall, you will spot it easily it has Portugal's flag right in front. The square has plenty of cafes where you can enjoy a coffee in the esplanade.
S. Bento Train Station (Estação de S. Bento)
Estação de S. Bento is Porto's main train station and one of the most visited attractions. It is one of the most beautiful train stations in the world, due to its azulejos (tiles). In Portugal, azulejos is a traditional art of blue painting tiles, and you will find them in several monuments in Porto. The azulejos in the train station illustrate scenes of Portuguese history and life. They are quite beautiful!
Rua Santa Catarina
Rua Santa Catarina is the biggest Shopping Street of Porto. A good place to buy souvenirs and eat in one of the many restaurants and coffee shops you will find. One of the most famous coffee shops is the Majestic, a historic cafe (1916) with stunning architecture. A mandatory place to go when visiting Porto.
Rue Santa Catarina, Porto's biggest shopping street. Photo: António M.L. Cabral 
Barao78
, Creative Commons
Share-Alike 3.0
Mercado do Bolhão
In the middle of Santa Catarina Street, you will find Mercado do Bolhão, the marketplace of Porto. The market sells fresh fruits and vegetables, flowers, bread, meat and fresh fish. It is a good place to discover Porto and the locals. The market is open every day except Sundays. At the moment (April 2018) it is closed due to maintenance, but will reopen soon. Nevertheless, market's building is impressive and is worth a visit.
Torre dos Clérigos
Torre dos Clérigos near Aliandos square is a 75 m high tower that dominates the urban landscape of Porto. The tower was built in 1763 and is part of the Clérigos church. We strongly suggest you climb the 225 steps to the top of the tower where you will find a fantastic 360º view of Porto. It is a fantastic place to take photos and admire Porto's landscape with the river and sea. You can also visit the museum and Clérigos Church.
Lello Bookstore
Lello Bookstore is one of the world's most beautiful bookstores, it was constructed in 1881 by the brothers Lello. The bookstore has a beautiful Art Nouveau style with a beautiful staircase. It became really famous for Harry Potter books and movies. This is the bookstore that inspired J. K. Rowling to create Hogwarts moving staircases.
Ribeira
The Ribeira is Porto's gem, it is Porto's side of Douro River. One the other is Vila Nova de Gaia, where the famous Port wine caves are. This is the most beautiful part of the city, very picturesque with the typical Rebelo boats and several bridges. It is a very pleasant place just to relax or have a bite. Or even catch a boat to see the Douro Valley.
D. Luis I Bridge
D.luis bridge I is the most iconic landmark in Porto. The bridge was designed in 1881 by Teofilo Seyrig, a disciple of Eiffel. You can cross the bridge to the city of Gaia and visit the famous Porto Wine Cellars. It is also possible to cross the bridge on the upper deck, but you will need to climb quite a few stairs to get there. However, we think it's worth it!
After a full day, we recommend you to eat a Francesinha, taste cheese and Port wine. In the next day, we suggest going to Palacio da Bolsa, Palacio de Cristal and Casa da Musica.
Palácio da Bolsa
Palácio da Bolsa or Stock exchange palace is definitely worth a visit with its mixture of styles. It was erected by the commerce association of Porto in 1842 and used to be the building where Porto's trader's made business and where the stock exchange was located. Nowadays, you can visit it every day with a guided tour. It is a very beautiful building but its splendor is on the inside, particularly the Arabian room. It is one of the most visited monuments in the north of Portugal.
Gardens of Palácio de Cristal
The gardens and the palace are quite near to the city center, so you can easily walk there. The gardens have 8 hectares and are quite romantic with a variety of Botanique species. The park also has spectacular panoramic views of the river Douro.
Casa da Música
Casa da Música is a modern concert hall designed by a Dutchman Rem Koolhaas. It turned out to be one of the city's icons due to its unique and impressive contemporary architecture. You can go to a concert or simply do a guided tour. The concert hall also has a restaurant that serves gourmet food. It is well worth the visit, it is the furthest attraction of our list but you can go by subway.
If you were able to do all these things in 48 hours we congratulate you 🙂 Your hours were well spent.
What to Eat in Porto
Portugal is a fantastic destination for foodies, it has delicious food, port wine and it is quite cheap, compared with other western destinations. Porto, in particular, has some characteristic dishes like Francesinhas, tripes, and feijoada (beans with meat). Although you can find them in different regions of the county, they are best eaten in Porto.
Francesinha: This is our favorite dish from Porto! It is a big sandwich, made with toasted bread, sausage, steak, ham covered with melted cheese and a spicy tomato sauce. It is delicious.
Fresh Fish: Portugal is surrounded by the ocean, so you will find plenty of restaurants by the sea serving freshly grilled fish with boiled potatoes and olive oil. Portugal is one of the best places to eat fish!
Feijoada: This plate is made with beans, pork meat, and a tomato sauce. There is different kind of feijoadas, feijoada à transmontana and feijoada Porto style. It's a heavy dish but very satisfying. This is authentic, traditional Portuguese food!
Port wine Best you didn't think about Portuguese wine, right? If you're a wine connoisseur, then Duoro valley is one of Europe's famous wine destinations and can take a day tour and book wine tours from Porto.
Feijoada, Photo: 
André Ribeiro
,
Creative Commons License 2.0
Getting Around in Porto
Getting from the Airport to Porto
You can catch the subway from the airport to the city center which is pretty cool, and it only takes about 30 min.
Walking
Nearly every attraction on our 48 hours travel guide of Porto is in walking distance, except for Casa da Musica. It can be very tiring, so you have the option going by subway or bus to the main attractions.
Subway
The subway has stations in almost every monuments except for the Gardens of Palacio de Cristal. The frequency of the subways is about 5 to 10 min, so it is very easy to catch one. You can buy individual tickets or by a day pass which is the most economical option. Metro website here.
Bus
You also have the option of traveling by bus, they go everywhere in Porto with a big frequency.
Metro map of Porto Photo:
Gitbi
Creative Commons
Share-Alike 3.0
Where to Stay in Porto
Porto has a big variety of hostels and hotels, but the best option is to stay near the city center and the main attractions.
Nice way Porto hostel is a budget-friendly hotel for solo travelers it is situated right in the city center. It has breakfast included and is a good place to meet people in a wonderful environment.
Hi hostel Porto is a youth hostel very budget-friendly, it is a bit further of the city center but easily accessible by bus. It has laundry, self-catering facilities and parking space in case you have a car. Breakfast is included and it has a fantastic view of the river.
In case you want an upgraded hotel, HF Ipanema Porto is a good option. It is near Casa da Musica, it has comfortable and spacious rooms, good for couples and Breakfast is included. It is a good value for money.
Safety tips for Solo Travelers in Porto
Portugal is a very safe country, it's something that we locals don't even think about because we have it for granted. You can walk relaxed in the streets, even at night without being robbed. All the some we advise you to don't forget your stuff in public places. So Porto and Portugal is a very safe destination for women and solo travelers.
Travel Essentials for Porto (Shop)
Recommended Essentials for Porto.  Click to Shop.
---
What do you think of this 48 Hours in Porto Travel guide? What do you recommend as best things to do in Porto?
More 48 Hour Travel Guides from our Expert Travel Series
Budapest Travel Guide
Delhi Travel Guide
Lima Travel Guide
Rio DeJaneiro Travel Guide
Busan Travel Guide
 Note: This post contains affiliate links to partners we use. It is at no additional cost to you and by clicking on them and purchasing something, you will help support my site's work.  
---
Pin to Pinterest: Best things to Do Budapest | 48 Hours Budapest Travel guide