Last Updated on March 22, 2023 by Christine Kaaloa
Ready to start that Christmas gift shopping early?
This Black Friday as we sit hunched in front of our computers, there's cool and fun travel gear  whose prices will be slashed. Here's Black Friday deals for travelers !
Black Friday Deals for Travelers
Apple Air Tags (4 Pack)
Track your luggage, bags, anything with Apple Air tag's precision tracker and play a sound on its built-in speaker to notify you where it's at. $99 to $79  Buy here on Amazon.
Tile Mate
Not an Apple Airtags fan? No worries, Tile Mate is an Apple Air tags alternative. It locates objects within a 250 ft. radius.  $25 to $18  Buy it here on Amazon
Beats Studio Buds
Take the Beats Studio Buds with you on long flights and train and bus rides. It has active noise cancelling, sweat resistance and up to eight hours of listening time!  $150 to $99. Buy it here on Amazon.
Anker
10000mAh
Portable Charger
Anker is a long-held reputation in portable chargers. Keep an eye out for these on Cyber Monday!
Travel enthusiasts are aware of the value of carrying a portable charger. One of the worst feelings is when your phone dies on you, but an Anker 10,000mAh portable charger will last you a long-distance flight. If that's not enough juice,  get the Anker Portable Charger 20000mAh Battery Pack. Your device will swiftly be charged, and there will be extra room in your bag for more things.
myCharge Portable Charger10050 mAh for iPhone
It's okay to leave one charging cable at home. The myCharge Portable Charger10050 mAh is a fast charger with a foldout charging wall plug and built-in charger cables of lightning and mini USB cables. I had a myCharge mini (review here although I think they discontinued it) and the myCharge Adventure Ultra (review here) or heavy-duty charging. I absolutely love both!   $99 to $79.
Ulanzi film and photo gear
Last, Ulanzi Smartphone Camera Photo Video Filmmaking Vlogging Kit is very similar in make and model next to my Joby mobile vlogging kit., which is an all-inclusive mobile rig.   Buy this Ulanzi vlogging kit.
Manta Sleep Mask
Manta Sleep Mask is no ordinary sleeping mask. It's specifically made for the comfort of sleeping anywhere. So if you're a light sleeper in hostels or on planes, then try this! Blocks out light, is snug and firm on your face (I actually wake up with it still on my face) and it hits pressure points around my eyes which gives me deep and relaxing sleep. Buy it at Manta Sleep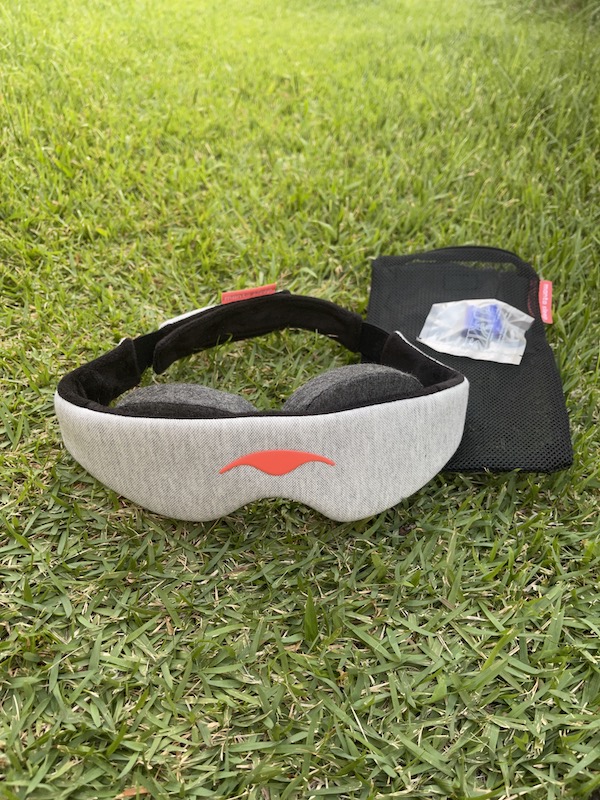 Baggallini Women's 3-in-1 Convertible Backpack 
I love convertible bags so that I have different ways to wear it. The Baggallini 3-in-1 Convertible Backpack is a hand purse that transforms into a backpack. $128 to $70.27 . Buy it here on Amazon
Hynes Eagle 42L Travel Lite Rolling Backpack
The Hynes Eagle 42L Travel Lite Rolling Backpack is my new convertible carry-on luggage. I love the extra features: a laptop compartment with several compartments and a detachable laptop sleeve. The hideaway backpack straps come with a sternum strap and hip belt so your back isn't bearing the weight of your pack. One of my favorite features is the hideaway wheel cover that wraps around the base of your bag to protect your wheels from getting whacked at. The Black Friday discount is only $10, but considering the original price is $89, which is $200 lower than most convertible carryons in its catagory, I consider that a steal.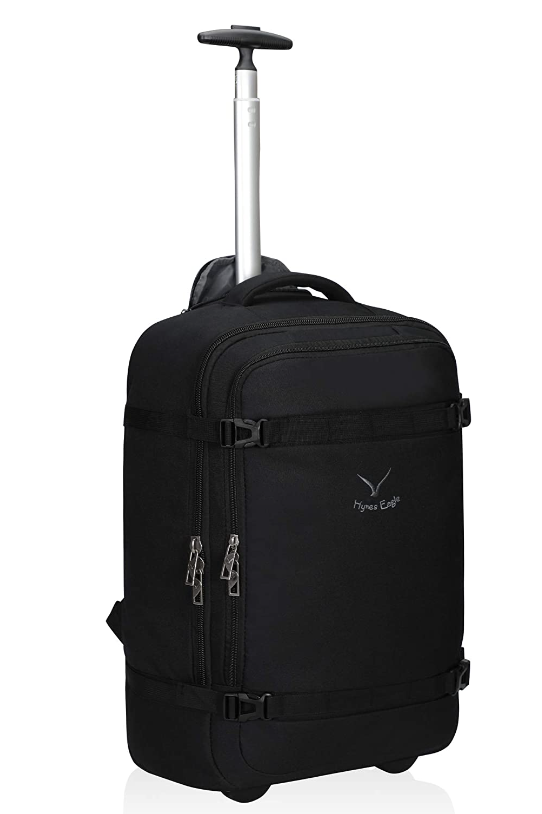 Matein Travel Laptop Backpack
The Matein Travel Rolling Backpack was made for two types of people- college students and for female traveler, who wants practical easy access pockets on their backpacks. Durable material, locking zippers and four multi-directional rolling wheels, so your bag doesn't crazy roll on you. Buy it here
ZVE Zipper Wallet Crossbody Purse
The ZVE Zipper Wallet Crossbody Purse  keeps your phone and wallet at your side so you don't need to dig for it.
Watch my Instagram Unboxing Reel below. Buy it on Amazon
 

View this post on Instagram

 
Unbound Merino
Unbound Merino 100% wool travel apparel. Classy, moisture-wicking, suuuuper soft, the apparel does not take on body odor. They are known to take many wears before washing so you can take it on a trip and not worry about having to wash it religiously. The Unbound Merino tshirt and Unbound Merino black dress is my favorite due to the classy and slimming. Black friday sale up to 40% off store-wide. Buy it at Unbound Merino .
Oral-B Smart Clean 360 Rechargeable Toothbrushes (2-pack)
Too lazy to brush when you're traveling? I love these! The Oral-B Smart Clean 360 Rechargeable Toothbrushes, comes with two rechargable brushes with power stand and 2 additional bursh types to fully clean your teeth.  It also includes two  travel cases.  Watch my Instagram Unboxing Reel. Buy yours on Amazon
 

View this post on Instagram

 
Ring Floodlight Cam Wired Plus 
Home security for when you're traveling away from home. This Ring Floodlight Cam Wired Plus is a 1080p HD security camera with a motion-activated floodlights camera. It can capture motion zones and get notifications to your Ring App.  It has a 105dB security siren, night vision, and two-way talk. With a subscription, you can Record videos for up to 180 days. $200 to $140  Buy yours at Amazon.
JISULIFE Portable Handheld Fan (with 2000mAh external charger), $24
For those hot and humid places, it's nice to have a foldable JisuLife Portable Handheld fan with a battery that lasts 14-21 hours. It is a versatile fan that transforms into an external battery charger with 2000 mAh and can charge your cellphone. It also has a flashlight feature which comes in handy in the dark or if you're stumbling back to your hotel at night.  $24  Buy it on Amazon
Asics
For comfortable and ortho friendly footwear, Asics has been a reputable leader in athletic footwear for years. So if you need support for the rigors of your travel from walking to running to hiking and more, check these out:  ASICS Women's Gel-Venture 8, Asics Men Gel Venture 7, ASICS Women's Gel-Excite 9, ASICS Women's Trail Scout 2. Prices are slashing on many models from $100+ to almost 50% and more!
Vionic
Vionic shoes offer good orthotic insole arch support with stylish fashion The shoes are sustainable, machine washable and great for beachy and casual days. Check out the  Vionic Beach Pismo Fashion Sneakers and Vionic Beach Malibu Casual Women's Slip On Sneakers  Ranges approximately $64.95 to under $53.
Fitbit watches
Folks sometimes ask me how I stay fit when i'm on the road. Truth is, I  love to walk and walk everywhere, so fitness watches that keep track of my steps and sleeping patterns are a definite Yes to me. Many fitness watches will be going on sale this Black Friday.
Check out the FitBit Versa 4,  which impressively looks like an Apple watch.  $229.95 to 149.95 . 
For a slimmer female wrist, check out the Fitness Charge $149.95 to $99. 95
YouTube Jumpstart and Monetization courses
Special 40% off coaching and anything in my Video Jumpstart Academy shop. Sale until November 27. Use code: BLACKFRI40
YouTube JumpStarter Kit $199 to $119.40
Jumpstart your YouTube business and learn the essential strategies that you'll need to build your channel and videos around.  Don't waste time learning YouTube through random online YouTube video tips- it will take years to grow if you don't have a guide.  Nab my YouTube cheat sheet course instead! This course is not about creativity- you bring that with who you are– this is pure strategy of building a bullet-proof YouTube channel and business.  Check this out
Patreon Secrets: Grow your Income on Patreon  $47 to $16.20
Don't know how to start on Patreon? Fear that by asking for fan funding support, you'll be seen as begging audiences? This is a handbook of ESSENTIAL Patreon tips and personal insights I've used to fund my travel and grow my creator income. Bonus step-by-step launch kit and call to action template included to take your Patreon campaign from concept to execution.Take a peek inside here.
Branding influence: Powerful Personal Branding for YouTube Businesses. $150 to $90 
This Branding Influence course is for the entrepreneur, looking to target customers with YouTube marketing. It is also for the creator, looking to grow an influencer brand which audiences love! A brand is the foundation of every successful influencer, entrepreneur and business. IIt showcases your experience and authority in your niche and can affect the personality you'll be on-camera. It is your marketing power.
Viral Video Money Generator $27 to $16.20
Turbocharge your income AND views by combining monetization ideas with viral video formulas.  Learn how to grow your income, even if you are a small channel with six types of income to turbo boost your monetization strategy and get 14 viral video formulas to use, mix and implement into your video content strategy. Bonus printables, templates and checklists.
If you've downloaded my 11 YouTube Accelerator Tips, then this is the next level to growing a business and a risk-free taste test of my other products.
What Black Friday Deals for Travelers would you recommend for 2022?