Last Updated on June 7, 2023 by Christine Kaaloa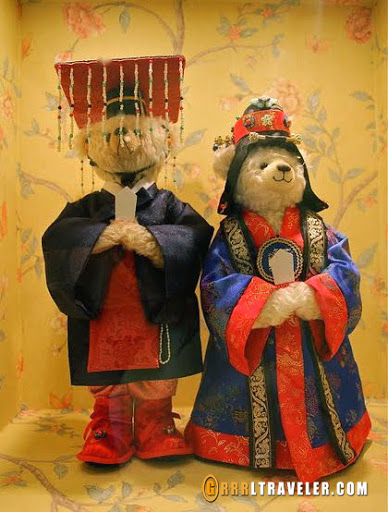 Do you like to visit museums when you travel? What's the  cutest, quirkiest or most bizarre museum you've been to?
I was an art major in college, so to some degree, I'll take interest in museums from time-to-time. But what about a Chocolate Museum, Sex Museums, a Trick Art Museum or a Sound Museum?  Jeju Island has loads of unique museums and things to do to pass time with.
Read Top 8 Things to Do on Jeju Island.
But how about Teddy Bears?
Personally, I never cared for them as a kid, so why would I visit a museum full of 'em, as an adult?
Why?
At the Teddy Bear Museum on Jeju Island— and popular film location of Korean dramas, such as Gung– the teddy bears do more than just sit in glass cases waiting for love. These teddies make art history, play out war enactments,  impersonate famous stars, such as Elvis and Marilyn, depict Korean history and even act out scenes from popular movies, like Titanic.
Imagine the human world replaced by these furry partners. You just entered The Planet of the Teddies.
The Origin of Teddy Bears
If you've never followed Teddy Bear history, you might not know the toys originated after an incident, when former 1902 U.S. President Theodore ("Teddy") Roosevelt went bear hunting. Many hunters had killed an animal, so Roosevelt's attendants chased down and clubbed a baby Black Bear and tied it to a tree for him to shoot.  The president found this "un-sportsmanlike" and refused to shoot it but ordered that it be shot and put out of its misery. A stuffed animal toy was created not long after and it was given the name 'Teddy's Bear'.
Teddy Bear Museums around the World
The first teddy bear museum was built in 1984 in Petersfield, Hampshire, England.
Since then, many teddy bear museums have sprouted up around the world. Korea built its first teddy bear museum in 2001 and now there are three locations: Jeju Island, Namsan Seoul Tower (here), Paju Heyri and they've even opened a museum in Hawaii, where they have a Barack Obama bear.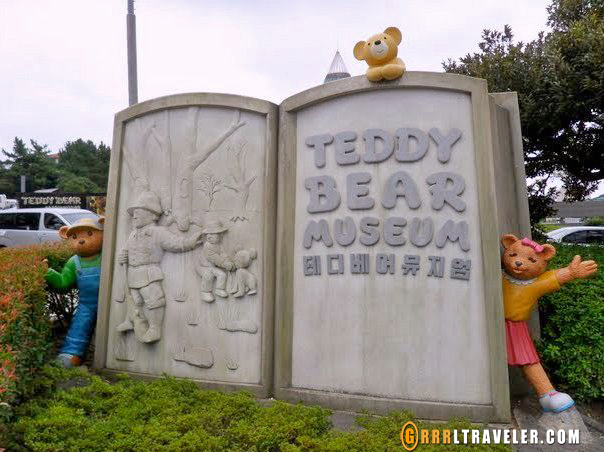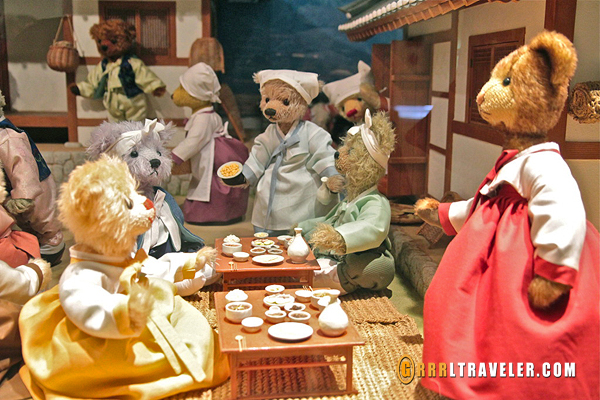 Teddy Bear Art History
There are many exhibitions in the museum and over a 1,000 different types of bears from bears in mechanized motion, miniatures, life-sized ones, childhood character bears like Paddington, Swarovski crystal studded bears, the list goes on… and it doesn't get boring.
My favorite part of the museum was the Art History section.  A teddy Mona Lisa, a Warhol and a handful of scenes from famous Renaissance works. It was pretty impressive.
.
Popular Korean dramas and the Teddy Bear Museum
But let's get down to the real reason I sought out the museum. If you've ever seen the popular Korean drama show, The Palace (or Gung or Princess Diaries), then you'll know part of the fascination tourists visiting Korea can have with Jeju's Teddy Bear Museum.
The show features cute opening and closing scenes with teddies re-enacting scenes which took place in the show. Not to mention, an episode is shot at the museum. In a way, the popularity of the television series has helped popularize the museum for tourists like myself, visiting Korea.
Read How to Make your own Korean Drama Tour
My visit to the Teddy Museum was surprisingly fun. It ranks high on the 'awwww cute' factor. Inevitably, I ended up buying one of these furry creatures  at the museum store.
Would I go again? Yes. In fact, I visited it on a trip to Jeju a few months later.
Information:
The Teddy Bear Museum
Jungmun Resort Area, Jeju Island.
Hours: 09:00 ~ 19:00 (tickets on sale until 18:00)
Getting to the Teddy Bear Museum from Jeju City:
– Take a taxi to Jeju Intercity Bus Terminal (Base fare 1,000 won).
– From Jeju Intercity Bus Terminal, take a bus (Jungmun Express Bus)and get off at  Jungmun Tourist Complex (50 min ride).
– From Jeju International Airport, take an airport limousine bus No. 600 and get off at Jungmun Complex(50 min ride).
Where to stay nearby:
The Teddy Bear Museum is at the Jungmun Resort Area, across the Ripley's Believe it or Not Museum. Jungmun (map of hotels in Jungmun Area) is the resort area and it's worthwhile to see the backlot of some of these posh hotels. The Lotte Hotel and  Shilla Jeju are the most popular and best known by Koreans. I stayed at the Hyatt Regency. Sometimes, there are deals, depending on season.
About 30 minutes away is a more budget friendly area of  Seogwipo. (Map of Seogwipo City) falls second as one of the tourist destinations, but has less variety. Here's a map of places to stay in Seogwipo City. Seogwipo is at the south-eastern base of Jeju and the last stop on the Jeju Airport Shuttle bus.
Read my Jeju Island Travel Survival Guide for more tips about traveling in Jeju Island.
.
Ever been to a Teddy Bear Museum?
Related Jeju Island Posts
Jeju Island Travel Survival Guide
Top Things to Do on Jeju Island
Teddy Bear Museum 
Loveland Sex Park
Hiking Jeju Island's Olle Trails