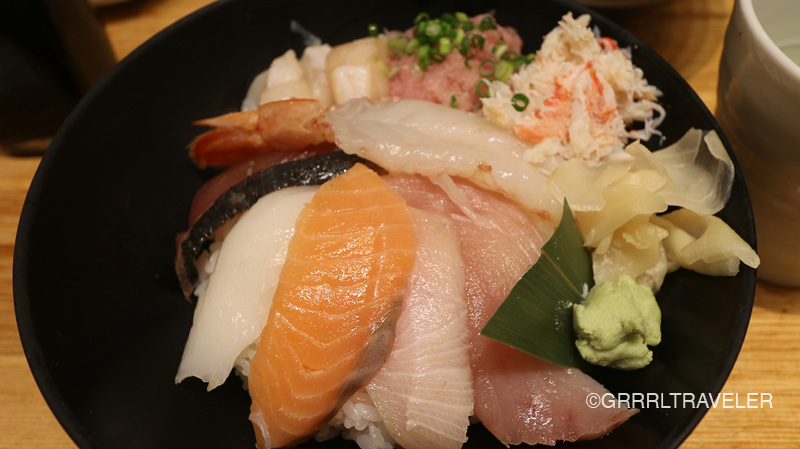 When I visited Tsukiji Market, this was before the inner market relocated to Toyosu Fish Market. Nevertheless, all the street foods I ate were in Tsukiji's Outer Market, which is still operating today.
Ready to eat the freshest seafood? The foods of Tsukiji Market ranges from Japanese street foods to street snacks, so I'm going to share the must try foods of Tsukiji Market.
Is Tsukiji Fish Market still open?
The streets of Tsukiji Outer Market are occupied by small shops, open markets selling produce and meat, sushi joints and street food vendors. Although Tsukiji Fish Market is largely known for its wholesale seafood businesses and auctioning of fresh catch, Tsukiji's Outer Market has always been for the public.
In 2018, Tsukiji Fish Market split from Tsukiji Outer Market and relocated to Toyosu Market. Tsukiji Outer Fish Market, which  consisted of small restaurants and street vendors selling seafood is still in tact and operating.
How far is Toyosu Market from Tsukiji Market?
 Toyosu Market  is 2km away from Tsukiji Station at Toyosu Station.
In the streets of Tsukiji Outer Market. There's a little something for everyone from sweets to flame torched and raw seafood bites. Some of the foods can even tempt the curious and adventurous in seafood tastes.
How much do foods of Tsukiji Market cost?
The prices of foods of Tsukiji Market range anywhere from under 500 – 1000 yen for special seafood.  This is pretty ballpark for Tokyo. For street sweets and deep fried finger foods it costs under 500 yen.
What is the best time to visit Tsukiji Outer Market?
The best time to visit Tsukiji Market is before the 11am crowd hits. The market gets crowded with hungry people, there may be lines at popular sushi joints which have limited seating.
Watch my Must Try Foods of Tsukiji Market (video tour)
10 Must Try Foods of Tsukiji Market
1. Warabi Mochi
Warabi Mochi is a subtle and sweet type of mochi with a silky texture. It is not your standard mochi in texture. It is almost like jelly in that it just slides down as you eat it.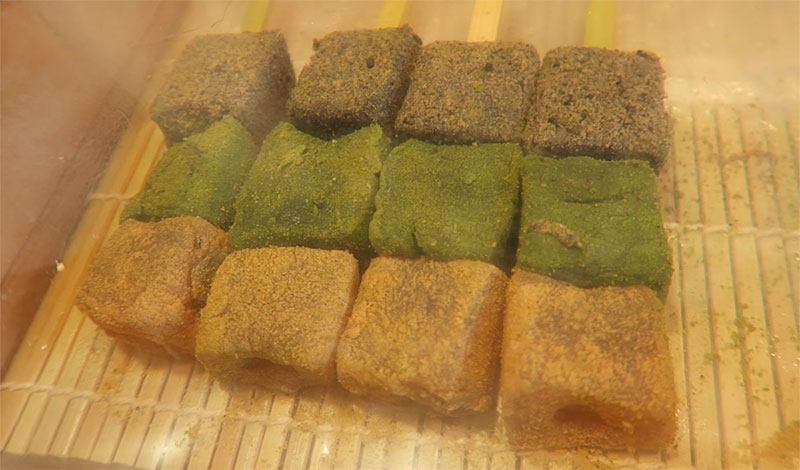 2. Tamago yaki
Tamago yaki is a fluffy type of egg you'll see sold on a stick. If you love sushi, it is likely you've tried tamago before as it is a sweet soy flavored egg that accompanies some sushi or bento. Tamago yaki vendors in Tsukiji Market sell a variety of tamago yaki types from sweet to salty or natural.  The most popular one is the sweet one.
3. Sea Urchin Flame broiled Scallops & Uni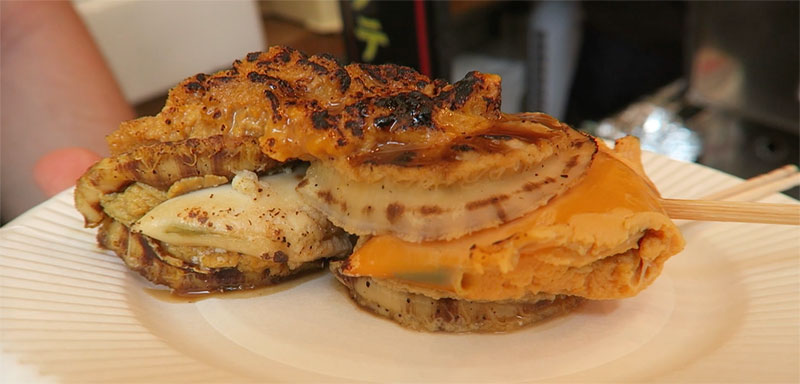 4. Kaisendon Sushi Bowl
When in Tsukiji, you have to try the sushi. Tsukiji Market has the freshest seafood. You'll not be at a loss for sushi restaurants in this area. Not all sushi joints are in plain sight. Some are tucked in small offshoot streets and alleys. Head into a sushi restaurant and you'll find various sushi bowls sold. Kaisendon are sushi bowls with sashimi on a bed of sushi flavored rice (sushi rice has a bit of sweet vinegar and salt).  I ordered the kaisendon, which included maguro, ama ebi (it is a type of shrimp that is slightly sweet in taste. ), crab flakes, negitoro (a popular type of minced tuna), scallops, squid, salmon, engawa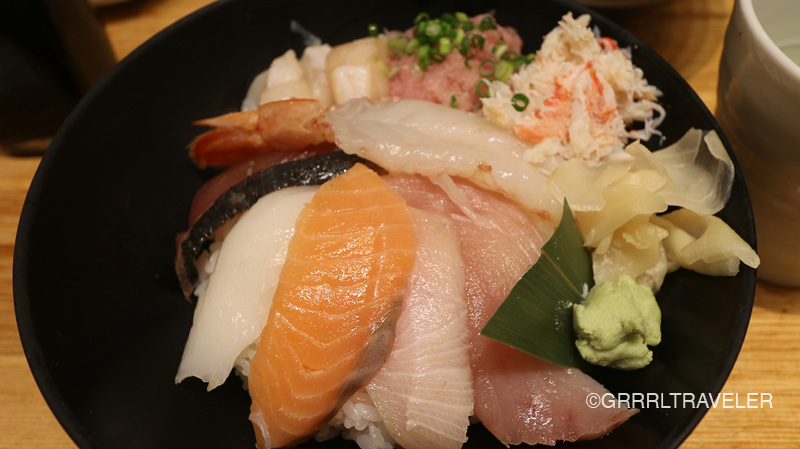 5. Onigiri
Onigiri is a rice ball, usually with a tiny filing inside to help flavor the rice. Often, seaweed is wrapped around the rice ball. Manyh of the onigiri I've tried from vendors or 7 Eleven were really delicious. I noticed a vendor selling very large onigiri of much variety. The one I tried in my video perhaps, was not what I expected. The seaweed they used was of a particularly briny and salty type.  I've definitely had better onigiri. If you're a timid eater, try a standard onigiri either with tuna or salted plum.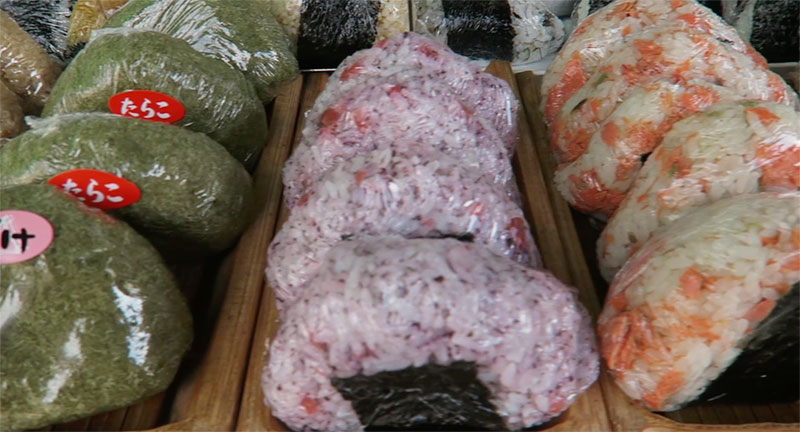 6. Daifuku
A favorite sweet of the Japanese is daifuku, a larger sized mochi (glutinous rice), often with a filling. Some daifuku can come in different flavors and in this market, are dressed with a fruit.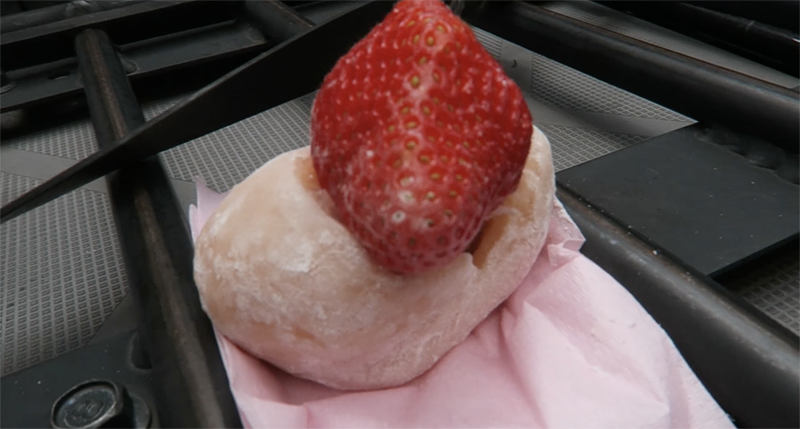 7. Dried Seafood
There are many dried seafood vendors about Tokyo markets and Tsukiji Market is no different. Dried seafood is used in Japanese cooking in a variety of ways from flavoring foods to flavoring rice. Some of these make great partners to a bowl of rice or chazuke (rice bowl mixed with tea). The nice thing about dried seafood vendors is that many of them allow you sample a bit of it before buying an entire packet. It's certainly interesting to go about tasting the variety of flavors.
8. Crab brains (Kanemiso)
Lastly, there is Kanemiso or crab brains. This is definitely not for the faint of heart as anything outside of crab meat can get a little more salty and briny in flavor, while holding a different consistency.  Crab brains are beaten up to a stewy pulp and often placed in the crab shells which is used as a cup for drinking.  Bottoms up!
9. Raw Uni
Raw uni straight from the urchin looks off-putting but is very similar to if you had it on sushi. A slightly more sea tasting, its appearance is not for the weak of heart. These are not cheap, but typically run about $15 per urchin.
Where to Stay near Tsukiji Fish Market
Travel Tip: Get $40 in travel credit when you sign up using my AirBnB code.
First Cabin Tsukiji was one of my more luxurious capsule stays in Tokyo. Themed after the idea of boarding an airplane, the hotel offers a check-in lobby, restaurant, bar and spacious cubicle room capsules.  Located across the street from Tsukiji station. Tsukiji Fish Market is a 5 minute walk from the hotel.
Minimal but good value for budget travelers, Hotel Ann Tsukiji offers you sleek basics for a comfortable home. Just five minutes from Tsukiji Station, it is a great location. A top choice for those looking for a boutique hotel stay.
Hotel Vintage Tokyo is stylish and spacious. Modern decor, comfy bed, and a bathroom with a bidet. It's a top pick for many.
Tsuki is a stylishly modern hotel just 8 minutes from Tsukiji Station, it has a Japanese sophistication which gives off a stylish Zen feeling.

Remember to Like and Comment! Let me know—Sweet to salty to adventurous , what types of seafoods do you like?