Last Updated on June 20, 2021 by Christine Kaaloa
A few of weeks ago, when I tweeted I was undergoing a job interview in Korea. A popular question often asked by ambitious native English teachers in Korea is how to get a get a university job in Korea? Getting a job at a Korean university is prestigious, while also occasionally offering perks of extra vacation time, higher salaries and less teaching hours than a EPIK public school or hagwon. 
"K******** University wants you to contact them ASAP about a job position. Please call them; they are a very good university."
That was the message I got from Eun-Hyung, my Korean co-teacher, last April when I was in India.  It was a university job I had applied for long before I left Korea. The position started March 1st and it was for a full-time lecturer in the Media Arts department, teaching Video and Animation. At the time however, my commitment was traveling India and getting my Yoga TTC program, so I'd written them to keep me in mind for future openings.
They did. November rolled around and thankfully, the university contacted me again.  This time, by email.  There had been many candidates vying for the job; but they were looking for the right person.  They were convinced I was the one. My timing was perfect.
How to Get a University Job in Korea?
Can you get a  job teaching something besides English?
Most foreigners in Korea teach English.
As a foreigner, getting a job offer to teach a specialty aside from English is unlikely.  Not impossible. It's just not a job that you'll find commonly posted for non-Koreans.
Finding a position, which allowed me to teach my skill of expertise (video & media arts) was a rare instance. I'd still be teaching in English in a way, but as a prerequisite studio course the focus was split.
What makes a good candidate for a Korean university?
I won't profess to know what makes a good candidate for a university job, since I already failed two university job interviews. Could be appearance, qualifications, degree background or whether you can balance a ball on your nose. With my recruiting university, their "right candidate", fell order like this:
Application Process: How to get a job at a Korean university?
Each university has their own prerequisites.
Here's what to expect:
1. Submit cover letter, photo and resume
2. Fill out an application (in one case, I had an application which was 8 pages full of essay questions!). Sometimes, they'll request you use their online application and just a head's up– Korea uses mostly PC and Internet Explorer (too bad to Mac and Safari/Firefox users).
3. Submit transcripts, copy of passport and documents via mail. You can send them by email  if the school is okay with that, but often, they want the hard copy mailed directly to them from the institution.
What to expect at your job interview at a Korean university?
For Korean colleges, the first interview is to win department approval. But when Korea's not sure if they want you, they make you jump through the hoops of 'song and dance'.  You gotta sell yourself.
Here's some of the things I've had to do for other colleges:
1. Prepare and perform a 5 minute lesson and mock teach a class (you may or may not advance notice for preparation)
2. Interview in-person.
3. Be ready to answer questions, such as:
Why you want to teach English in Korea?
Why you think you'd be a good candidate if your background isn't in teaching or English?
How would you handle a class in which some students know absolutely no English?
How would you deal with students who are unmotivated to learn?
 
How do Korean universities interview you when you're their favorite candidate?
When Korea knows they want you, it's like being recruited as a star athlete. No tryout or audition. You don't have to sell them on why you should get their vote. They already know.
Thus, I was able to do a Skype interview with the department and was given one question.  The next day I received an email acceptance letter, then handed to the administration office for the process of collecting extra documents such as proof of work, credits, etc…
Rather than be cocky however, a year in Korea conditioned me to err on the side of safety. With Korea, there are many "surprise reveals" at the last-minute.
How to read when Korean universities are silent?
Westerners have a tendency to think of silence as a sign of 'disinterest'.  For Koreans, silence is like waiting at a traffic signal. At any moment the light could turn green, so you keep your foot hovered over the gas pedal.
For some time, all was quiet. Aside from knowing I was their favorite candidate, I didn't know much else, about my competition or the position. Salary, housing, vacation time, hours of in-class teaching vs studio time, extra responsibilities of the department… the terms of employment weren't given to me nor was I receiving answers for my query.
An email arrived on January 3rd stating that my second interview would take place on January 12th with the head of the university… in Korea. Five or six other candidates were CC'd on the email, as well. This was my first time making it to the second round.
Wait. Rewind.
Interview in Korea?  …In 9 days?!
Free flights and hotel to attend the university job interview.
Life was moving faster than I could digest it. Free trip to Korea? I felt weighted. I still didn't know the terms of employment and within that pocket of silent wait, doubt entered my mind and I drafted alternate plans for 2012. Really good ones! A speedy return to Korea was starting to lose its focus. I was starting to feel dazed by my surrounding decisions.
Knowing I may ultimately need to change my dates, I booked a flight with Korean Airlines. I'd used them before and had to change my flight, so I know their service is top-notch. They won't charge you a fee if you have to change your flight! No change fees, free in-flight meals, individual TV sets, great hospitality plus two free luggage check-in pieces! Airlines don't get any better than Korean Air!
When I stepped off the plane, two curious-looking gentlemen greeted me– Prof T.H.L.  a young, quirky-looking video professor, fluent in English and Professor P., a kind and soft-spoken professor and head of the department. Tired from the long flight and lack of sleep, I mustered the enthusiasm for a greeting.We chatted in the car; and I realized they were immediately likeable.
The two men drove me to The Prince Hotel to check in. They walked me to my room, then bid me a goodnight, informing me they'd come to pick me up for the interview in the morning.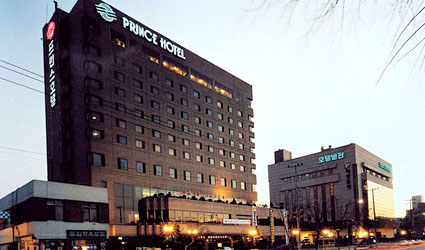 A second interview: Meeting the President of the University

One of the most prestigious universities in the city, the first campus was impressively large and upright. As one of the top ten most beautiful colleges in Korea and film location of K-drama Boys over Flowers (it was the elite high school, where the top 1% of the wealthiest Korean families attend), it definitely earned its model ranking. It's red brick western style buildings stood regal, commanding a sophisticated academic presence, reminiscent of an Ivy league college. With soft rolling hills and tightly manicured lawns, the campus held a distinct air of brevity and sunshine. A practically squealed in my seat, driving through it!
We drove up to the President's building. It stood tall, quiet, intimidating, academic.  I entered the office, flanked by my two department guardians. Foreign candidates of other departments, filtered into the waiting room, wearing razor-sharp suits; each, accompanied by a Korean professor or dean from the hiring department. A Berliner sat next to his Korean attendant for the German department, a Filipino woman sat in wait next to her Korean counterpart for the nursing department…
Then it occurred to me… this interview was IT. I was IT and the only. And there were no backup candidates to replace me if I decided not to take the job. This interview was for each department to get Presidential approval!
Inside the president's office, the nerves melted away my surroundings. Separated by a long wooden table, three distinguished Korean men sat across me. The president looked like a Korean Roger Moore. Dignified. Neither smiling nor frowning.
What was my career experience previous to teaching?
What was my proudest career achievement?
Why do I like Daegu?…
Frankly, I'm bad at job interviews. I don't give smart answers. I give honest ones and my brain was like a waffle… solid, but spongy with very shallow potholes. I was sure I made a bad impression.  After my interview, Professor P disappeared in to the President's Office. In five minutes, he emerged victorious. I got the job and the two professors whisked me off to celebrate the victory with a sushi lunch!
Terms of Employment
Usually, knowing your salary and benefits comes before the last interview, but meeting with the administration was our next stop.  There, the head administrator laid out the terms before me. They were sparkly. Great salary, paid vacation of 3 months, 4 weekly classes, free housing, a requirement of one annual solo exhibition of my work for teacher's performance. Paving a road to a career in academia came with a handsome package…
If I chose to take that road.
 Meet with the department staff
The following week I was still in Korea, so I was invited to meet the department staff. Four male professors welcomed me in the faculty lounge and gave me a grand tour around the Media Arts building. We ended with a friendly chat over coffee at a café. This introduction was different from my first welcome to Korea. I really experienced that Korean hospitality I used to hear others talk about.
Everything in the picture appeared perfect!  A prime job at a university, working alongside cool co-teachers, my very own office (with a door), inspiring future artists as well as, developing my own work towards a solo exhibition. It wasn't Seoul, but maybe that wouldn't matter. My ideas were racing with lightning speed and excitement. This could work fabulously!
But just one thing burdened me … those alternate plans gave me a sharp tug.
Countdown to a final decision
I asked for a week to make my decision. Start date is March 1 and if I accepted the job, the visa process had to start on the spot. Everyone had hoped for a confirmation sooner, but sometimes, even perfect choices doesn't make the decision-making process any easier.
Please don't assume to know my answer just yet.
Actually, this post isn't really about surviving a university job interview. It's about surviving a decision.
How to get to Korea
Who to fly with
Korean Airlines 
Free in flight meals, personal tv sets, care package (slippers, tootbrush and toothpaste, water bottle), 2 free luggage and no change fees.
Rental phones in Korea:
SK Telecom Roaming (website)
Low Fee of 3,000w/day+ low rates on useage  (texts or calls)
*SK telecomm can be found in Incheon Airport, Gimpo Airport and Busan Airport.
Travel Resources for your Korea trip
Booking.com – Hotel bookings. No cancellation fees
Safety Wing – affordable travel insurance with COVID coverage
NordVPN – Online security and the ability to watch Netflix. Use "grrrltraveler" for 70% off 3-year plan + 1 month free
Klook – Book tours in Korea and Asia
Get your Guide – book tours in Korea
Korea SIMs – for prepaid travel SIM Cards
Korea Rail Pass – for getting around Korea
Related Posts
How to Teach in Korea & Mock Teaching Interviews
Teach in Korea: EPIK vs a Hagwon
My Korean apartment for EPIK (video tour)
From MTV Producer to English Teacher
Jobs that pay you to travel