Last Updated on May 27, 2020 by Christine Kaaloa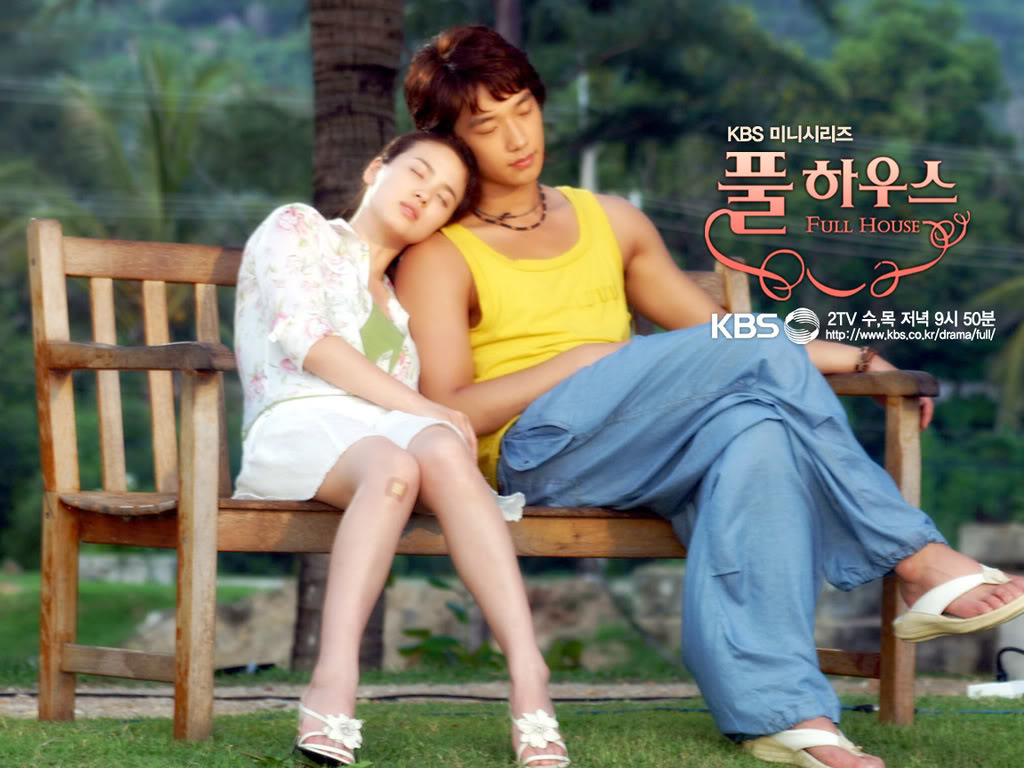 What are the best Korean dramas of all time? The Hallyu Wave has gained global popularity over the years and everyone wants to know which are the Korean dramas to watch. Watching Korean dramas is not only a great way to gain familiarity to learning the language but it is also a way to inspire your wanderlust for traveling Korea and understanding Korean culture.  I injected a healthy dose of Korean dramas into my diet and I've found myself, well,… a bit addicted to it too!
16 Best Korean Dramas of All-Time
What are the Best korean dramas to watch?  Firstly, let me say that I love period pieces and Korean drama have many of them. While they inspire an interest in Korean history and culture, they don't always inspire traveling to Korea or wanting to visit the Korea of today. So I will save my favorite period dramas for another post.
1. Full House
Genre: romantic comedy  Stars: Rain, Song Hyo
This is the first Korean drama which made me fall in love with K-dramas. I watched this drama over and over. A naïve girl whose only belonging is a house her father left her, must enter a contract marriage with a famous and spoiled actor, when her house is sold out from under her.  Nowhere to go, she becomes the house's caretaker.  Location:  Sugi Beach [수기해수욕장] on Sido Island. The house no longer exists but was destroyed in 2013 tsunami
2. Princess Hours or Gung
Genre: Teenage romantic comedy  Stars: Yoon Eun-hye, Ju Ji-hoon, Kim Jeong-hoon and Song Ji-hyo
A common and quirky girl is placed in an arranged marriage with a stuffy Prince. Comical and cute at times, the story is mildly reminiscent of the rags to riches concept of  Hollywood's Princess Diaries. Locations: Jeju Island, The Teddy Bear Museum
3. Boys over Flowers
Genre: Teen romance dramedy. Stars: Ku Hye-sun, Lee Min-Ho, Kim Hyun-Joong
At Shinhwa High School, poor girl Jan-Di wins a scholarship to attend a school where the popular, handsome and rich F4 boys group reign. Rich, jerky boy falls for poor girl, this drama will make your teenage heart come alive and wish you had a chance to do high school all over. Locations to inspire Korea wanderlust: Jeju Island, Seoul Namsan Tower, Heyri Art Village in Paju, Macau
4. Master Sun
Genre: Romantic Comedy   Stars: So Ji Sub,  Gong Hyo-jin
She's just your ordinary girl who is haunted by ghosts and he's your regular cold chaebol CEO, who can't stand being touched. But when he's around her, ghosts don't come around. Fun romantic comedy mixed with the supernatural. So Ji Sub's best comedic role.
5. Dream High
Genre: Teen romance, overcoming odds, performing arts. Stars: miss A's Bae Suzy, Kim Soo-hyun, T-ara's Ham Eun-jung, IU, and 2PM's Ok Taec-yeon
Youth and talent,…do these teens at an elite performing arts school have what it takes to be the next star musician, dancer or singer? Romance, betrayal, competition and hard work. Who will make their dreams come true?
6. Spring Waltz
Genre: Romance   Stars: Daniel Henney
Directed by Yoon Suk-ho, the overall work of this director involve seasons, like Winter Sonata, Spring Waltz, etc…  It's very similar to the concept of French filmmaker Eric Rhomer, who did the same thing.
Will destiny lead you back to the one you lost? Childhood friends are separated when a life threatening situation occurs. Several years later, they cross paths again while assuming different identities.
7. A Prince's First Love
Genre: Romance   Actors:Sung Yu-ri, Cha Tae-hyun, Kim Nam-jin
Opposites attract when an arrogant hotel heir meets a penniless waitress at a ski resort and she changes his life.
8. Secret Garden
Genre: Romantic comedy.  Actors: Hyun Bin, Ha Ji Won
Bratty department store CEO and hard-working and tough stuntwoman meet and sparks fly, despite their disgust of secretly being attracted against their grain. Throw in a disapproving mother and an incident where the couple switches bodies and you've got a fun adventure.  Locations: Jeju Island
9. Rooftop Prince
Genre: Romantic comedy.  Actors: Park Yoochun, Han Ji Min
What happens when a Joseon era Crown prince Tae-Yong lands in a 21st century Seoul rooftop ? Let the fun begin.  In fact, he is there to solve the mysterious murder of his wife 300 years ago. It so happens Tae Yong's wife is reincarnated in this century also, along with her sister (the original would be bride of Tae Yong before a disastrous accident scarred her face). Tons of fun and laughter. Park Yoo chun and Han Ji Min make an adorable couple.
10. My Fair Lady
Genre: Light hearted romance  Stars: Yoon Eun-hye, Yoon Sang-hyun, Jung Il-woo
Spoiled and self-centered Kang Hye-na is the successor of Kang-san Group and leads a life surrounded by maids and butlers. She has it all. Until she meets brash Dong chan, a florist and gigolo and causes his to knock over his shipment. Eventually Dong chan arrives at his new job as her butler and sparks of spite fly. Fun drama~ Yoon Eun hye and Yoon Sang-hyun are perfect in their characters and fun to watch, stealing your heart to the end.
11. You're Beautiful.
Genre: Romance, Gender switch  Stars:  Jang Keun-suk, Park Shin-hye, Jung Yong-hwa of CN Blue
Mi-nyeo wants to become a nun, while her twin brother is training to be a singer and wins a position in the musical boy band A.N.Jell. He must leave temporarily and asks his sister to take his place until he can return. It's not easy being a boy in an all male house of celebrities, especially when they discover there is a girl amongst them and a love triangle ensues.
12. Lie to Me
Genre: Comedy, Romance.  Stars: Yoon Eun-hye, Kang Ji-hwan and Sung Joon
13. City Hunter
Genre: Action, Romance   Stars: Lee Min Ho, Park Min-Young
14. The Heirs
Genre: Romance.  Stars: Lee Min-ho, Park Shin-hye and Kim Woo-bin
15. Itaewon Class
Genre: Overcoming odds, Light Romance  Stars:  Park Seo-joon. Kim Da-mi. Yoo Jae-myung. Kwon Nara
Created after a popular webtoon. Strong performance by Park Seo-joon
16. The Moon That Embraces the Sun
Genre: Period piece  Stars: Kim Soo-hyun, Han Ga-in, Jung Il-woo
13 Things you learn from watching Korean dramas
You can learn a lot about a country by watching their films and tv programs. I'm not saying everything you see on the tube will be true or accurate, but you get a general impression- good, bad or weird– of how a culture observes themselves, their social and fashion trends, customs, codes of conduct, etc…  Inevitably, of course, you forge a raw stereotype based on what you've watched; then, wonder if it's all true.
Predictable scenarios if you are a Korean Woman…
1)  You always fall for the rich and arrogant  jerk, who treats you like a servant.
2)  You are always hungry and stuffing food in your mouth, while talking.
3)  You're able to wear mini skirts and high heels in freezing cold weather.
5)  You're always going to be a Cinderella slave to your in-laws.
Predictable scenarios if you are a Korean Man…
6)  and you're handsome and nice, you will almost never…ever get the girl (*unless you are… See #1).
7)  You are a good cook and love to wear a cute smock aprons while doing it.
8)  You like wearing pink or outfits that western guys wouldn't be caught dead in.
Predictable scenarios if you are Korean …
9)  You are emotional and love to yell and scream.
10)  You love romantic triangles, rags-to-riches stories, and Shakespearean tragedies, where people show love through immense self-sacrifice (I can't even dream up half the kind of self-relinquishing acts that they do!).
11) you have a fascination with the loss of eyesight: i.e.  a lover is or goes blind…  commits suicide so their loved one can have their eyes, etc.. (See #10).
12) You don't know how to kiss.
13)  You love to drink alcohol such as soju, mekju (beer) and soju-mekju bombs
What are the best Korean dramas to watch? Let me know your favorites!
Watch Korea Travel Videos
Related Posts on Korea Travel and films
All-Time Best Bollywood Films to Inspire your India Wanderlust
How to Make your own Korean drama tour