Last Updated on March 14, 2018 by Christine Kaaloa
The village is a small Chinese cultural site tucked away on the country outskirts of Pai.  It is easily reached 45 minutes by motorbike on your way to the Morpeng Waterfalls. I was recommended to this place from another traveller, Graham on the bus from Chiang Mai and wasn't sure to expect.
Pai Chinese Village (aka Santichon Village) is a commercial park
Santichon Village (more favorably referred by locals as Pai Chinese village) was once a settlement for Chinese who escaped the Mao regime. It's said that the local culture was once a mixture of Yunnan Chinese and Thai.
When I reached The Chinese Village (aka Suntichon Village), I parked my bike in a parking lot crowded with tourist buses. I hurriedly walked through the village grounds. I was distracted by my fuel tank warning and the fact in under an hour, the roads would be black (I was still learning how to ride my motorbike). But a quick or well-paced stroll of the grounds, would not change my sentiments about this place. You can easily take it all in in under 20 minutes. The village is not an authentic traditional village,  but a replicant commercial park or cultural center.
The main center of the village holds a nicely manicured park, surrounded by mud hut bungalows, an outdoor deck restaurant and newish-looking souvenir stores selling Chinese items, herbs, pickled seeds and serves tea. You can sip Chinese tea while looking out over the lawn.
A man-operated ferris wheel, sits in the middle of the main lawn. Apparently, you can book homestays in the mud huts.
I've seen photos where there's an area which replicates the Great Wall of China and houses some Chinese looking buildings around it.  But it could be tucked away from the main grounds and shops.
One tip: Avoid visiting midday as aside from the shops,  there is very little shade in the area.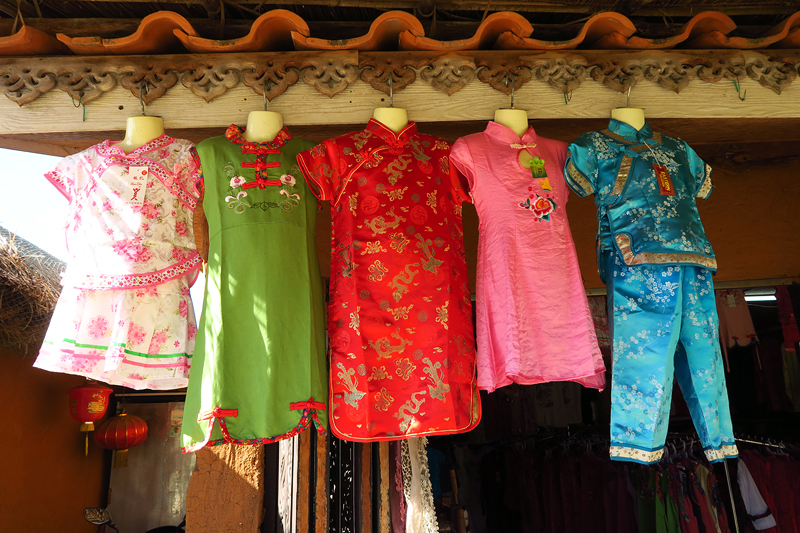 Conclusion
I'm not sure if I'm convinced that Santichon Village does a very good job in teaching or introducing Yunnan culture to you through this spot. Locals live around the village but they seem to live very Thai. Pai Chinese Village might be worth a stop if you're looking for something to fill your itinerary, but if time is a concern, you're best off flying past Pai Chinese Village and choosing other several other worthwhile Pai attractions.
What do you think of Suntichon Village? Is Pai's Chinese Village your next stop?
Essentials for Thailand