A Guide to Hot Air Ballooning in Cappadocia

A Guide to Hot Air Ballooning in Cappadocia (with Voyager Balloons)
.
These days, I feel like I'm starting to notice certain tourist activities, spreading like wildfire across the board t0 various countries, like ATV rides or shark diving cages. One of those popular tourist activities in general is hot air ballooning.
If you ask me, there's only a few places I'd find a hot air balloon ride worth the splurge. …And there's only a few places whose dramatic landscape I might appreciate seeing from up high.
There's Angkor Wat in Cambodia, Bagan in Myanmar, Maasai Mara in Kenya… and how can you not consider a hot air balloon ride in Cappadocia, Turkey.
In fact, hot air ballooning in Cappadocia was definitely on my serious bucket list, where the others feel more secondary to me !  Due to Cappadocia's alien landscape being a joint creation between man and nature, there's a lot of unique attributes to it that you just will not find anywhere else.

Finding a Balloon Operator in Cappadocia
Finding a good balloon operator was important to me. This was a once-in-a-lifetime activity and it occurred to me that due to cost or location, I may not ever dare to try it again. I had to make this flight count.
It was important to me to experience a gamut of things, from nosebleed heights to the awe of seeing the overwhelming launch of other hot air balloons, fairy chimneys, Rose Valley, pigeon houses, etc…  Moreover, I wanted to understand what I was seeing and how the spectacular vision that is Cappadocia,  came to be.
… And let's not forget, I also wanted to film it for my YouTube channel.
But Cappadocia has at least 25 balloon operators. How do you choose?
Where do I get my recommendations?
When shopping for the right tour agents, I get my recommendations from other travel bloggers, Lonely Planet (yes, I still occasionally refer to them) and TripAdvisor. When I find an operator that sounds good,  then I check out their website, the information they post and their social media accounts. I'm like a tour stalker.  A tour operator's transparency helps my decision-making.
If I don't have any of the above, then I walk into an agency on foot and vibe them out.  The scent of heavy cigarette smoke in the office or bad hygiene?… Uh, no.   Do they look like a professional and responsible business?  Do their employees seem respectable and upfront about their tours and prices?
Fortunately, Cappadocia Voyager Balloons has a lot of favorable online reviews, is well hooked into social media and has videos on YouTube. The owner, M.Halis Aydogen even posts photos from his flights regularly on Instagram and has a larger following than mine (ouch)!   For me, the decision of finding the right balloon company felt obvious.
And I wasn't disappointed.  I even got to ride in M.Halis' balloon!
From start to finish, Cappadocia Voyager Balloons was a very professional, respectable and personable tour outfit, gearing to put the customer's experience and above all… safety, first.
Watch the video
If a  photograph speaks a thousand words, then a video speaks a novel. For insight about what to expect of a hot air balloon ride, see the Cappadocian terrain from different angles and get more tips on how to find the right hot air balloon pilot operator, watch the video!
In addition to the video, here are other ideas that you might find interesting…
Is hot air ballooning in Turkey safe?
If I had only had one balloon ride to take in this lifetime and I valued my life, hot air ballooning in Turkey would be it. Surprised, was my reaction to the discover that U.S. requirements to becoming a certified balloon pilot were skeletal next to a Turkish pilot!
Turkish Civil Aviation requires Turkish balloon pilots have to go through a series of training curriculum and accumulate flight hours. If that pilot wanted to be certified to fly over 425 feet, they'd have to accumulate 200 hours of flight time, compared to the U.S.'  25 flight hours or something crazy low like that.  Whuh-huuuh???
Why you want will a pilot that can speak your language
Communication is key for this ride.  Cappadocia has a fascinating history of cave dweller, underground caves,  Christian persecution, pigeon farming, and "hand-carved" rock landscapes, etc…   Learning about this undoubtedly make you see Cappadocia in a more awesome light.  M.Halis was my pilot and as you'll see in the video, his English is perfect.
How many balloons are in the air in Cappadocia?
A hundred balloons can be in the air in Cappadocia and 45 minutes later another fifty can be launched.  That's a lot of balloons! It's also part of what makes flying in Cappadocia additionally special, over other places .
Each flight has a different experience
Take off and landing are not in the same spot and the location of the launch can change daily, depending upon weather, wind speed and direction. For that reason, your pilot will always be in touch with his ground team to let them know where he is and where he'll be landing.
How much your balloon moves horizontally is based on the wind direction and force . Sometimes, you can move miles; other times, you might move just a few.
The day I went, it wasn't very breezy, so there was one point where my balloon could only move vertically, while waiting for a breeze to catch. Luckily, we were in a gorgeous spot.   There were times we got so close to a peak you felt like you could reach out and touch the rocks.  I was timid and didn't want to shake the basket, so I didn't try it.  …But I was tempted.
And then… our balloon went high!  Like "Oh my God," skydiving high, where the air felt thinner and any sharp movement shook the basket. Still, I felt safe.
What else do you get?
Cappadocia Voyager Balloons  picked me up at my hotel at 5am, took me to their office to enjoy a light breakfast and then we were taken to the launch point.
Seeing as I was filming, my concern was whether I'd get a good shot or my basket was too crowded . There were only three people in my basket and the basket was spacious enough to comfortably move. In fact, the travelers I shared it with were super thoughtful. If they thought they were getting a great view all to themselves, they offered to switch. But fortunately, our balloon did some twirls, while going up and down, so we were all able to photograph the scenery.
The landing was smooth.  Although M.Halis showed us the landing position, he actually brought the balloon down … on the transportation truck!  How's that for a perfect landing?
At the end of our flight, they set up a table with celebratory champagne and gave us flight diplomas like graduation!  It was a great way to end a once-in-a-lifetime experience!
Best Times to Fly
Balloons operate year round but October to March many cancellations are prone to occur due to the weather.  Rain, snow, storms or rough winds can all cause flight cancellations.  To be safe, I booked my flight immediately after arrival in the case of bad weather and cancellation.  If the operator cancels, they will either refund you or let you fly the next day.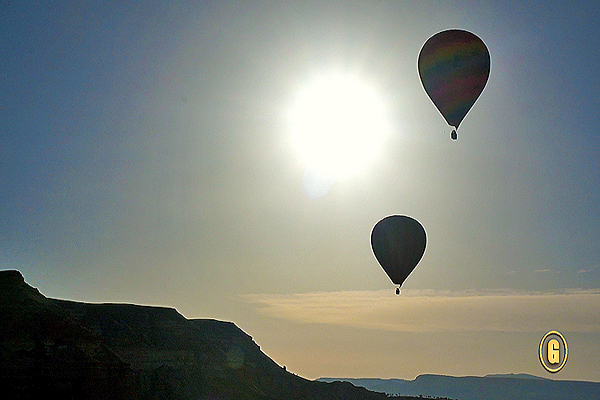 Have you ever taken a hot air balloon ride? Where or where would you like to?
Note:  The flight was complimentary of Cappadocia Voyager Balloons, but all opinions are definitely my own.  Continuing to keep it real.