Last Updated on August 25, 2017 by Christine Kaaloa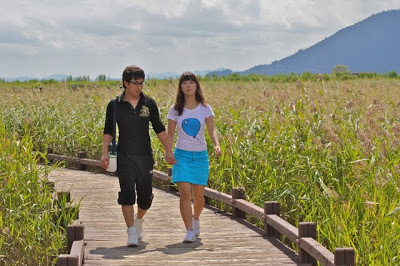 I remember…
I saw a framed photo of Suncheon Bay during my love motel tour in Suncheon (Jeollanam region), and it instantly became my new itinerary! Confused by bus routes and directions, late to the city bus tour, Suncheon Bay was the "only" site on our itinerary that we could actually figure out how to get to by bus.
Table of Contents: Photo Essay: Suncheon Bay Ecological Park
Suncheon Bay Ecological Park
Suncheon Bay heralds itself as an ecological park. Ecological? Sometimes with Korean hype, you never know how far the English word stretches or how deep its meaning runs. Living in Korea, I've gotten skeptical of the way this country promotes itself. Why? As small as this country is, it's got more UNESCO sites than Thailand, Cambodia and Laos put together and more festivals than India, which is pretty amazing and then…not.
Nevertheless, ecological it was. The bay is home to migratory birds, mudflats which are home to several different species like mud crabs and it's the largest, well-preserved weed… I mean, reed bed I've seen!
You could take a ride on a small train, which runs through the land as a Korean guide tells you about how there's working farms in the area as well as, how the park preserves certain species in the marshland.  Unfortunately, the guide only spoke in Korean so much of the detail was lost.
It was a windy day on a beautiful, winding boardwalk path; the rustling and flexible bend of the reeds inspired a wispy self-reflection, blowing my week's worries away!

At a glance Time and Love seemed endless
…but the future held unexpected turns.
Nature only mirrors discomfort
The road for one seems long

Reeds in the wind echo the sound of pasts revival

Some memories were abandoned for years; some dreams came and passed.
Beautiful memories flutter but aren't always long-lasting

Graceful, tall for the time being

A lazy afternoon break in the sun.
Other must-see sites in Suncheon
Suncheon's City Bus Tour operates from Suncheon Station/Bus Terminal (tourist booth inside station). Please check timetable schedule for routes. It has a day tour and an overnight Eco Tour. The following locations below are some of the locations it stops at.
Suncheon Open Film Set
A movies set lot where many popular Korean dramas and films were shot.
Songgwangsa Temple
A temple which is over a thousand years.
Naganeupseong Fortress
A village of thatched roofs that dates back from the Joseon period.
Day Trips from Suncheon
According to Wikipedia, Gwangju is 1 hour south-east of Suncheon, while Yeosu is 45 minutes south.
Where to stay in Suncheon
We stayed at a love motel not far from the Suncheon bus terminal at around 30,000 won/ night. If  you prefer a hotel, here's a range of acccommodations to choose from.
.