Last Updated on August 3, 2023 by Christine Kaaloa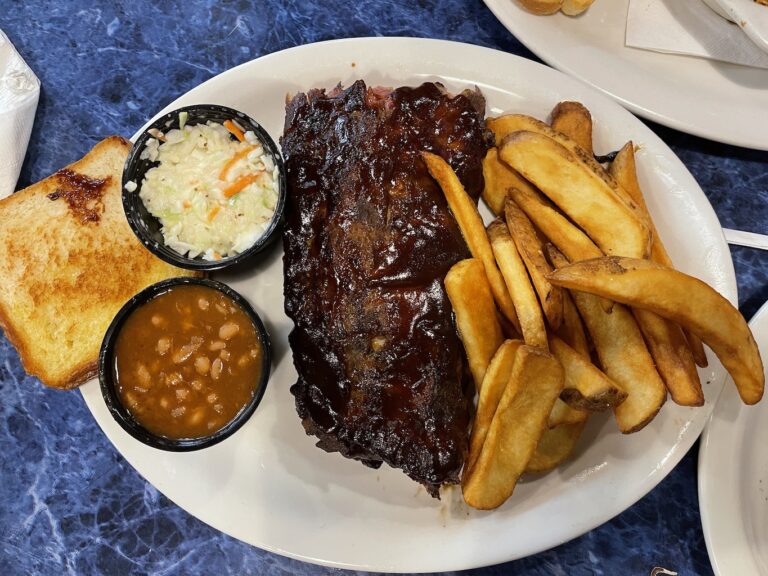 A lot of people talk about Memphis's BBQ, but there's more to Memphis than great BBQ. Here's a list of must try Memphis foods and where to eat in Memphis. One thing is certain after your trip to Memphis… hitting the gym.
This post may contain affiliate links. Never leave home without travel insurance. Click for the insurance finder tool. and affordable insurance for COVID/quarantine protection.
Watch 8 Iconic Food Experiences & Where to Eat Memphis
Here's a list of iconic food experiences and places to eat in Memphis! From Bacon Maple donuts, to BBQ and Elvis's favorite sandwich, one thing is certain after your trip to Memphis… you'll be hitting the gym!
10 Must Try Memphis Foods
1. BBQ
BBQ is big in Memphis, so you'll definitely want to try it.  A lot of places sell pulled pork and ribs. You'll find two types of BBQ: wet and dry. The dry BBQ is rubbed down with many spices while the wet BBQ is brushed with a wet BBQ sauce before and after cooking. Another unique aspect of Memphis BBQ is that it might come with several options from dry to spicy to hot and beyond. At one joint I went to, they had extra sauces to add such as mustard and vinegar. I have to say, the vinegar sauce was incredible! If you ask Memphisians for recommendations, they each have their own favorites.
Recommendations:
Blues City Cafe – Although it's on Beale street and likely overpriced, the foods that my friends and I had at Blues City Cafe measured up in taste. Tender, pork ribs slow-cooked and rubbed with their secret seasoning, hickory smoked with a maple BBQ sauce. The ribs were cooked so tender the meat slipped right off the bone. The stuffed mushrooms were heavenly, stuffed with crab and shrimp and sauteed in butter as if you were eating buttered crab and shrimp scampi.
Central BBQ – This BBQ restaurant stands a stone's throw from the National Civil Rights Museum and Lorraine Hotel. You can see them from these landmarks across the great lawn. Their smorked BBQ ribs and pulled pork is well-known. They have their own signature sauces you can add to enhance the BBQ flavors. They also have BBQ nachos if you want to try the BBQ without the meat. .
The BBQ shop 1782 Madison Ave, Located in Idlewild Plaza Shopping mall. They also have BBQ spaghetti, although I heard it's just plain spaghetti with BBQ on it.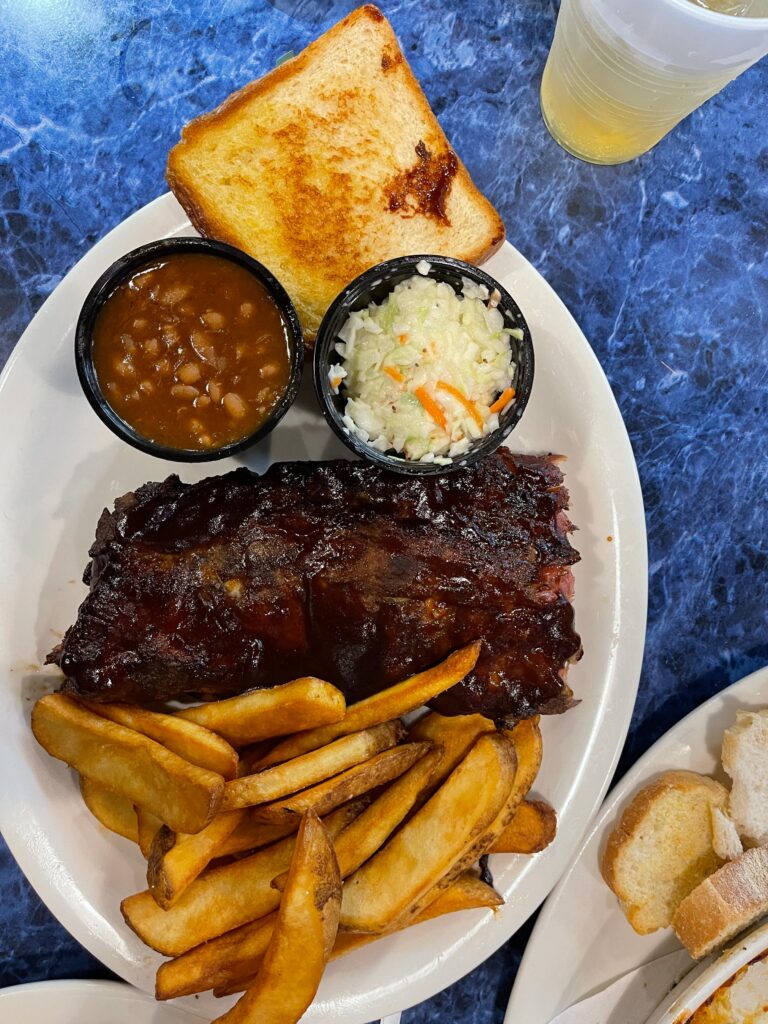 2. BBQ nachos, Central BBQ Cafe
I felt a little silly going out of my way to drag friends to Central BBQ Cafe to wait in a queue to eat BBQ nachos. I mean we're going into a heavy-duty pork and ribs BBQ joint for BBQ nachos without meat. The nachos were good and you can order it with pork. But the BBQ of my vegetarian nachos at the bottom and light, so you couldn't notice it much beyond the cheese and jalapenos. But the magic was in the vinegar sauce. The joint has a handful of self-serve sauces to add to your BBQ from mustard to vinegar sauces and more.
Central BBQ Cafe. 11A-9P 147 E Butler Ave, Memphis, +19016727760
Full Order $10.25
Read Survival Tips for Vegetarian Travelers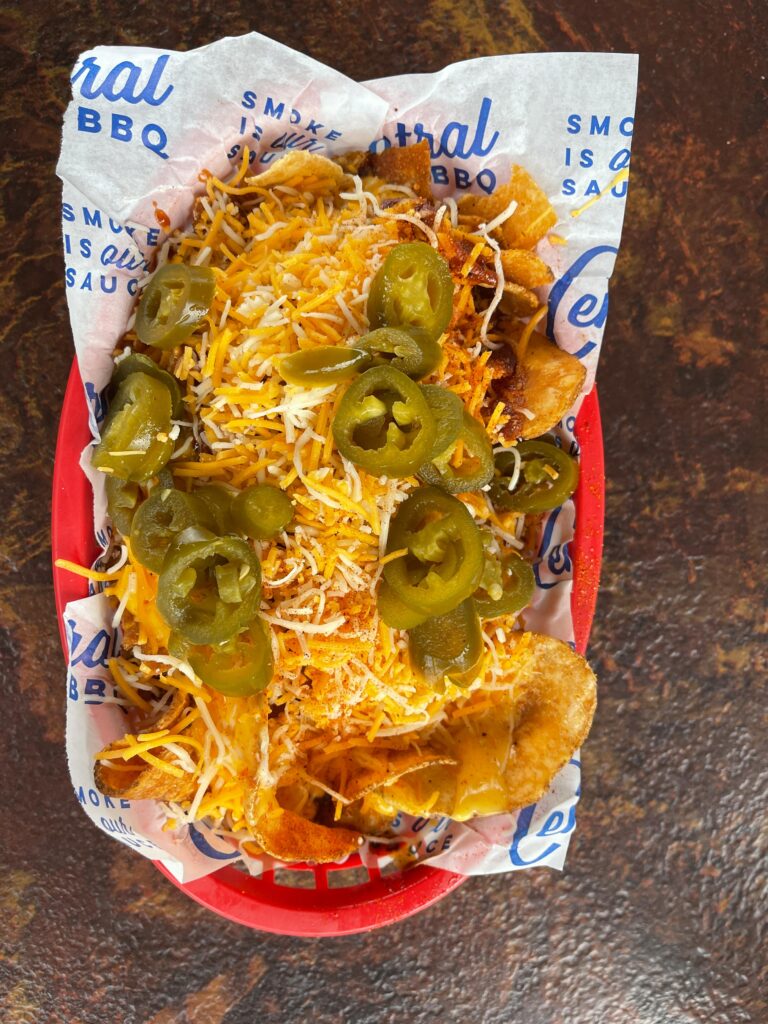 3. Peanut butter and banana sandwich and breakfast
The Arcade restaurant is one of the oldest cafes in Memphis and if you visit, you can see Elvis's favorite booth, tucked all the way to the back.  Crossing the street to the old-style diner, you can smell breakfast dishes wafting.. eggs, bacon, biscuits. But it can be a hit or miss.  The peanut butter and banana on toast is said to be Elvis's favorite sandwich when he ate at the Arcade Restaurant. If you're expecting the sandwich to be anything more than a slice of bread with peanut butter and sliced bananas, you'll be disappointed. The sandwich is pricey for what it is and you won't even get a whole banana (I got 4-5 slices of banana).
Arcade Restaurant, 540 South Main Street. Open daily, 7am –3pm
4. Gus's World Famous Hot & Spicy Fried Chicken w/ Mac and cheese and potato salad
Every travel blogger at the Travel Con travel conference whom I spoke to who ate at Gus's World Famous Hot & Spicy Fried Chicken absolutely raved about it. So I had to try it, even though it's not my normal diet. I mean, how much better can fried chicken get, right? Outside tastebuds were spot on. The chicken has a crispy skin and tender meat, but the spicy seasoning gives it an extra zing in flavor.
5. Bacon and maple donut
Since 1967,  Gibsons Donuts is a landmark spot where locals come for tasty donuts. Its unique signature donut is a Maple Bacon donut, with real bacon.  I also tried the Oreo crumble which was quite good. Prices are in the $1 zone so highly affordable and it's unarguably the best donuts in town!
Gibsons Donuts, 760 Mt Moriah Rd, +19016828200
6. Memphis Breakfast food
Breakfast food in Memphis can be hearty. Move over, bacon and pancakes. While there's certainly your fair share of that I noticed some breakfasts came with biscuits and white gravy.  Biscuits and white gravy were something I'd never tried. The gravy is a slightly thickened flour-and-water gravy. Perhaps it had a little milk or buttermilk; the taste was on the doughy side.  Definitely a taste of the south!
Memphis pub foods
There were certainly pub foods I didn't expect to fall in love with in Memphis.
8. Mac & cheese
I've tried Mac and cheese in three different restaurants prepared differently from a seafood blend to a creamy almost-Kraft-but-better flavor. They all tasted like the bomb! I really had to watch my waistline in Memphis!
Tip: Head out to South of Beale. I wasn't able to make it but apparently, they have Gouda Mac n' Cheese!
Read Food safety tips to avoid getting sick
9. Deep-fried dill pickles
Apparently, deep-fried dill pickles can be experienced in more places than just Tennessee, but as a native Pacific Islander, I never had one in my life. It is best when fresh out of the fryer. It is sour and it will make your face wince, but the batter adds a layer of comfort to it.  If you've never had one, it can take a couple to warm up to them.
10. Stuffed mushrooms
vStuffed mushrooms can be found all around, I suspect, but in Memphis, I felt they were common but there were different versions.
Conclusion to Must Try Memphis Food
Overall, Memphis has really good Southern food. Although Memphis has a lot of hearty and meaty foods, what I did not mention is that it has a lot of vegetarian food options as well! It reminded me of San Diego food in many ways. There are options for many common American diets with influences from its Southern neighbors.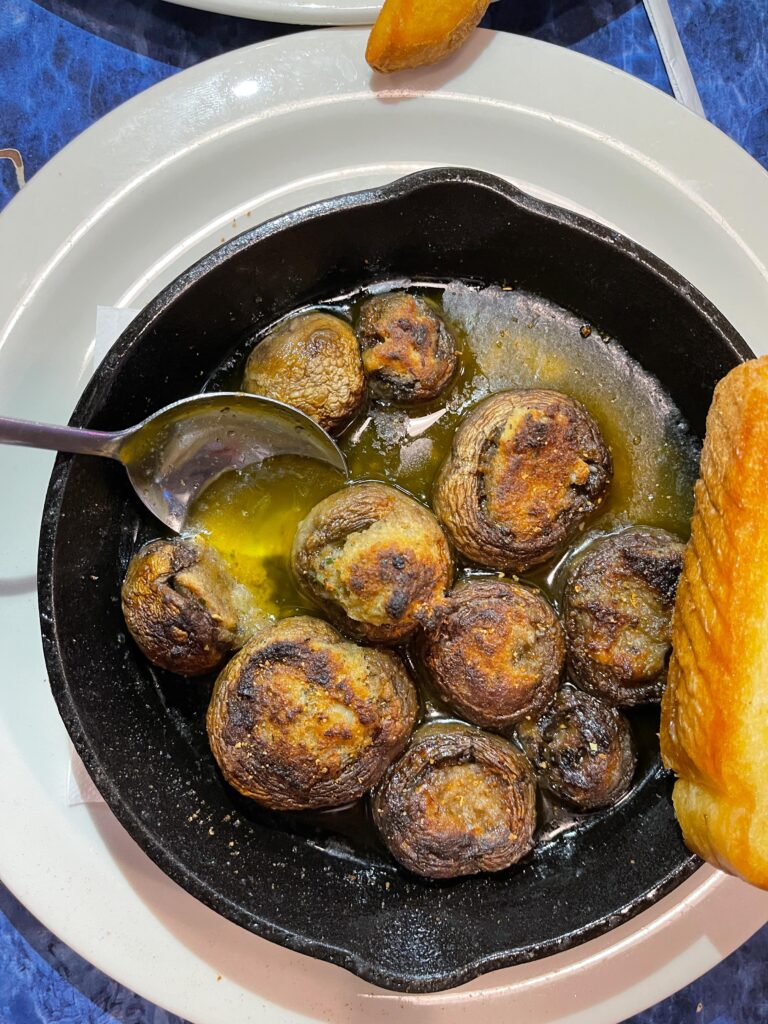 Where to Stay in Memphis
Budget Hotels
Memphis Hotel & Suites (formerly Super 7 Inn) Located close to downtown attractions, this budget-friendly hotel offers basic amenities, making it a convenient and economical choice for solo travelers exploring Memphis.
Boutique Midrange Hotels
Unique Luxury Hotels:
The Guest House at Graceland As the official Memphis hotel of Graceland, this luxury accommodation offers a chance to indulge in the wild style and warm Southern hospitality of Elvis Presley's legacy. This is the hotel I wish I stayed at
River Inn of Harbor Town  Right off the Mississippi River, this luxurious boutique hotel offers a serene and romantic atmosphere. Guests will be greeted with a glass of champagne at check-in, rooms with European décor and a hotel with stunning river views.
What would you add as the best foods to try in Memphis or best places to eat in Memphis?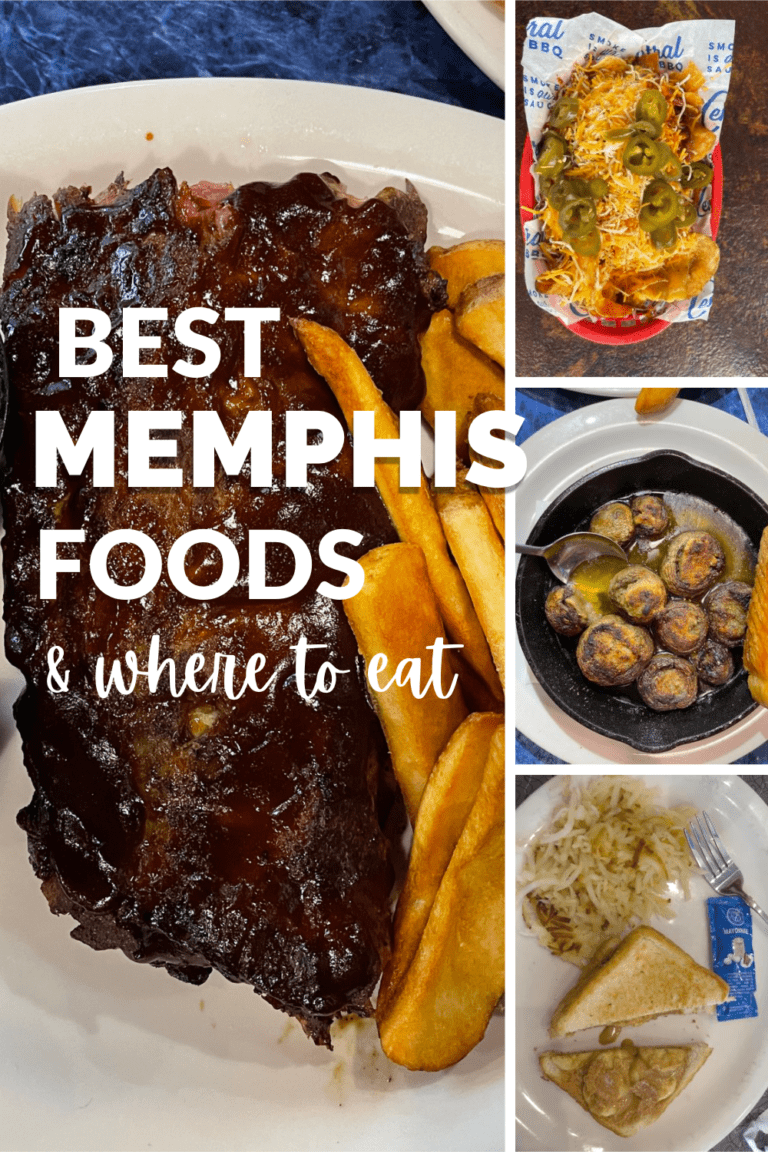 Watch Memphis Travel Guide of Things to Do & Memphis Tips