Last Updated on December 10, 2021 by Christine Kaaloa
I rounded up a list of my latest test drives, innovative travel gear and hot watch list of Best Travel Gift Gear for Solo Travelers.
Solo travel can feel tricky. As I have to carry everything I take and be accountable for all my valuables, I have to pack smart, lightweight, safely and strategically. If you add the fact I am filming my solo trips with expensive gear -the equivalent to carrying an office on the road- then I have to be moreso thoughtful of everything I take.  So here's some fun travel items to save on time and packing space for solo travelers, digital nomads and content creators.
25 Best Travel Gifts for Solo Travelers
Want to know what I use or already recommended: I have an ultimate travel gear guide of what I take on most of my trips, and my standard film gear and travel gear shops which I update regularly with what I am using on my trips. Some of what you see here, will enter into the latter lists.  Disclosure: This post contains affiliate links. 
Innovative, Sustainable and/or Eco-friendly
Travel Beauty
Travel Survival Essentials
Technology for Travel Filming
Best Daypack and Travel Safety
Best Travel Subscriptions
---
 Innovative and/or Eco-friendly
Best smart cap
I love my sports caps; they're easy to use, pack and keep sun off my face. There's only one drawback~ I can never shove them in a pocket very quickly (especially when I'm filming a quick scene). It's because of an often stiff visor.  But FitKicks Folding caps are crush resistant sports caps that literally fold so you can tuck them into your back pocket or purse. Think sports caps- origami style! It's brilliant, comfortable and the cloth is cooling. Slight deal breaker for fashionistas- you can see the three fold panels on your visor. But I think these are awesome.
Best Feel-goodz footwear
The Feelgoodz Slimz flip flops are to date my softest pair of rubber flip flops for walking and standing. Seriously soft, squishable-soft, real-rubber-soft.  Made from natural rubber from rubber tree farms in Thailand and Vietnam, Slimz molds to your foot and gets more comfortable over time and I feel like it absorbs hard impact. While I love Reef, Sanuk and Havianas, Feelgoodz is fair trade, makes you feel that you're helping a local economy, while taking a load off of your walking.  Comes in several colors and styles.
Best Portable Laundry Solution
No more washing clothes in the hotel sink, the Scrubba Wash Bag system allows you to do laundry on the go. Nobules inside make clothes washing easier and as efficient as using a washboard. Add water and detergent, secure the bag and wash from 30 seconds to 3 minutes and you have washed clothes.  It folds up into the palm of your hand and also doubles as a wet dry bag!

---
Beauty
Best waterproof makeup
Ever since living in Korea, I've been a fan of The Faceshop skincare products when I travel (I always pack a sample size bottle with me!). The Faceshop FaceIt Waterproof BB cream is my newest love. It feels like water coming out of the bottle but goes onto your skin smooth, giving you a light layer of SPF 50 and foundation, which will stay on during the sweatiest of beach days or longest of travel days. It makes your face look luminous, moisturized  and healthy. Con: Only comes in two colors- Natural beige 203 and Light beige 201 (I'm probably a natural beige but I use the light beige; it's a little light for me but i have sunspots and I feel like it helps) . Read a review of how it performs after diving!

Best Eco-friendly Sunscreen
I started using the Bare Republic Mineral lineup over a year ago in an effort to be more environmentally and socially responsible.  I like compact and lightweight sport sticks I can stick in my purse or bag, so I love Bare Republic Mineral Sport Stick. The zinc oxide goes on a bit thick, so you have to rub it in, but I like this, as it means to me it's protection is thick. The fragrance is lovely, but can be a little strong, so leave off the perfume.
Read about Reef Friendly Guide & 10 Best Eco-Friendly Sunscreen
---
Travel Survival Essentials
Best Packing Solution
For seasoned travelers, packing cubes are obvious, but for those who are new to traveling this is a must. Ever since I learned about Eagle Creek packing cubes, it was game over! Eagle Creek is a reputable outdoor brand and I've been a fan of organizing and downsizing my packing with their cubes. You can fit a lot in them and easily separate your dirty clothes from clean. Ebags also offers inexpensive version with additional sizes like this one. Both brands offer durable travel solutions.

The Smartest Universal Travel Adapter
Universal travel adapters can be chunky, but they're handy and they offer peace of mind for travelers. I never know when I will fly to a destination at the last minute and need one.  Voila! My fave travel adapter is the Travel Inspira Universal Travel Adapter; it has four USB adapters spaced apart, a plug adapter and a Smart IC device, which gauges your battery so it doesn't over-charge. I've tried a few different travel adapters but this is the smartest universal travel adapter I've come across yet! Best of all, I can charge 5 devices at once (which means, I also use this at home when i'm not traveling!)
Best Travel Converter
Need to use a blowdryer or iron? Or just looking to be safe and convert 220V to your 110V devices? A strong portable solution for converters is the Besttek Universal power adapter 220V to 110V converter. It's a little weighty at 1.7 lbs but lighter than the standard brick-shaped power converter and it has three outlets and 4 USB ports for multi-charging.  The plugs are spaced apart smartly, so you can put camera batteries in without wasting a socket (a pet peeve of mine with my 6 plug adapter, which ultimately only fits 3 battery chargers!). One of the raving Amazon reviews for this, came from a traveling cameraman who loved it for… charging his camera batteries, so I'm sold.This one is on my Santa wish list!
Best Preventative Solution for Travel Health
Get sick while traveling? Colds Suck Probiotics by Love Bug Probiotics boosts your immunity while also helping build a healthy gut. Having gotten stomach bugs and taken Cipro (which strips me of both, good and bad bacteria), I can tell you it's not easy to find sources of probiotics while you're traveling and a bottle of probiotics is not cheap. It's easier to pack probiotics with you. Love Bug sells several types of probiotics for different purposes- yeast, dietary aids, children, etc..
Read Tips for Dealing with Getting Sick Whilst Abroad

Best Water Purifier
Traveling to a country where the drinking water is suspect or bad? Can you trust bottled water? I take a SteriPen as a safety precaution. SteriPEN Freedom Bundle (read my review) is an all-inclusive gift pack of:  a SteriPEN UV filter (with torch lamp), a solar external battery charger (you have to look for the SteriPEN Freedom Solar Bundle package), and a drinking bottle.  For an inexpensive option, check out the  Lifestraw. It's my secondary water filtration device and an option that many hardcore travelers will love.
Read Food Safety tips: How to Avoid getting sick whilst abroad
Wanna know what I pack with me on all my travels? Check out my Travel Gear I Use
---
Best Technology for Solo Travelers
Best Selfie Camera
This year, the Insta360 Nano is gonna be a hot commodity for travelers who want to be the first on the friend block to share innovative and fun 360 selfies. Lightweight, discrete and compact,  you can film, edit and post 360 photos and videos straight from your mobile phone. It even comes with a VR viewer. You're gonna love this camera once you see my YouTube review!   Although the Insta360 One has a 4K upgrade, the Insta360 Nano is still my favorite at $199 (price drops to $150).
Recommended: Get the Insta360 nano mount so you can mount it on your selfie stick. Cost: $40.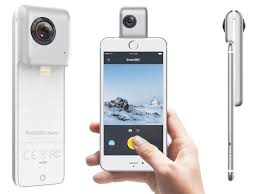 Best Travel Drone for Solo Travelers
Drones and aerial shots are quickly becoming ubiquitous with travel videos. It's hard to take a bad shot with them. The DJI Mavic Pro is a lightweight, compact drone, which is perfect for solo travel filmmakers. It's a drone on many traveler's gift list and a drone on my Santa wish list for the future.
Best Memory Card
These days, anything less than 128GB is begging for an upgrade. My advice when taking a trip to a destination you want to remember~ get a Sandisk 128GB Memory Card (or if you're a YouTuber, get a couple!). Anything less will make you kick yourself for having to go through deleting photos nightly to make space for the next day.
Best Travel Tripod for Solo Travelers
The more challenging the environment I'm in, the more I come to love my Joby SLR Gorillapod.  Light-weight and easy to pack, this does the manpower of a travel tripod and then some! It mounts mirrorless cameras and DSLRs and you can also use it as a mini selfie stick.  Sure there are other travel tripods out there, but I've researched them and this is the lightest and most versatile it gets… especially if you're a solo traveler. Cost: $40

Best iPhone case for Travel
For the past 3 years i've been a fan of Goosperry Canvas Diary Case.   The contemporary 2-in-one wallet design with drop protection (a rubbery bumper side casting) holds up to 3 credit or ID cards as well as, a secret pocket to stash a few dollars or business cards.  The case also doubles as a stand to prop up for video viewing, so you can watch my YouTube videos hands-free when you're on the road.  They have diary cases for both, iPhone and Android smartphones.
Best Travel Laptop
The Macbook Air 11 inch laptop  is my travel laptop (note: this laptop is on Amazon Renewed for under $500). It is lightweight (under 1lb), compact to fit most backpacks. It's portability makes it easy to take literally anywhere I go. I've even taken it to the toilet with me-  I've had crucial deadlines! (TMI I know- just keepin it real.) After five years of taking my Macbook Air on the road, I finally had to upgraded to the MacBook Pro 13" and to then the MacBook Pro 15″ (for power video editing). But the Air still edits YouTube videos. When I travel, I leave the others home and take my Air.  
The Tiniest Wireless Travel Mouse
I'm always doing work on the road especially, when it comes to video editing. So I always take a wireless travel mouse along, and because I don't want it to take up space in my packing, I take the tiniest wireless mouse I can find! Logitech is a durable brand which reigns in this department and their Wireless Logitech M187 Ultra Portable Mouse is the smallest mouse  I've owned -it's half the size of my palm (and i'm using it right now!) The USB device tucks away into the mouse for compact carry and only a AAA battery is included. Cost is a pocketable $10.

Travel Tip: Wanna know what I use to film my travel videos?  Check out my Camera & YouTube gear list
---
Best Solo Travel Daypack and Safety Gear
Best Personal Alarm for Female Travelers
ZekPro Emergency Personal Alarm for women and elderly sets off a 130db sound that should deter attackers,  when you pull the pin at the bottom.  The alarm also comes with an LCD light . Easy to carry on a key chain. I have not tried this product yet but a girlfriend swears by it. I like that it's easy access when you're in panic mode .
Read Safety  tips for solo travelers
Best Travel Safety Belt
Many safety travel/jogger/money belts either have confining zippers or one or two pockets. The StashBandz Unisex Travel Money Belt has four large security pockets (some without zippers and some with) and it functions as a running belt and fanny pack allowing you to hold various items.  I'm so convinced that this is a secure solution (I'm hoping it will be a camera holster!) that I just ordered this exact one through Amazon for me and my sister. Check out the diagram via my Amazon link ~ it's more amazing than it looks in this photo.

Read: 22 Ways to Avoid Pickpockets
Best Travel Safety Scarf
Beauty, safety and functionality, the Sholdit pocket scarf allows you to be fashionable while also protecting valuables with a zipper storage. Need I say more?
Best travel daypack/media pack
This backpack is on my Santa wish list, but I've actually used it often when assisting professional TV cameramen on location shoots. Yes, the big boys own it and use it to hold jackets along with laptops,media decks, camera lenses, you name it.This makes The North Face Recon daypack ideal for travel (and for travel vloggers!). It's light, rugged, has separate compartments to store your laptop, sunglasses and what I love best is the side and center mesh pockets for quick access to your water bottle or car keys. The black color masks it all under the guise of a normal backpack. You can stash extras and media devices that need to be portable.
Best Backup Carry on
Do you always have more things returning home than you did leaving? I do. A carry-on worth! This isn't the most enticing luggage solution as it is a great backup utility for the inevitable souvenir buying. I always pack carry-on compliant folding bag like Travel Blue Handy Folding Bag. (True Blue is a brand they sell at Brookstone at the airport)! This comes in handy for souvenirs, as an in-flight bag, wardrobe duffel or just an overnight bag. Mine doesn't look exactly like this (it's in the first 15 seconds of this video) but it's lasted for 8 years and travels with me on the road all the time and on film sets.
---
Best Travel Essentials you Need
Best Insurance for Adventurers
Going abroad, visiting a developing country, planning to do at risk activities like scuba diving or trekking like me, then World Nomads Travel insurance is for the adventurer, who likes action packed trips where full coverage is optimum, but not expensive. They have a theft protection plan and you can read more. Best of all, this is one of the best insurance plans for Americans.
Best VPN service
When you want to protect your privacy when searching the airport internet, watch your favorite Netflix show abroad, or break through the great wall of Google and YouTube censorship in China or Vietnam, you need a VPN service.  VyprVPN is a fast and secure VPN without third parties, which store your information. I've used it on my trips to Qinghai and Jilin and it was quick and pretty reliable for my needs of social media uploads and accessing email.  It's still a best VPN for China.  Annual plans start at $5/mo.
Travel Tip:  GRRRLTRAVELER readers get special discount – 25% off VyprVPN annual plans (that's $45 USD for 1 year + first 3 months free)!
Read more reasons why you need a VPN for travel!
What would you recommend as the best travel gifts for solo travelers? 
Previous Gear List Posts
Travel Gear I Use
Camera & YouTube gear list
Travel Gear List 2016
Ultimate Gift Guide for Travelers