Last Updated on June 7, 2023 by Christine Kaaloa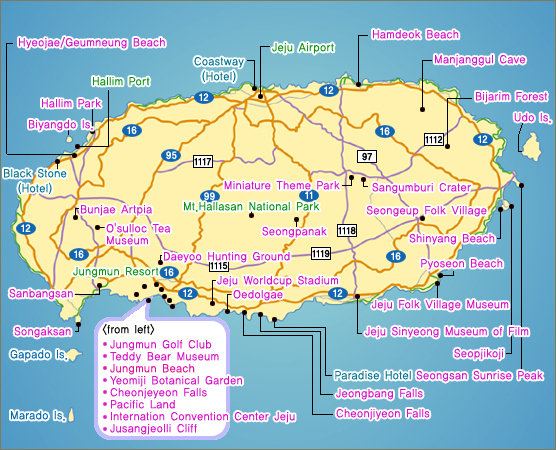 As the honeymoon capital of Korea, Jeju Island is heralded as the "Korean Hawaii" . In this Jeju Island travel guide, I share the top things to do on Jeju Island.
Jeju Island attractions possess jaw-dropping natural wonders which should rank this island much higher in UNESCO World Heritage listings for Korea. With tropical climate,  beaches, an impressive but inactive volcano, off-the-wall museums, theme parks and a leisurely island pace, Jeju Island is a fun and refreshing bibimbap of Korean style!

Note: This post contains some affiliate links at no expense to you. I always get travel insurance to ensure safety on each trip!
Top 17 Things to Do on Jeju Island
 A giant adult amusement park, Jeju has activities galore as well as, some pretty fun and oddball attractions to fill your travel itinerary. Here are some of the things I did and would recommend.
Visit Jeju's quirky theme museums
Korean culture has its quirks and Jeju Island has a wealth of both, serious museums and quirky museums, which are sure to entertain you!  From Trick Art to Teddy Bears and female divers …  Jeju aims to keep its tourists and honeymooners, entertained, informed and well-oiled for humor.
Airport Arrival Tip: Have the tourist information desk at the airport, map out Jeju's top attractions for you and tell you which buses to take to get there.
1. Teddy Bear Museum
The Teddy Bear Museum is a fun and quirky museum in the Jungmun area housing rooms and rooms of teddy bears and fun teddy exhibitions.  This is undoubtedly one of the best things to do on Jeju Island.  There's Teddy Elvis, Teddy Marylyn Monroe… and fans of the Korean drama,The Palace / Gung/ Princess Hours will love this museum as it is the K-drama film location for the show and houses the princess and prince teddy bears from the show. Of all Jeju Island's museums, the Teddy Bear Museum is a must!  You'll absolutely adore it like I did– even if you did not watch the Korean drama!
Admission:10,000 KRW.  Hours: 9a- 6p.  Website: http://www.teddybearmuseum.com
Getting to the Teddy Bear Museum Jeju: Address: 2889 Saekdal-dong, Seogwipo.  The Airport Limosine bus stops in front of the museum enroute to Jungmun Tourist Resort Complex. Across the street is Ripley's Believe it or not museum and the Chocolate Museum.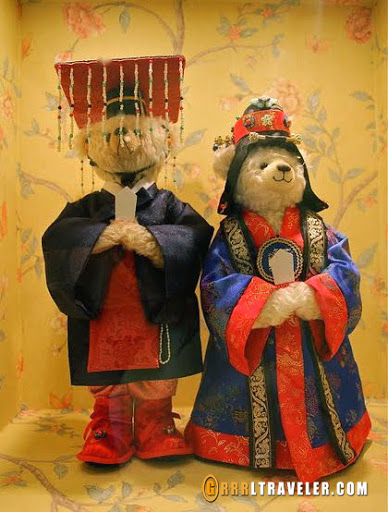 2.  Jeju Haeneyo Museum
Did you know one of Jeju Island's UNESCO attractions happens to be Korean mermaids or haeneyo… Jeju Island's female divers? The Jeju Haeneyo Museum is dedicated to the history of these heroic women who started a diving tradition that is now growing extinct. The museum is small with four exhibition rooms sharing displays of the old lifestyle such as fishing nets, old haeneyo diving suits. It is very informative of the history of Jeju Island. If you are interested in the female divers, then highly worth a visit! This was one of my favorite museums.  Hours: 9am – 6pm . Cost: 1100 KRW.
Location: 26, Haenyeobangmulgwan-gil, Gujwa-eup, Jeju-si, Jeju-do, 제주특별자치도 제주시 구좌읍 해녀박물관길 26Jeju
Tip: Do a day tour of Jeju's top UNESCO sites and the Jeju Haeneyo Museum
3.  Shinyeong Cinema Museum
The Shinyeong Cinema Museum showcases the history of cinema in Korea with focus on its origin and a history of some of its workers. Some interactive exhibitions. Korean drama fans may be a little disappointed as the museum does not feature contemporary celebrities nor is it a film studio.
Getting to Shinyeong Cinema Museum: 15-20 minutes from Seogwipo by taxi.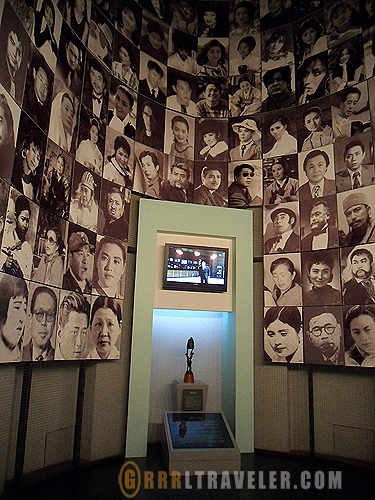 4.  Trick Art Museum
You will not believe your eyes, because the illusion looks frighteningly real. At the Trick Art Museum, you'll find two-dimensional art with three-dimensional illusion. Don't forget to bring your camera for selfies. Hours: 9a-6p   Website: http://trickeye.com
Getting to the Trick Art Museum Jeju: Seogwipo near Seongeup Folk Village. Address: San 30-12, Geumak-ri, Hallim-eup, Jeju-si, Jeju-do, Korea.
Jeju Island's Off-beat Theme Parks
There's straightforward fun in waterfalls, golf courses and casinos; but then comes the off-beat thrills of enigmatic theme parks! Just reading the names of them, you want to say– What the hell?
Loveland, Gimnyeong Maze Park, Psyche World (it's really about butterflies), Sex & Health Museum, World Eros Museum, Mini Mini Land, Stone Park, Pony and Alligator Town (does this mean ponies and alligators?) ... the list of curiosities just won't end. Pick a theme, any park… then come back and tell me what it was about! 
Advice: See the airport tourist information desk for a map and bus schedule.
5.  Loveland Park
With sex being a closeted topic in Korea, Loveland made it on my travel list as a definite MUST! Open in 2004, Loveland is Jeju Island's sex-themed park, which showcases 140 boldly erotic sculptures and curious and humorous artwork about sex in Korea.  The park houses statues of erotica of curious nature and a museum building with more fun sculptures, hilarious artwork and a pleasure store where you can buy souvenirs, a condom and maybe even a dildo. Definitely, an eye-opening theme park for playful adults and it's just plain fun. Hours: 9A-12A (open til midnight) . Admission: 12,000 KRW  Website: http://www.jejuloveland.com/
Getting to Loveland: Located 10 minutes from Jeju International Airport by taxi, you can also take Bus bus 1100 to the Livestock Farming Complex. Address:  2894-72 1100 Cheonbaek-ro, Yeon-dong
6.   Gimnyeong Maze Park
As a fan of Harry Potter and the Shining, I was curious about maze parks. While Gimnyeong Maze Park is rather small, it still challenges your skill to find your way out.  Nearby is the Manjanggul Cave, so why not check it out! Read more here. Admission: 3,300W adults, Hours:  8:30AM- 7:50 PM
From Jeju International Airport take bus No. 100 and get off at the Intercity Bus Terminal (제주시외버스터미널). Then take a bus for Manjanggul Cave (만장굴행) and get off at the parking lot by the cave entrance (만장굴 입구). The trip takes 50 minutes.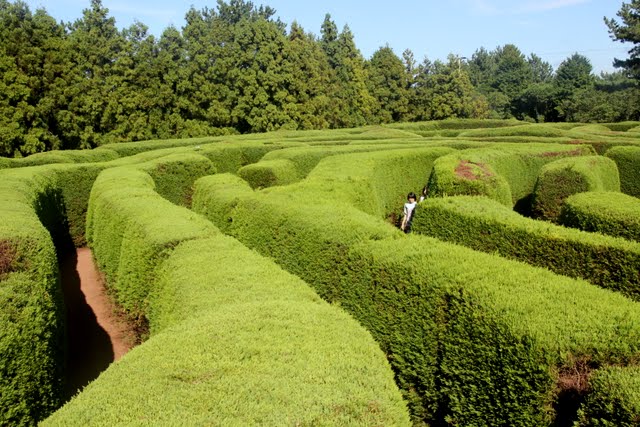 Experience Jeju Island's Natural Wonders
Despite its chic resorts and theme parks, Jeju is probably the only place in Korea whose "natural" beauty is not a result of heavy cosmetic surgery. Outside the main tourist cities, Jeju life feels down-to-earth, rural and pretty au naturale. Break out those hiking backpacks, sunscreen, walking shoes and cameras! I grew up in Hawaii and I'm not exaggerating when I say, Jeju is sprinkled with gorgeous seaside cliffs, impressive waterfalls, caves and fresh ways to make you say, "Gaaa"!
Some of Jeju's impressive natural wonders:
7. Hike Mt. Hallasan National Park
Koreans love hiking, so being the highest peak on Jeju Island, Mt Hallasan National Park is a popular hiking attraction. It's known to be very scenic. It is also one of the K-drama film locations of Lovely Sam Soon.
Getting to Hallasan National Park: Two trail entrances: Eorimok (take bus 1100, last bus 3:00p) and Seongpanak (take bus 5.16, last bus 9:30p) .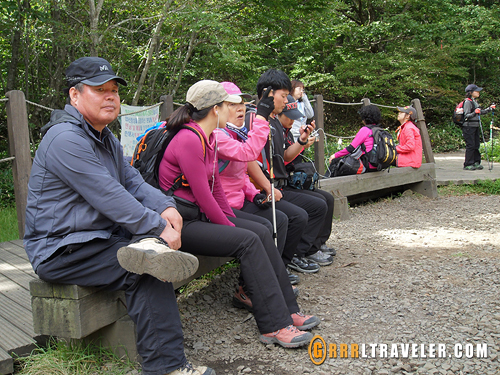 8. Seongsan Ilchul-bong  (or Sunrise Peak )
The view from Seongsan Ilchul-bong (otherwise known as Sunrise Peak) overlooks the volcano crater and the island. There are stairs to get there and it takes around 20 minutes to get up there, depending upon fitness level.
Getting to Sunrise Peak: Take the bus to the west coast of Seongsan-ri and walk 10-15 minutes to the entrance of the peak. This stop also lands you near the ferry pier for Udo Island.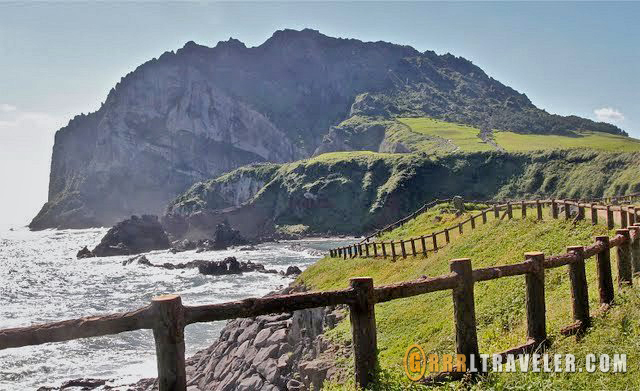 9. Watch a Haeneyo Dive show at the Haeneyo Restaurant
After visiting Sunrise Peak, stroll down to the cove to catch a haeneyo dive show and eat at the haeneyo restaurant along the cliffside.
Did you know one of Korea's top UNESCO site is not a landmark but a group of women? Jeju has female divers called haeneyo and they are actually freedivers, holding their breath underwater to catch fish and shellfish. It is a dying tradition and many of these divers are over the age of 50. The restaurant is run by haeneyo women and it is a perfect way to have a UNESCO prepared meal of fresh seafood and sashimi. If you think Busan's Jalgachi Fish Market is the bomb, this is a must-try bucket list of Jeju Island.
In the cove below the restaurant, they have dive shows at 1:30 & 3PM. Read more about the haeneyo.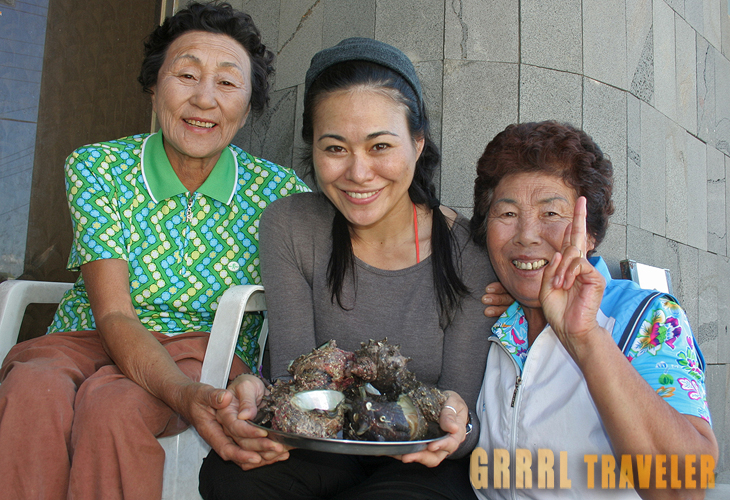 10.  Jusangjeolli Cliffs
Jusangjeolli Cliffs are hexagonal rock formations in the cliff and jutting out of the ocean.
Getting to Jusangjeolli Cliffs: Take Airport Limousine Bus & stop at International Convention Center. About a 15 minute walk or 3 minute taxi ride to entrance.
11.  Oedolgae Rock
Oedolgae Rock is a dramatic rock formation jutting out of the ocean. Nearby there is an olle hiking trail with a beach below. Oedolgae Rock is also a Korean drama film location of Daejanggeum. But either way, it is impressive and a gorgeously unique natural wonder of Jeju Island.
Getting to Oedolgae Rock: From Jeju International Airport, take Airport Limousine Bus No. 600 to New Gyeongnam Hotel Bus Stop.  From Seogwipo Intercity Bus Terminal, take Bus No. 100 for 50 minutes to Yeoseonghoegwan (Women's center) Bus Stop
12.  Manjuggal Caves ( Jeju lava tube caves)
 Being that Jeju Island is a volcanic island, Manjuggal caves are Jeju's lava tube caves. You can explore the lava tube by day – it is safe and there is lighting.  Nearby are restaurants if you're hungry and if you're up for a puzzling challenge there's the man-made Gimnyeong maze, just 3 minutes away.
Getting to Manjuggal Caves: Take Donghoe Line Intercity Bus to get off at the parking lot near Manjanggul Cave Entrance. ( 1hr 20 min.) It's a 20-minute hike to the actual park entrance; take 5-minute taxi ride there, hire a private car to the caves or take a small group hiking tour. There are many options!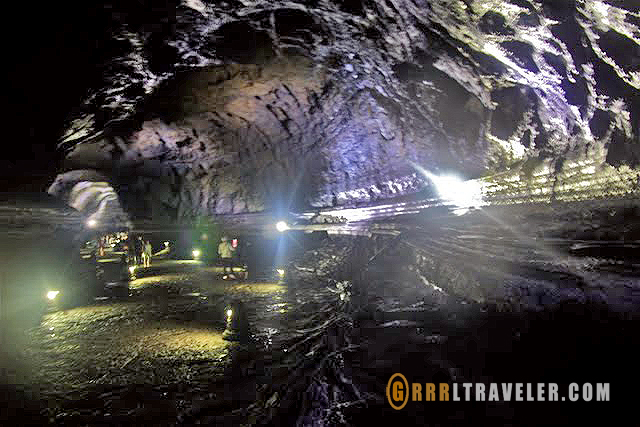 13.   Jeju Olle Trails
Jeju Island has twenty walking paths called Olle Trails. The routes are marked by arrows, sculpture or colored tags and promises to lead you through the *most* drop-dead, picturesque mountain scenery, neighborhood backyards and breathtaking beachfront shores. Walking the Olle Trails are free of charge and coastal bus routes make regular stops at trail points. Routes can take anywhere from 3-6 hours.
Recommended:  Try one or all of the Olle Trails if you get the chance (more info here)!
14. Hop a ferry to Udo Island
Beautiful beaches, sweeping cliffs, woven back streets and rural country charm… it's all worth a day trip. Udo Island is a tiny, romantic island with a Scottish/Irish feel, modest B&B pensions, and a lighthouse and it's navigable by scooter, ATV, bus, and car. I've heard you can whisk around the island in under an hour by scooter! If I didn't explore the inland veins of the neighborhood streets, it's possible I would've made it within that time frame.
Advice: Take the bus or better, rent a scooter! Scooter and ATV rentals are located right off the ferry dock. You may need to present your passport, and driver's license and it would be handy to take an International Driver's Permit if you have one.
Getting to Udo Island: Take the bus out to Seongsangri- Harbor (past the Sunrise Peak stop) and take the ferry over to Udo. You may need to present your passport.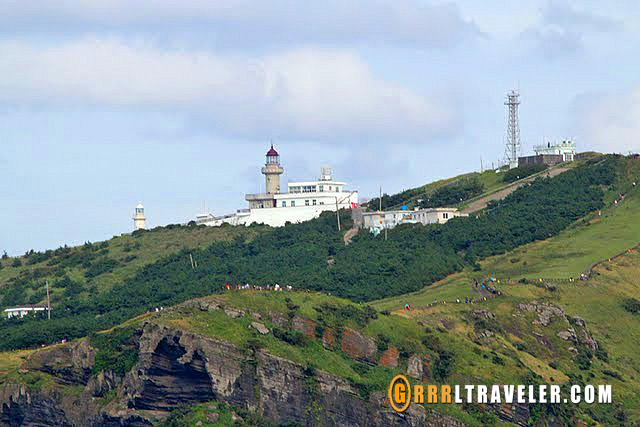 15.  Visit Jeju's famous K-drama film locations

If you're a K-drama fan, Jeju Island is littered with popular Korean drama film locations and they aren't hard to find. Korea is proud of their film locations and highlighted are some of their locations in the tourist maps given out at the airport tourist desk. But be on your toes, you may stumble upon some by accident.
My mom and I booked a room at the Jeju Hyatt Regency hotel and found the chapel sitting outside our room was a location for Boys Over Flowers!
16. Experience Jeju Island by ATV, motorbike, horseback
On Jeju Island there's a range of alternate transportation options at your disposal! Buses on Jeju are convenient, cheap, and efficient modes of transportation. They will get you everywhere and if not, taxis can pick up the slack. However, from ferries, horseback riding, scooters, ATVs, bikes, etc… Jeju is a mixed bag of tourist treats, so don't get stuck just trying one flavor!
Advice: If you plan on renting a scooter or car, you must bring your driver's license, passport and your international driver's permit.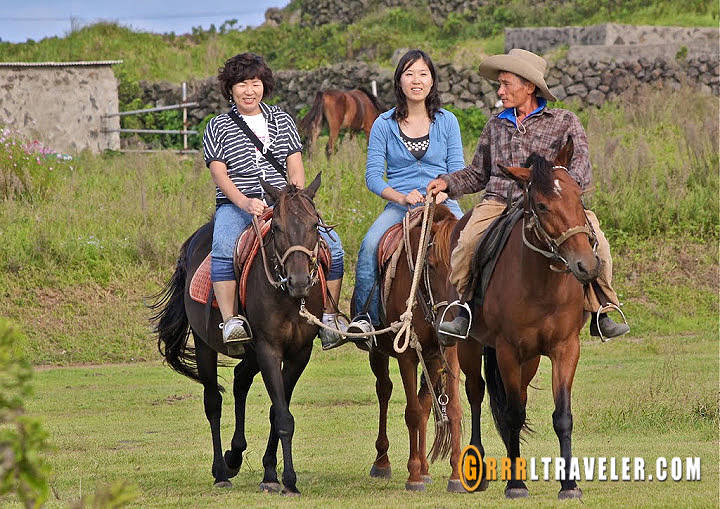 17. Jungmun's luxury hotels and beaches
Jungmun's beaches are nice, but that's not the spectacle of worship you'll die to see; it's the top resort hotel! They're not only fancy–schmancy, but they're also mega-glam!  
From jacuzzis, heat lamps near pools, hiking trails and casinos, in the Jungmun Resort neighborhood, you'll find more things to make you groan with envy.  What does it cost for a room at one of these opulent babies? Well, normally, it's prices that might want to make you weep. Unfortunately, you won't find many food options in the area, other than a neighborhood 7-Elevens and hotel restaurants. Do your snack shopping before you arrive.
What to Eat on Jeju Island
Unless you're staying in the little urban dwelling of Jeju City, the island offers a lot of seafood and the standard Korean platter. This isn't a problem if you know what you want to order your sushi or plate in Korean; you'll be hard-pressed to find English menus!
For back-end survival, typical cheap eats like bibimbap or kimbap (recognize and learn how to order from one here) are generally loved by foreigners.  If you're a very picky eater or have dietary concerns, you can do what I did and bring your own stash of instant oatmeal, power bars, dried fruits and nuts!
Travel Activity tip: Take a Seoul cooking class to learn Korean cooking
Another option: shop at local stores or chain western stores such as Homeplus and Emart, where you can get groceries or see your menu in plasticized casings.
Getting Around Jeju Island
Getting Around Jeju Island can feel simple- there is Airport Limousine bus 600, bus, taxi and car. Most travelers use the airport bus and bus. The airport limousine bus runs a circular route from the airport to Jungmun and Seogwipo making stops along the way.  Read more here. Cost ranges around $5 depending upon stop. Meanwhile, the regular bus and taxis are great for skirting around the island and giving you a nice ride.
The bus routes are fairly simple to spot on the map but you'll still need occasional help with knowing which number to catch or where the bus stops are from your hotel.
Where to stay on Jeju Island
Jeju Island has three main tourist ports: Jeju City, Jungmun Resort area and Seogwipo. The airport limousine bus makes stops along with that city route and regular buses around the island is efficient and regular.
Jungmun Resort and Seogwipo are the best locations to make your home base. Both locations are located on the southern part of the island where there are the greatest amount of Jeju Island attractions.
Where to Stay in Jungmun Resort
Here's a map of hotels in Jungmun Area if you're interested in shelling out some money for a couple of nights. If you can afford it or find a good deal, I'd recommend it. I booked a weekend stay at the Hyatt Regency for me and my mum.
Who lets you rent camping tents so you can BBQ on astroturf resort grounds? The Shilla Jeju Hotel does. Yowzers!
Who'd craft an enormous ice-skating rink and giant windmill in their backyard? Just say, Lotte Hotel & Resort!
For Korean drama fans,  check out the Seeas Hotel. Film locations to 'The Secret Garden' or 'Boys over Flowers' and more.  The main grounds are locked off and accessible only to guests.
Getting there: Take the airport bus or a bus to Jumgmun Resort. You'll see a handful of museums as you enter, such as the Teddy Bear Museum and Ripley's Believe it or Not.
Where to Stay in Seogwipo
Seogwipo (Map of Seogwipo City) is a city that feels just a tad scruffier if you've just come from Jungmun Resort area. The beauty of it is that you have budget hotels and alternate options to explore like Emart , restaurants, and cafes, or the marketplaces like Seogwipo Maeil Olle Market, a 120-stall indoor market of produce, seafood, and household items. Here's a map of places to stay in Seogwipo City.
Getting to Seogwipo: Seogwipo is at the southeastern base of Jeju and the last stop on the Jeju Airport Shuttle bus.  Seogwipo bus station is located a little more in the city and it will connect you to a lot of places you'll want to see on the eastern side, such as Sunrise Peak, Udo Island, Oedolgae Rock and more.   I stayed at Jeju Hiking Inn (wasn't keen on it but it's located near the airport shuttle bus drop). Restaurants will be mostly Korean and much seafood.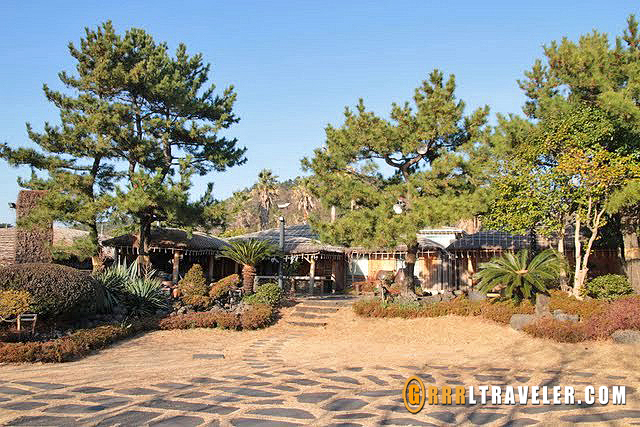 Seeas Hotel in Jungmun Resort is a popular film locations for K-dramas Boys over Flowers, Gung/Palace and Secret Garden.
Travel Essentials for a Jeju Island trip
Travel Resources for your Korea trip
Booking.com – Hotel bookings. No cancellation fees
Safety Wing – affordable travel insurance with COVID coverage
NordVPN – Online security and the ability to watch Netflix. Use "grrrltraveler" for 70% off 3-year plan + 1 month free
Klook – Book tours in Korea and Asia
Get your Guide – book tours in Korea
Korea SIMs – for prepaid travel SIM Cards
Korea Rail Pass – for getting around Korea
What are your top things to do on Jeju Island? What tips would you add to this Jeju Island travel guide?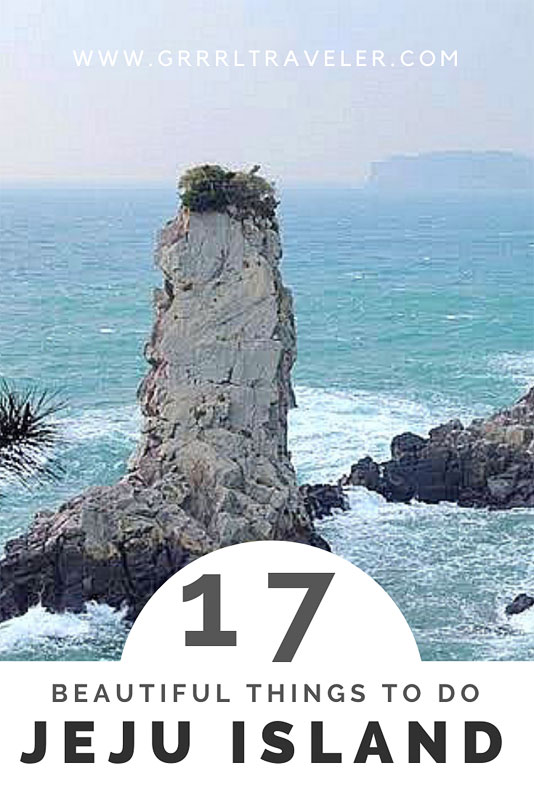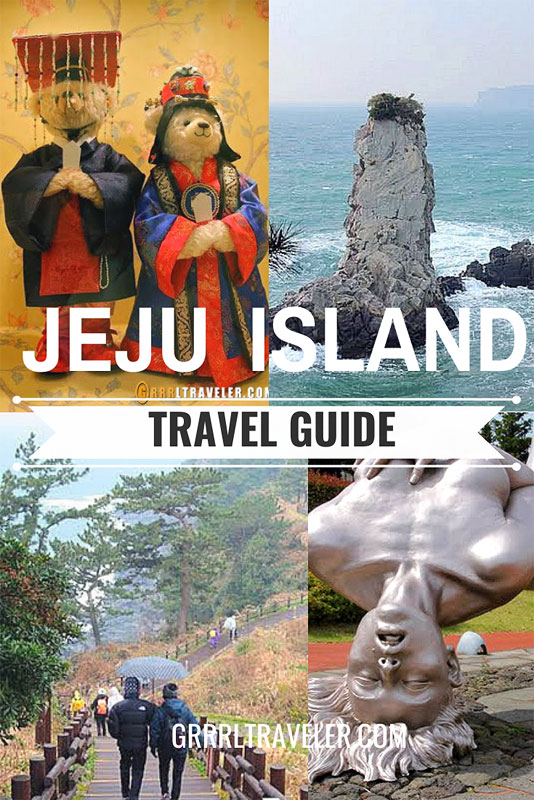 Related Posts on traveling Korea
9 Best Places in Seoul
Best souvenirs to buy in Korea
Things to Do in Suwon in 48 hours
Things to Do in Busan in 48 hours
Watch Korea Travel Guide videos
Watch : Top 5 Tips for Traveling to Seoul