Last Updated on June 30, 2022 by Christine Kaaloa
Table of Contents: Cherry Blossom Season in Japan : Things to Know When Planning your Japan Trip
Cherry Blossom Season in Japan :
Things to Know When Planning your Japan Trip
After witnessing cherry blossom season in Korea, I didn't think Japan would surprise me much.
I was wrong. It is every bit as special as seeing them in Korea and at times, moreso. But planning my Japan trip during cherry blossom season took a bit of thought and preparation. It wasn't something I could wing or spontaneously book a flight at the last minute. Here's why:
Where to find Japan Cherry Blossom Forecasts?
A forecast map is released by Japan Meteorological Corp and from there, Japan travel and weather sites will create their version of that map. My Japanese girlfriend in Tokyo sent me this Sakura weather map for Japan
What is the best month to see cherry blossoms in Japan?
Cherry blossom season in Japan or Sakura season is a festive event that occurs annually between the months of March and April.
Interestingly, the cherry blossom (aka Sakura) forecast in Japan varies according to the weather. Dates are predicted but can also change when it gets closer.   Also, due to the varying climates in Japan, do not assume that cherry blossoms will bloom everywhere all at once. Typically, each region and even city has different timing.
Due to the fact cherry blossoms last for a short time after they bloom- a week if you're lucky. The flowers are delicate. Given a storm or strong winds and rain, the flowers could fall within a day.
There are two main important forecast cycles to be aware— flowering and full bloom. Flowering happens when five to six or more flowers are open in a specimen tree. Full bloom is the defined as the first day when the condition is 80% or more of the open buds in a specimen tree is predicted. When it hits 80% it is considered the flowering day.
Not all cherry trees blossom the same. There are many species of cherry trees in Japan from strong pink to light pink. The very lightest pink species are a favorite of Japanese due to its delicate appearance.
Planning a trip to the Kansai region during cherry blossom season.
Planning a trip to the Kansai region during cherry blossom season in Japan felt tricky, initially.  At the time I planned it,  Kyoto, Osaka and Nara, each seemed to be going into full bloom in individual procession.  However, the travel distance between them was surprisingly close. Distances between Osaka, Nara and Kyoto are close. You do not need a JR metro pass but can suffice with your ICOCA card, PASMO or SUICA.
Osaka is the best home base for visiting nearby cities. It is well connected with trains, metro and bus and it has two airports.  While Osaka is not as lovely as Kyoto and its mountains, Osaka has a fun character, great food and you'll easily find a lot to do and shop in Osaka.
So I planned my crossover into each city in a sort of circular progression- Osaka, Nara, Kyoto, Osaka.
Japan Railway | Japan Rail Pass (JR Pass)
The Japan Rail Pass is the perfect option if your itinerary is crunched with distant cities and very little time. Options are sold in 7 day, 14 day and 21 day categories, and it includes all JR trains (Shinkasen, Express, Local, etc..), the monorail to/from Tokyo's Haneda airport,  highway buses and more!
Most popular : 5 day flexible East Tohoku JR Pass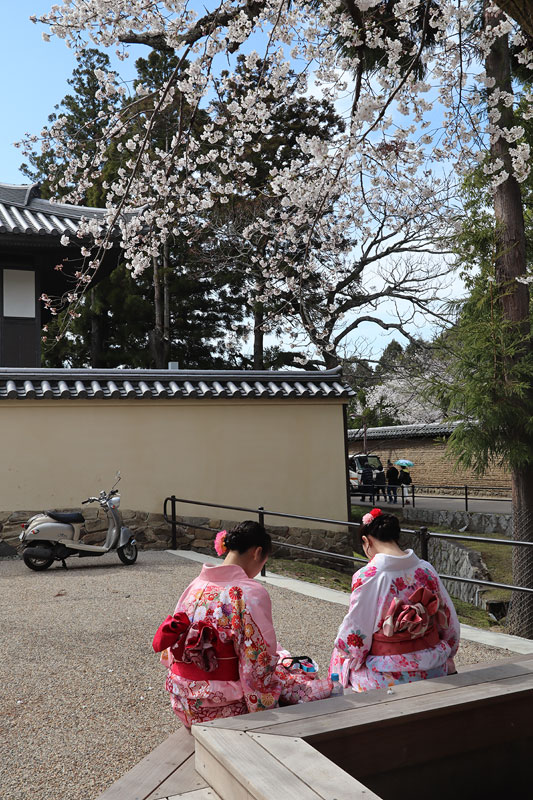 How do Japanese celebrate cherry blossom festival?
The Japanese celebrate cherry blossom festival with Hanami, otherwise known as cherry blossom viewing or sakura viewing. Due to the short life span of sakura, cherry blossom festival is a time where Japanese are reminded of the precious beauty and fragility of life and how it should not be squandered. Thus,  Japanese celebrate with hanami gatherings of family/ friends to picnic, eat, drink and read poetry while enjoying the fragrance & beauty of this short season.
You will also see many seasonal and sakura inspired desserts and snacks out.
Kyoto seems to be the best city to view sakura with an abundance viewing spots not to be missed.
Cherry blossom season in Japan~ What are Things to Know When Planning your Japan Trip?  
WATCH VIDEO GUIDE: 10 BEST CHERRY BLOSSOM SPOTS of KYOTO, OSAKA, NARA | Cherry Blossoms in Japan