Last Updated on July 16, 2023 by Christine Kaaloa
India Travel Guide
 Ultimate India Travel Guide
 Recommended Articles on India
Things to Know before you Go to India***
How to Plan your First Trip to India
Tips to Surviving Indian Culture
(Staring, sexual harassment, etc..)
How to Find Accommodations in India
You'll find all ranges of accommodations in India and they'll vacillate from guesthouses, midrange hotels and luxury hotels. Hostels aren't a term  in India, but recently, a hip and boutique hostel chain opened up for modern travelers (wifi available). I've seen a couple of their hostels; book in advance as spaces  fill up fast.  The guesthouse and midrange accommodations are the least expensive, but standards can range in extremes from nicely furnished to sharing a hallway squat toilet . An upgrade in price doesn't necessarily mean an upgrade in facility so it's wise to book your first night and leave it open until you get there.  Expect the prices to be slightly higher in metropolitan cities,starting at $20. Further outside, you'll find the prices can drop.  A 100 ruppee stay can stretch your dollar gaining your a small bungalow on the beach, but in reality might not always present as good as it sounds.  Indian accommodations are almost always interesting and unique. A good site for accommodations is Agoda.
14 Tips to Finding Budget Accommodations in India
The Anatomy of an Indian Hotel
Food Safety in India
if you're a vegetarian traveler, India is your heaven. The diet here is primarily vegetarian due to religious reasons.  The meat eater need not fear as there's always meat options too. Food is cheap in India. Street food is the least expensive although you'll need to be on your toes and practice strict food safety tips.
Eating in restaurants does not mean you won't get Delhi Belly either.
The water in India is not drinkable, so remember to bring your water purification devices like a Lifestraw
or SteriPen
or buy bottled water. Do not take any ice in your drinks. Avoid any salads or foods that are washed in tap water. Eat only fruits that can be peeled. Make sure water is purified or boiled before drinking it.
Check water bottles to see if its been tampered with.
Eating with your hands in India 1 and 2
Decoding Indian Food
Communication & Internet in India
While you'll find internet cafes still in operation, much of India also has wifi. Okay, it really depends on where you're going. So the simplest thing to do is get an Indian mobile SIM with a data plan.  Below are a couple posts to walk you through getting a SIM and setting it up to be a mobile hotspot for a laptop and other devices.
How to get a SIM in India
Making a mobile hotspot
Vodaphone issues  : Delhi, the India SIM and New Friends
Is India Safe for Female Solo Travelers?
One should be street smart anywhere they travel. Crime is a possibility in every country and India is no different. I find travelers run into scams more than other crimes- scams like unsavory tourist agency or folks trying to derailed tourists from their goal in substitute for a commission shop. That said, India has been known for sexual harassment.
Solo traveling in India (interview)
Getting Around in India
Auto taxis are sometimes hot headed and can be stressful for travelers, but thankfully India has ride shares available now. You'll find Ola, Lyft, Uber & Didi are the rideshare options.  Ola (you can book in advance) seems the most popular option for Indians and secondly is Lyft.
Related Posts on Getting Around in India
Is it Safe traveling India by bus?
Top 5 Tips for Traveling India**
Taking Night Buses in Foreign Countries
Traveling by Sleeper Trains in India
Complete Guide to Indian Trains
How to get a Foreign tourist quota
India's favorite travel booking sites
Essential Plug Adapters for India
.
Favorite Books on India
Rough Guides India
Lonely Planet India
Shantaram
Travel Scams in India
India Trip planning travel websites
 India Mike
Makemytip.com
The Indian Secret to booking cheap travel
Planning your first Indian trip
Yoga & Yoga Ashrams in India

As the birth mother of yoga, India has many yoga ashrams and schools.  Popular places travelers frequent are Rishikesh, Goa and Mysore. However, yoga is also a personal journey and there is no right or wrong place to practice it.  I experienced my yoga in Trivanandrum (Sivananda) and took my reiki and yoga teachers certification in Dharamsala.
Things to Know about an Ashram before you go
Getting my Yoga Teacher's Certification in India (part 1 choosing a yoga school – Part 2 my dharamsala TTC program – Part 3)
Top 7 Centers for Studying Yoga in India
Yoga Alliance Directory

Sivananda Yoga Ashram:  Locations throughout India. Some ashrams require a minimum stay. Prices vary but included dorm stay, vegetarian food and yoga and meditation programs.  Read my Trivandrum ashram review.
Ashtanga Institute, Mysore: Located in Mysore and run by the revered guru Sri Krishna Pattabhi Jois, Ashtanga Institute offers ongoing ashtanga yoga classes throughout the year. Classes are for serious students only. Apply at least two months in advance. Accommodation isn't provided. email: [email protected]  Cost: $650 for the first month, then $415 for each additional month.
AMRITAPURI.ORG : Ashram of Amma-ji the hugging saint.  150 RS Advance booking.
.
*   WESTERN INDIA   *

MUMBAI
Accommodations in Mumbai 
Prices in Mumbai can run a little higher due to the fact it's Mumbai.  Expect the base to be $20s.  Do your research on accomodations in advance.  The first guesthouse I stayed – Anjali Inn- at was nothing at all the way its website presented. It was someone's home, turned into a dorm for travelers. It was in a dodgy and worn looking building, quite a distance from central Mumbai. Thankfully, I only booked that spot for one night.
Sea Shore Hotel, 1-49 Kamal Mansion, 4th floor, Near Radio Club, Arthur Bunder Road, Colaba, Mumbai
Things to Do  and See in Mumbai
Chowpatty Beach,
Bhandra- Carter Road area
Promenade
Juhu/hotel
Colaba, India Gate
Mahalaxscmi Temple, Dhobi Ghats
Elephanta Island
 GOA
Beaches, raves on beaches… yes, this is India. Goa has several beaches to see and enjoy.  Read my Goa Beach Guide
 KARNATAKA
HAMPI
Hampi is  a UNESCO town in Karnataka, reknown for its sprawling ancient temple ruins. It's a hot region. Along the route between Mumbai/Goa and Kochin and Alleypey, it's a worthwhile stop. Beware of thieving monkeys, especially on top of the Hanuman Hill (Anjaneyadri ). They are looking for a chance to snatch your food. Do not feed them. 
GOKARNA
One of the top 5 pilgrimage cities in India, Gokarna is a temple town dedicated to the Lord Shiva. Travelers also know it for it's beaches as beach bungalow shacks can be renting for inexpensive prices. If resort hotels near the beach is your goal, click here.
.
*    SOUTH INDIA    *
 FORT KOCHI / KERALA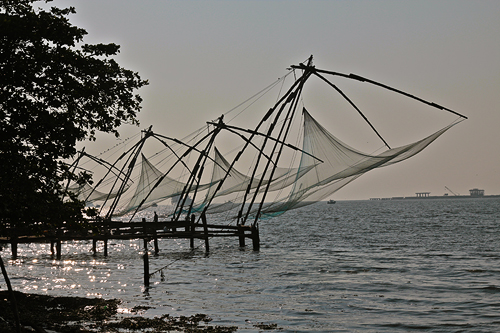 Getting There:  From arrival into Ernakulam train station, take taxi into Fort Kochi. The Ernakulam bus station has a nearby (walking distance) ferry that you can take direct to Fort Kochi as well. It's much cheaper than a taxi into the area.

Onward to: Trivandrum, Kollam, Allepey, you can take a VIP or government bus from the Ernakulam bus station.Approx. 60 RPS
Where I stayed:
Sonnaight Inn, Princess Street, Fort Kochi  *Lonely Planet recommend.
Tom's Old Mansion: Heritage Hotel, Princess Street, Fort Kochi, Tel: 04842215605   website: www.tomsoldmansion.com, 1200rs
Things to Do in Fort Kochi
Backwater Boat Cruise
Kerala tourism.comKTDC's half-day boat cruise (9a-12:30p, 2-5:30p)
Cost: 100 Rs. * but doesn't stop for long in Cochin or Mattancherry.8:30-5p daily , 550Rs. Hotel pickup, cruises , village tour & lunch.
Tel: 0484/237-1761
Email: [email protected]
arranges Kochi-Kollam-Allapey tours
  ALLEPEY (KERALA)
Things to Do in Alleypey
Backwater Boat Cruise
Take the regular local boat
Riverboat to homestay. Experience local life and enjoy a guided walk along the lagoon.
The cost can be Rs. 3000 for a 24 hrs cruise for a boat with 1 room that can accomodate 2 people. 
AMRITAPURI.ORG– AMMA/ ASHRAM 150 RS ADVANCE BOOKING.
 NEYYAR DAM  (TRIVANDRUM)
I didn't really sightsee Neyyar Dam. I went to stay at the Sivananda Yoga Ashram there. 
By Train:  Trivandrum Central Station is connected by rail to all main cities in India. When you reach Trivandrum, the bus station is situated across the street, where there is regular service to Kattakada/Neyyar Dam.  The Ashram is about one hour drive from Trivandrum (28km). Prepaid taxi is available at the airport, and prepaid auto rickshaw and taxi outside the train station. They give government rates, approximately Rs 350 for an auto rickshaw and Rs 800 for a taxi.
Sivananda Vedanta Centre, Trivandrum  (read my experience )
Located in the state of Kerala, in the tropical south, teachings at the Sivananda Ashram are based around the five points of yoga — postures, breathing, relaxation, meditation, and diet. The ashram offers drop-in classes, as well as courses in yoga and meditation. The beginner's yoga and meditation courses are very popular. Yoga Vacations and Teacher Training, staying at the ashram, are also offered.  Course Duration: Ranges from two to three weeks, or more.  Cost: Yoga vacations from 350 rupees ($8) per night.
 Other Hotels located near this ashram
  KANYAKUMARI
Kanyakumari is the southernmost tip of India and the water burial grounds of Gandhi. It's a small city and you probably only need three days there. 
Getting There: Take government bus from Trivandrum station to Kanyakumari. There will be a transfer.
Where I stayed:  Hotel Maadhini, Kanyakumari
.
 Visiting MADURAI  (TAMIL NADU)
They say Madurai is the soul of Tamil Nadu. The city's biggest site is the temple and an area where tailors make clothes.   Where I stayed: TM Lodge, Madras
Things to Do and See in Madura:
Visit famous temple
Explore city by foot.
Get clothes made by sewers near main temple
Things to Do & See in Madurai.
.
*   NORTHERN INDIA   *
Visiting DELHI
Things to Do and See in Delhi
Accommodations:
Cottage Yes Please
1843-44, Laxmi Narayan Street, Raj Guru Road, Pahar Ganj, Delhi
email: [email protected]
website: www.cottageyesplease.com
Rates: starting at around $20USD
City Center Inn, Bhogal
(Bhogal- $30 Double) Read my review
Pros: located in nicer part of Delhi, near a marketplace; Cons: no internet, a bit pricey, nota convenient location..
 AGRA
Most know Agra as the home of the Taj Mahal. You can visit it as a day trip or spend 2-3 days there.  There's a slightly depressed town surrounding the Taj and it holds budget accommodation options, a marketplace, small shops and cafes.  No cars are allowed entry into this town beyond a certain point.  Outside of this enclave, are larger hotels and Agra is spread further apart.
Agra Travel Guide – Directions & Accomodations
Visiting DHARAMSALA  (HIMCHAL PRADESH)
I spent a month here and this pocket tucked away into the mountains is a lovely enclave of rest from India. Indo Tibetan, this is the home of the Dalai Lama and the Karmapa.
"Mcleodganj is a hill station town situated in the Himalayas and the town of Dharmasala. Mcleodganj is geared towards travelers. There are plenty of internet shops, cafes,restaurants and places to shop. Mcleod is a Tibetan enclave with a rich Buddhist culture and small enough to be navigated on foot. "
Getting there:
Bus: Public buses to Dharamsala leave roughly hourly and cost Rs.5, while chartered autorickshaws charge around Rs.100. Trips from McLeod Ganj to nearby points (eg. Bhagsu) shouldn't cost much more than Rs.30.  Public buses to Dharamsala leave roughly hourly and cost Rs.5, while chartered autorickshaws charge around Rs.100.  Trips from McLeod Ganj to nearby points (eg. Bhagsu) shouldn't cost much more than Rs.30.  Public HRTC buses from Pathankot cost Rs.75 and take 3/4 hours to Dharamsala/McLeod Ganj. Many private bus companies are available for travel from Manali, Dehradun and Delhi. Overnight buses from Delhi, many private ones leaving from the Tibetan colony of Majnu ka Tilla, take upwards of 13 hours and cost anywhere from Rs. 450 for a basic bus to Rs. 940 for a plush Volvo.
Delhi to Pathankot
Kanak Holidays
@Majnu Tilla , Delhi, 5:30 PM- 6:00 AM
Majnu Ka Tila (MKT) is the Tibetan Settlement on the Yamuna Bank at Delhi. The nearest Metro Station is Vishvavidyala (University
Train:
A train from Delhi to Pathankot (the closest station to Mcleod) takes approx seven hours and will cost around 1400 Indian Rupees for a seat in second or third AC. There are usually sleeper trains and day trains running daily. When you arrive in Pathankot you can get a taxi outside the station Mcleod for around 2500 Indian Rupees and approx 2 + hours.
Llhamo's kitchen learn how to cook traditional tibetan food, including momos from a delightful tibetan man called Llhamo. It all takes place in Llhamo's single room house right in the center of town.
Aryan Reiki & Yoga Center, Mcleodganj, Dharamsala
At green view house, jogiwara road, Mcleodganj,
Dharamsala, Himachal Pradesh, india
Tel: +91 9418936041,
Web: www.yogattc.com
Things to Do and See in Dharamsala
Dharamsala & Volunteering
learn how to cook traditional tibetan food  (Llahmo's Kitchen)
26 Things to Know about Dharamsala
Visiting to the Karmapa
Getting my Yoga teacher's Certification in Dharamsala
 AMRITSAR (Punjabi Region)
Lodged in the northeastern India, under the Punjabi region of turbanned Sikhism, is Amritsar. It's a clean and well maintained city, with lovely parks and temples.  A pilgrimage city for Sikhism, the largest jewel is the Golden Temple.  Getting There: Take a train, bus or drive hire.  Amritsar is about 6 hours from Dharamsala by car.
Things to Do and See in Amritsar
Mata temple
Visit the Golden Temple
Watch the Pakistan-India Border Crossing show
What to do in Amritsar in 48 hours
.
Ladakh
Ladakh is by far, one of my top spots in India and one of the most exquisite landscapes I've seen since Halong Bay.  Indo-Tibetan and Muslim, with spinning prayer wheels and giant buddhas, you'll hardly feel like you're in India.
Ladakh 8 Top Sightseeing Spots
Behold LadakhMapping out LehThiksey Monastery
 JAISALMER *
Jaisalmer is a city with a walled fort and nearby the desert. Tours for camping in the desert or doing a sunset safari are additional activities.  I stayed at Shahi Palace Hotel, (Double, Under $30)   Read my review
Pros:haveli style hotel, rooftop restaurant and view of the fort, friendly and helpful family-run business.
  VARANASI *
Varanasi is one of India's holiest cities and is a popular pilgrimage spot for Hindus and travelers alike.  It's known for the Ganga River that passed through it where dead are taken to get cremated and have their ashes scattered in the waters.  It's a love or hate city with a bit of a raw and rugged demeanor but it's truly wonderful to take a sunrise boat tour to see each ghat celebrating with its own worshippers.
I stayed at : Ganapati Guesthouse, (Single & Double, Under $20) Read my review
Things to Do and See in Varanasi  (Update coming soon)
A sunrise boat tour on the Ganges.
Hire a local scam tour guide to show you the city for 100Rs or $2.Visit the Golden Temple
Take a walking tour through the ghats